Bill Belichick always talks about the only statistics that matter to him – points. In the coach's mind, it's how many your team is scoring and how many it's allowing. Nothing else matters.
With that in mind it doesn't hurt to take a look at how the current offense stacks up against the 2007 version that wowed the NFL en route to the only perfect regular season in league history. Through the first five games the Patriots showed a willingness to run the ball more often than the 2007 team and has done so quite effectively.
Does that make this offense better? Or does the 2007 team's eye-popping records make that version better even though it relied more on Tom Brady's passing?
That's our dilemma this week as we discuss in our Samsonite Make Your Case.
Is the current offense better than the 2007 version?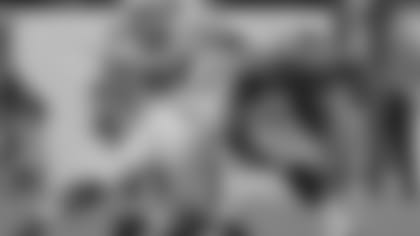 Obviously it's hard to judge one unit after five games and another after a full season. And in some ways this depends on your definition of better. While the 2007 offense had all the blowout regular-season wins and rewrote the passing record books, that group struggled at times down the stretch and couldn't score enough points in the biggest game of their lives to complete the perfect season.
This year's group is more balanced, showing an early season commitment to the running game and complementary football that hasn't been seen in these parts since 2004. Theoretically that should make this offense and team as a whole more suitable for postseason play and winning a potential championship.
I've always said you can't flip the switch on the running game in December and January and expect it to perform at a championship level. That foundation needs to be set much earlier in the season and that's exactly what the Patriots are doing right now. I think you can always fall back on the Tom Brady-led passing attack later in the year, especially since that group is getting plenty of reps right now along with the running game.
In the end if you are looking for huge scores, fantasy football numbers and re-writing the record books than 2007 was your offense. If you want a unit that appears to be championship driven and more suited to ending the Patriots recent Lombardi "drought" then this 2012 offense might just be exactly what you're looking for.
--AH PFW's Paul Perillo says ...
No
!While it's way too early to make any definitive judgments, my initial reaction is to stick with the 2007 team. It's unfair because we watched that team for 19 games and have only seen five thus far this year, but the high-scoring consistency of the 2007 offense is just too tough for me to ignore.
Basically, the 2007 team simply overpowered opponents with an onslaught that was almost unstoppable every week. In 16 regular-season games that team was never held below 20 points and actually put up 34 or more in each of the first eight games of the season. The current team was already held under 20 once in just five tries.
What it comes down to is which style you prefer. Some people crave traditional old-school football where you run to set up the pass and need to be balanced to win big. I'm not one of those people. I believe Tom Brady is the best player on the Patriots offense and keeping him as the focal point is wise. If the Patriots can continue to run effectively as teams focus on stopping Brady, great. But I don't believe there's any more or less effectiveness to an offense due simply to balance.
The object, as Bill Belichick says, is to score points and no offense has ever done that like the 2007 group.
--PP
Now it's the fans turn to cast their vote in this wek's Samsonite Make Your Case poll question.
http://polldaddy.com/poll/6603583/