Musings, observations and the occasional insight as we absorb a fairly lackluster Week 8 in the NFL….
* The Rams didn't look invincible Sunday at home against Green Bay, but finding a way to win even when you don't play your best game still has its benefits in the NFL. Come crunch time in the playoffs, Los Angeles may look back on Week 8 and draw on the experience of having to gut out a win against a quality opponent like the Packers.
The Rams remain unbeaten at 8-0 with the 29-27 win at the Coliseum, which wasn't settled until Green Bay kick returner Ty Montgomery fumbled away the Packers' final possession before it even really started. But that gaffe, which came with about two minutes remaining, kept the ball out of Aaron Rodgers' hands and kept the Rams' magical season going.
Los Angeles' high-powered Jared Goff-led offense sputtered early, punting on its first five possessions — a fate the Rams hadn't endured since 2015. When Green Bay grabbed a 10-0 lead early in the second quarter, it marked the first double-digit deficit L.A. had faced all season.
But Goff and Rams running back Todd Gurley responded to the wake-up call, with Goff throwing for three touchdowns and Gurley cranking out 195 yards of offense and scoring a touchdown for the 11th consecutive game. The Rams had trailed again late, 27-26, before Goff led a drive that produced the go-ahead 34-yard Greg Zuerlein field goal.
Though the Rams haven't cruised to wins all season, with four of their past five victories coming by margins of seven, two, three, and two points, Sunday's test against the Packers felt like preparation for the playoffs. Though it got tense, the Rams passed the test and now face an even sterner challenger next week at New Orleans.
Even in defeat, the Packers (3-3-1) proved something to themselves as well. They stayed on the field with the best team in the NFC and traded point for point until the very end. Next week in New England they'll face a very similar test, against one of the AFC's top two teams. If Rodgers had gotten the ball back one last time, Sunday's outcome might have been a winning one.
* It's officially time to blow it up and start over in Tampa Bay. I'm talking about the coaching, the quarterbacking, the defense, heck, even those ugly-butt red-and-pewter uniforms. And I do believe it'll be time's up for both coach Dirk Koetter and quarterback Jameis Winston after this disappointing season ends.
The Bucs (3-4) rallied furiously at Cincinnati but lost 37-34 to the Bengals (5-3) on a last-second Randy Bullock 44-yard field goal. But Winston's four-year tenure in Tampa Bay hit its low point — and that's saying something — when he was benched after throwing a career-high-tying four interceptions, with one returned for a Bengals touchdown. Winston isn't throwing into small windows, he's throwing into non-existent windows and it's fair to ask what's he seeing that the rest of us aren't?
Winston has tossed 10 picks since returning from his three-game suspension and once again it's likely Ryan Fitzpatrick is the new Bucs starter. He entered in the game in the fourth quarter and wound up throwing for 194 yards with two touchdowns, bringing the Bucs back into a 34-34 tie with 1:05 remaining. Winston's turnover issues continue unabated. In 48 career games he has thrown 50 interceptions and lost 21 fumbles. The Bucs can't be willing to live with those results, given Winston doesn't ever show improvement for long.
And about that Bucs defense. It routinely gives up points by the boatload and you can't blame any of it on defensive coordinator Mike Smith at this point, since Koetter fired him a few weeks back. The change has changed anything, and Koetter is probably the next to go.
* Last week's 45-10 primetime loss at Kansas City was embarrassing, but perhaps easier to understand and accept than this week's Bengals defensive letdown. Cincinnati led Tampa Bay 21-0 in the first half but still wound up needing a last-second field goal to escape with a 37-34 win. The Bengals defense was gouged for a whopping 576 yards, although it did record four interceptions of Bucs quarterback Jameis Winston.
It's a good time for Cincinnati's bye this week, with the Bengals injury-depleted and now lacking confidence on defense. But after their bye in Week 10 comes a home date with New Orleans and the powerful Saints offense. There better be some fixes made by then, or Drew Brees and Co. could have a field day against the Bengals.
* I don't know when or how the Le'Veon Bell contract standoff will end in Pittsburgh, but it's becoming less important every week, thanks to the play of second-year running back James Conner. Who needs the dissatisfied Bell around when Conner can handle the No. 1 back role with aplomb?
Conner ran for 146 yards on 24 rushes in Pittsburgh's 33-18 win over visiting Cleveland, and chipped in with another 66 yards on five receptions. The Steelers' win, played out amidst a backdrop of tragedy after a gunman killed 11 people at Pittsburgh's Tree of Life Synagogue Saturday morning, returned a small slice of normalcy to the city.
After their painfully slow start this season, the Steelers are 4-2-1 and back in their accustomed first place in the AFC North, thanks to three consecutive wins. They beat the Browns at Heinz Field for the 15th year in a row, as quarterback Ben Roethlisberger improved to 22-2-1 in his career against Cleveland.
The Steelers did have to endure one mind-boggling moment of football slapstick, when some of them didn't know the free kick the Browns took after a Pittsburgh safety was a live ball and could be recovered by Cleveland. How does that happen in today's NFL, when every last coaching detail supposedly presents the potential margin between victory or defeat?
Still, with the Browns and Ravens losing, and the Bengals surviving a narrow escape at home against Tampa Bay, it was a very productive Week 8 for the Steelers.
* The supposedly new and improved Browns are turning back into the bad old Browns. You remember. The team that finds new and inventive ways to lose each and every week and has as its default setting dysfunction. Now there's coaching drama reportedly between Hue Jackson and Todd Haley, and who could have possibly seen that coming? Yep, everyone.
I get the feeling rookie quarterback Baker Mayfield is just starting to realize the width and breadth of the problem that the losing culture creates in Cleveland. One player, no matter how talented or potential-laden, can not turn this decades-long story around on his sheer force of will.
At 2-2-1 and coming off a home defeat of Baltimore in Week 5, the Browns looked ready to compete with almost everyone. Since then they've lost three games in a row and are looking more over-matched all the time. At 2-5-1, the Browns are in last place and none of the signs are positive. Change, the only constant in Cleveland, is once again on the way.
* Okay, Seattle, we see you. Especially your vastly improved running game, which just bested Detroit's new and improved running game in an efficient 28-14 Seahawks road win. Seattle (4-3) isn't going to run the Rams down in the NFC West, but you have to put Pete Carroll's team on any list of serious wild-card contenders at this point.
The foundational piece of Seattle's two-touchdown defeat of the Lions was its running game, which produced 176 yards and allowed quarterback Russell Wilson to only have to attempt 17 passes. He completed 14 of those for 248 yards, three touchdowns and a perfect 158.3 passer rating. Chris Carson rumbled for 105 yards and a touchdown to lead the way, but the Seattle ground attack was so that even punter Michael Dickson got in on the act, picking up a game-icing first down late in the game when he ran out of his own end zone for nine yards on 4th-and-8. Dickson was supposed to run around and waste time before stepping out of bounds for a safety, but the Lions didn't pursue him and he took off upfield instead.
The Seahawks look like one of the league's most improved teams from the start of the season to midseason, but their schedule is about to intensify with games against the Chargers, Rams, Packers and Panthers on tap in the next four weeks. Those games will tell us more about Seattle, but for now the Seahawks should be taken seriously, with a formula for victory that harkens a bit back to their glory days earlier this decade.
* Detroit's run defense clearly didn't get fixed with the arrival of space-eating defensive tackle Damon Harrison via that trade with the Giants last week. The Lions defense couldn't stop the Seattle ground game when it mattered and Sunday goes down as a disappointing missed opportunity in Detroit.
With the loss, the Lions dropped into last place in the NFC North at 3-4 and continue to be something of an enigma. Detroit beat New England and Green Bay earlier this season at home, with their Super Bowl-winning coach-quarterback tandems, but couldn't pull off a third such win against the Seahawks with Pete Carroll and Russell Wilson.
And don't look now, but the Lions' coming five games all pose stiff challenges: at Minnesota, at Chicago, Carolina, Chicago on a Thursday night, and the Rams. If Detroit can make it through that gauntlet with its playoff pulse still detectable, rookie head coach Matt Patricia will have earned his salary.
* For a team looking like it's a decent bet for its fifth playoff berth in the past six seasons, the Carolina Panthers still mostly fly under the radar, don't they? Ron Rivera's club may be the quietest five-win team in the league this season, but that should start to change after the Panthers' 36-21 slapdown of the visiting Ravens on Sunday.
I was very impressed with Carolina's multi-faceted running game against Baltimore's previously stout defense. The Panthers (5-2) gained 154 yards on 33 rush attempts, despite no one having more yardage on the ground than Cam Newton's 52-yard, 10-carry game. Newton had a rushing touchdown, and threw for 219 yards and two scores, without an interception.
And every time I looked up, the versatile Christian McCaffrey was in the right place at the right time for Carolina, scoring one touchdown via a deflected pass reception and another on the ground. He produced just 56 yards from scrimmage on 18 touches, but they were big yards and usually timely.
After that 21-point fourth-quarter comeback in Philadelphia last week, the Panthers kept their momentum going against Baltimore and it's now obvious that either New Orleans (5-1) or Carolina are going to win the NFC South. The two rivals meet twice in the final three weeks of the season, in Charlotte in Week 15 and in the Superdome in Week 17. Those should be drama-packed showdowns.
* My faith in the Ravens this season was apparently misplaced. In this year of win-or-make-major-changes in Baltimore, the Ravens (4-4) played with little sense of urgency in losing at Carolina. Baltimore was out-hustled, out-coached and out-executed and have now lost three of four games after its hope-inspiring 3-1 start.
The Panthers started Sunday's game hot with three consecutive touchdown drives after a first-possession punt, and the Ravens simply did not or could not counterpunch. Baltimore looked flat and disinterested and its No. 1-ranked defense was largely embarrassed by Carolina's multi-dimensional offense. The Panthers had touchdown drives of 99 and 85 yards, and that's not supposed to happen against Baltimore's defense.
Joe Flacco threw a silly, forced interception in the first half, and finished with two picks, just 192 yards, two sacks with a tiny 56.8 passer rating. The game was such a rout that Baltimore inserted rookie quarterback Lamar Jackson into the lineup to get some garbage-time snaps, and he responded with his first NFL scoring pass, to fellow rookie, tight end Hayden Hurst.
The season is at crossroads in Baltimore, and next week is pivotal. The first- place Steelers (4-2-1) visit M&T Bank Stadium, and the Ravens have to have the game in order to keep their season from coming completely off the rails.
* Winning never ever gets boring, but is getting to be entirely routine in Kansas City with Patrick Mahomes at quarterback. Remember when the Chiefs made it clear they moved on from Alex Smith to Mahomes because the kid had a great ceiling and more upside potential? Well now I fully understand it, because Mahomes had his third consecutive four-touchdown-pass game in Kansas City's 30-23 home win against Denver, giving him 26 touchdowns throws this season, the same number the Chiefs had all of last year.
Let me repeat that for emphasis: In eight games this season, Mahomes has thrown for the same number of touchdowns Kansas City totaled in 16 games last season. Same production, half the time. That's remarkable.
Let's see if Mahomes can keep his hot hand going when the weather turns colder in Kansas City, but so far he deserves the benefit of the doubt. He threw for 303 yards and those four touchdowns with only one interception against the Broncos, and already has five games of at least four touchdowns this season.
The Chiefs defense plays opportunistically in spots, and makes some plays that help win games. But let's be clear: Kansas City (7-1) will only go as far as Mahomes takes them this season, and the Chiefs' Super Bowl hopes rest on his talented passing arm and play-making ability. And that may be enough to get the job done.
* It wasn't a changing of the guard type moment, because the Chiefs have already been on top in the AFC West for the past two years. But when Kansas City running back Kareem Hunt hurdled Broncos safety Will Parks and then bull-dozed Denver safety Justin Simmons, driving him into the end zone on a 23-yard highlight reel touchdown, it kind of summarized where the two franchises are currently.
The Chiefs are flying high and soaring. The Broncos (3-5) are diving low and coming up empty, no longer in control of their situation. Last year's losing record in Denver wasn't taken very well by the fan base, and this year's reaction is going to be even messier and more anguished.
* Who said nothing works in Washington any more? Jay Gruden's team is suddenly 5-2, with an honest-to-goodness three-game winning streak and a 2-0 mark in the NFC East, the division it leads by a game and a half over defending Super Bowl champion Philadelphia.
Washington went on the road to beat the listless Giants 20-13 in Week 8, and in the process it accumulated seven sacks, two D.J. Swearinger interceptions of the besieged Eli Manning, and somehow transformed Adrian Peterson into John Riggins against Miami in Super Bowl XVII. That 64-yard game-clinching touchdown burst down the right sideline by Peterson (149 yards rushing) brought to mind Riggo steaming through the Dolphins for a game-icing run 35-plus years ago in Pasadena.
New York's offense is so anemic, but give credit to Washington's defense, too, which got after it and made Manning look like he wanted to be anywhere but in the Meadowlands on this day. Can New York (1-7) really keep running Manning out there for another eight games this season, even if there's only rookie Kyle Lauletta backing him up? Ben McAdoo had the right idea last season, but executed it horribly, and now the Giants have to face the reality that they deluded themselves into thinking they were set at quarterback for another two years or so.
* The Jets' Sam Darnold had another quiet day in New York's 24-10 loss at Chicago and it's pretty apparent by now that none of the celebrated 2018 rookie class of quarterbacks is going to set the world on fire this season. Not Cleveland's Baker Mayfield. Not Buffalo's Josh Allen (who is injured and out of the Bills lineup). And not Arizona's Josh Allen, or Baltimore backup Lamar Jackson.
Darnold has had his moments this season, but the Bears defense, even without the injured Khalil Mack (ankle) largely neutralized him. Darnold was 14 of 29 for 153 yards and one touchdown, with no picks and a modest 75.8 passer rating. In a game that was largely a punt-fest, New York's longest play from scrimmage went for 29 yards as the Jets fell to 3-5.
Chicago second-year quarterback Mitchell Trubisky — he of the exquisite pre-game Mike Ditka Halloween get-up — wasn't much better than Darnold. His accuracy issues continue, but he did overcome some mid-game struggles to throw for 220 yards and two scores, adding another 51 yards on scrambles. The bottom line is he's a work in progress, in the first year of coach Matt Nagy's offense.
As for the Bears, they at least got the home win as required and climbed back over .500 at 4-3. With a road game against the struggling Bills next week they have an opportunity to finish the first half 5-3 and be in the thick of the playoff hunt in the NFC North. With the Lions and Packers both losing Sunday, and the Vikings playing a tough Sunday night game against visiting New Orleans, Chicago is in decent position to make some second-half noise.
* Indianapolis has really found a reliable weapon in running back Marlon Mack, who rushed for 132 yards and two touchdowns in the Colts' 42-28 throttling of the reeling Raiders in Oakland. It was Mack's second straight 100-yard rushing game, a feat not Colts running back has accomplished since 2007.
The Colts offense suddenly has great balance, with Andrew Luck throwing for 239 yards in the win, and Indianapolis rushing for 222 yards and milking the clock for 36:30 of possession time. That's two impressive, high-scoring wins in a row for Frank Reich's team, and you can at least see there's reason for hope in Indy.
Such is not the case in Oakland, where the Raiders lost their third home game (counting the one they played in London against Seattle two weeks ago) and dropped to 1-6 on the year. Las Vegas in 2020 can't get here fast enough for the Raiders.
Oakland led 14-13 at the half and 21-13 in the third quarter, but was outscored 29-7 from there on out. At least Derek Carr had a very nice game after last week's drama. Carr threw for 244 yards with three touchdowns and a rushing score, connecting on 21 of 28 passes.
* Yet another well-deserved hat tip to the ageless wonder, Colts kicker Adam Vinatieri. As expected, he passed up Morten Andersen as the NFL's all-time leading point-scorer on Sunday, breaking the mark of 2,544 points with a 25-yard field goal with 29 seconds left before half. If only the rest of us could do our jobs half as consistently as Mr. Vinatieri.
* All you needed to see of the 49ers-Cardinals game was the last play, when San Francisco's backup center snapped the ball over the head of quarterback C.J. Beathard, wasting the last seven seconds on the clock in Arizona's 18-15 win. All that was missing was that zany theme music to the Benny Hill show. It's been that kind of year for San Francisco (1-7), and it keeps going from bad to worse.
The 49ers led by the unlikely score of 5-3 at the half, but wound up losing a 12-point fourth-quarter lead and can now set their sights on perhaps wrapping up the top pick in the 2019 draft. What else is there at this point in this season gone bad?
The Cardinals scored 15 points in the fourth quarter to rally for the win, with rookie quarterback Josh Rosen finding fellow rookie Christian Kirk from 9 yards out for a touchdown pass and the victory. If only Arizona could play the 49ers every week. The Cardinals are 2-0 against San Francisco and 0-6 against the rest of the league.
Arizona's new offensive coordinator Byron Leftwich wasn't a miracle worker with the Cardinals attack under his guidance compared to his predecessor Mike McCoy. Arizona struggled until the fourth quarter to get much of anything going, but the three-point win was at least a pressure-reducing positive in the desert.
* What a much-needed bounce-back showing for the Eagles defense, after that fourth-quarter three-touchdown meltdown last week at home in a loss to Carolina. Philadelphia's defense re-established some of its tough-minded identity in stopping the Jaguars on fourth down with three-plus minutes remaining, protecting the Eagles' 24-18 victory over Jacksonville in London's Wembley Stadium.
Make no mistake, it was a critically important performance by Eagles third-year quarterback Carson Wentz as well, who responded well after two early turnovers, throwing for three touchdowns and using his legs effectively to make key plays. Wentz may be finally fully trusting his surgically repaired knee as midseason arrives, and Philadelphia (4-4) hopes as his confidence grows the second half will see the Eagles offense lift off. The reported MCL injury suffered Sunday by offensive tackle Lane Johnson is cause for concern, but the defending champs won a crucial game and enter their Week 9 bye with an undeniable shot of momentum.
* There's not a bigger circus going in the NFL at the moment than the free-falling Jacksonville Jaguars, losers of four in a row after a 3-1 start that had many thinking this team was Super Bowl material. Whatever discipline coach Doug Marrone and football czar Tom Coughlin injected into the Jacksonville program last year has apparently evaporated in overnight fashion. This team is a mess and no one seems to know how to stop the bleeding.
Let's not over-react to the idea of players going out to a nightclub while on the road, but when four Jaguars players get arrested by London police after some sort of incident involving an unpaid $64,000 bar bill at 4 A.M. Saturday, it gives the distinct impression of a team in chaos. That's a lot of money, a lot of booze, and a very late night out for guys who knew they were playing the most important game of the season Sunday against the Eagles. The only thing in short supply was a dose of self-discipline.
Maybe the Jaguars (3-5) can do some legitimate soul-searching during their bye week and still salvage something from this highly-anticipated season. But it's not looking likely. Injuries, ineffectiveness and underachievement have so far been the hallmarks of this hellish winless October in Jacksonville. The Jaguars bear all the signs of a young team that had first-time success last year and let it go to their heads, forgetting the hard work that went into making the climb to the top of the AFC South. And ultimately that's on Marrone and Coughlin, who run this operation.
* That finally looked like the potent Deshaun Watson-led Houston offense I expected to see rolling through the regular season. The Texans (5-3) demolished the visiting Dolphins 42-23 Thursday night to earn their fifth consecutive win, and for the first time all season Watson looked healthy and his play-making self, circa 2017 pre-knee-injury form. Houston's quarterback and play-calling were clicking on all cylinders, rolling up six touchdowns and 427 yards of offense. Watson went without being sacked for the first time in his two-year pro career, and threw for five touchdown passes, with 239 yards passing on just 20 attempts. The Texans now lead the Jaguars (3-5) by two full games in the AFC South, and own a game and a half cushion over idle Tennessee (3-4).
Houston got a huge game from running back Lamar Miller, who rumbled for 133 of the Texans' 188 rushing yards, with one touchdown, and the Texans in the red zone were lights out, scoring touchdowns on all four of their drives. Losing receiver Will Fuller (five catches, 124 yards and a touchdown against Miami) to a season-ending knee injury is a cruel blow, but with Watson back on track all things suddenly seem possible in Houston.
* Not so much in Miami (4-4), which has now lost four out of five after starting 3-0. In retrospect, the Dolphins' fast getaway was a mirage, based more on who they played (Tennessee, the Jets and Oakland) than anything else. Since stepping up in weight class in terms of their schedule, the Dolphins have lost to the likes of New England, Cincinnati, Detroit and Houston — all of whom have been playing very well of late. Where's all that veteran leadership now that was supposed to make a difference for the Dolphins this season? Frank Gore, Danny Amendola and others were supposed to show this Miami squad how to win.
It would seem to me that job one in Miami in the season's second half is all about finding out whether Ryan Tannehill is the team's starting quarterback in 2019 and beyond. My sense is the Dolphins should and will be moving on from him in an attempt to upgrade at the position, but Tannehill has however many games he can get on the field for to make his best and final case for keeping the job.
Ridiculously Cool Football Card of the Week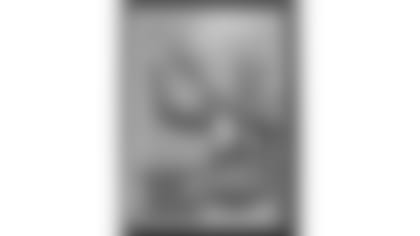 The Eagles won the Desperation Bowl Sunday against Jacksonville in London to scratch their way to 4-4 at midseason and stay very much alive in the NFC East race. Before this season, the last time the Eagles were the defending NFL champions came in 1961, coming off their 1960 title-winning season. The '61 Eagles started a lot stronger than this year's Eagles, going 7-1 in their first eight games, en route to a 10-4 record in the seven-team East division. But alas, only division winners advanced to the playoffs in those days, and the Eagles missed returning to the NFL championship game by a mere half game, trailing the 10-3-1 first-place New York Giants. In Week 13, Philadelphia lost at home to the visiting Giants 28-24, effectively deciding the division.
Receiver Pete Retzlaff, pictured here in that classic Kelly green jersey on his 1960 Topps card, was one of Philadelphia's veteran stars, trailing only the Hall of Fame-bound Tommy McDonald for team highs in receptions (50), receiving yards (769) and touchdown catches (eight). Retzlaff spent his entire 11-season NFL career (1956-66) with the Eagles and later served as the club's general manager for four mostly dismal years from 1969-72. In the wild-card era, this year's Eagles obviously have more routes back to the playoffs in the defense of their Super Bowl title, and don't have to win the East to advance. But getting to the .500 mark was imperative, and the Birds got it done across the pond against a Jaguars team that continues to disappoint.