There is an old adage among NFL lineman that if you're not being talked about by the media, then you're doing your job. Put more simply, an offensive lineman's name is usually mentioned because of a blown assignment that results in the quarterback or running back getting hit for a loss.
Patriots' fans have not heard Stephen Neal's name much this season because the 6-foot- 4-inch, 305- pound offensive guard has been a model of consistency on the Patriots offensive line. Neal's success isn't surprising considering how hard he works at getting better. But it is surprising considering that he took a road less traveled in his journey to the NFL.
In fact, if someone would have told Neal five years ago that he would be the owner of three Super Bowl rings and a leader on the offensive line for the defending Super Bowl champions, he probably would have laughed and called them crazy. Neal is one of just a few players in the NFL who never played college football. He was a Division I champion wrestler at Cal State-Bakersfield, and had aspirations to be an Olympic wrestler, not an NFL player. But with some good luck and a lot of hard work, Neal not only made it to the NFL, but is carving out an impressive career.
Neal's voyage to the NFL began with a phone call from one his wrestling buddies to Cleveland-based sports agent Neil Cornrich, who arranged a workout for Neal at Ohio State. Patriots linebacker Mike Vrabel, who was a two-time Big Ten defensive player of the year for the Buckeyes, was back at his alma matter for an offseason workout when Neal arrived that day.
"He showed up with a pair of wrestling shoes and some shorts and stuff, and I said, 'Well, we have to get you outfitted to look like a football player,'" Vrabel said. "I gave him some shoes and stuff, and from that first time he went and did a drill you could see he had the potential."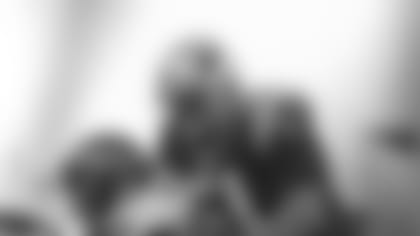 That potential led to an invite to the Patriots' 2001 training camp. However, when Neal arrived, it was an uphill battle for the former wrestler. Unlike other rookies in NFL training camps, Neal wasn't just learning how to adjust to the NFL. He was learning how to play football.
"When I tell you he didn't know where the field was, he didn't really know where the field was," Patriots Coach Bill Belichick explained."He didn't know how to put his pads on. He didn't know where to line up.We were starting from below scratch."
"I came in pretty late that first year and their job is not to teach me how to play, it's to get the best people out there to win the game," said Neal. "I wasn't really in that equation."
Neal began his unlikely career as a defensive end before moving to the offensive line, and although he showed promise, he was released by the Patriots and signed to the Philadelphia Eagles practice squad. But the Patriots did not forget about Neal, signing him to their active roster later that season. Even though he was inactive during the playoffs and Super Bowl XXXVI, Neal earned a Super Bowl ring.
After a full season of practicing and watching tape, Neal entered his first NFL offseason eager to sharpen his knowledge of the game. When 2002 training camp rolled around, he looked like a different player from the previous year and expectations were high. He made his NFL debut that October against Miami, and earned his first career start the next week against the Green Bay Packers. But, he suffered a setback when he injured his shoulder in that game, ironically on a heads-up, veteran-type play, recognizing a fumble that most of the players on the field thought was a dropped pass. After surgery, he sat out the remainder of the 2002 season and also missed the 2003 campaign.
Still, the Patriots did not give up on Neal. "I was kept around here for a few years and really given the opportunity," he said. " I came in and watched film and I talked to the guys and tried to get better, improve."
After two years of rehab, Neal was ready to make an impact. With the departures of two starting offensive linemen from the 2003 squad, Neal was given a chance to showcase his skills, and he didn't disappoint. He earned the starting right guard spot in 2004 and helped pave the way for Corey Dillon to set the Patriots single-season rushing record with 1,635 yards.
Neal has started every game for the Patriots this season, and with injuries to veteran left tackle Matt Light and center Dan Koppen, Neal has been a veteran presence for a Patriots offensive line that has started two rookies, Nick Kaczur and Logan Mankins.
Neal is proud of the way the offensive front has handled injuries, but believes the best is yet to come.
"I think we've worked hard and have come a long way," he said. "You can always do better.We just have to keep working hard."
Their hard work paid off last week against the Bills as Tom Brady threw for 329 yards and two touchdowns and Corey Dillon rushed for 102 yards with a score. With three games remaining for the Patriots, Neal and the offensive line hope to carry the momentum into today's contest against Tampa Bay.
As for life after football, Neal hasn't ruled out a return to the mat. "I might go back," Neal said.
But he is no rush to return to wrestling. Neal is too busy pinning down defensive lineman. However, if the day ever does come when Neal returns to wrestling, it will be under one condition.
"There's only one level to compete - the Olympic level - freestyle," he said.
It might be worthwhile to give Neal an opportunity to compete for an Olympic spot in the future. After all, the last time he was given an opportunity, he didn't disappoint. Luckily for the Patriots, he isn't going anywhere soon.