Mondays can be tough, especially after a long, holiday weekend.
They're even tougher when you find out you're going to be down a co-worker for the next month. In most offices, that increased workload might be met with a sense of dread by those employees remaining, but in the NFL, there's a silver lining in that dark cloud.
Late today, the league announced that Patriots defensive lineman Jermaine Cunningham will miss the next four games for violating the NFL's policy against performance-enhancing substances. He is prohibited from having contact with the club during that time, which means he can't even set foot in Gillette Stadium during his suspension.
With him out of the picture for the time being, other Patriots d-linemen will have an opportunity to step in and get playing time. Veteran Trevor Scott is among them.
"I don't really know what's going to happen, as far as the depth chart, but I'll definitely be preparing to get a more active role this week," he told reporters. "If it does increase, I feel I'll be ready for it. I can't control what goes on, but I will control what I do on Sundays.
"[My preparation] doesn't change. I'll just keep doing what I've been doing, see what happens."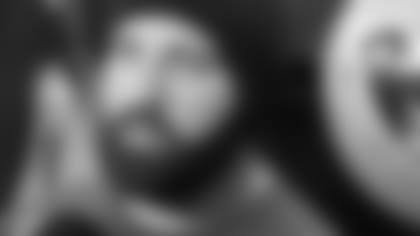 "It's unfortunate, but as a team, we'll keep going," declared defensive end Rob Ninkovich.
"Every year, there's always going to be some issue you have to deal with. That's just the way football goes. That's another thing that we'll just deal with. Everyone in this locker room's a family. We're a tight group of guys. Anything that happens, just like in any family, everyone's going to come together and work through it."
"We have a setup so that, as soon as somebody goes down, it's the next man in," Scott continued. "You're expected to perform just as well as anyone else. That's why we work hard every week to stay mentally and physically prepared."
Cunningham had appeared in every game for New England this year, and had been playing more of late with rookie Chandler Jones nursing a right ankle injury. So, how will the already thin roster at d-end react to this latest obstacle?
"We'll see. I don't know," co-captain Devin McCourty responded. "We're going to play football. Injuries happen, things happen. Guys will just step up and play."