Cheerleaders Alicia and Isabella along with Pat Patriot boarded a JetBlue flight on Friday, October 19 to share their Patriot pride in Chicago Bears territory before the Patriots vs Bears away game on Sunday, October 21.
They started off the trip by visiting the famous Cloud Gate bean shaped sculpture. Isabella and Alicia said, "It was so pretty with the backdrop of the big city buildings behind it. We thought we would beat the foot traffic by going early in the morning, but it is so well known it was still crowded."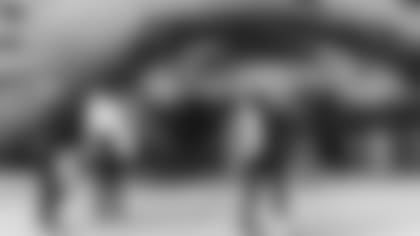 After walking up and down Michigan Avenue, they went on architectural tour on the Chicago river. "It was so cool to learn how much detail went into each building. Each building curves towards the river and is specifically built to withstand wind. This tour is a must if you get the chance to visit Chicago". Having the nickname "The Windy City", Chicago is known for its crazy weather, just like New England. During the day on Saturday, one minute it was sunny and 50 degrees, and the next minute it was 40 degrees and hailing. For lunch, the cheerleaders tried Chicago style deep dish pizza. It did not disappoint.
The trip ended with a Patriots Nation Road Rally Street Team event held at Theory. Theory is a Patriots themed sports bar in Chicago. Inside was packed with Patriots fans, with a line of loyal fans waiting patiently outside to get in. Fans had an opportunity to receive autographs from the cheerleaders and alumni Patriots player Darius Fleming and to take photos with Pat Patriot. They even had an opportunity to win a signed Tom Brady jersey and tickets to the Pats vs Bears game.
Alicia, Isabella and Pat Patriot had a wonderful time in Chicago and were thrilled to have met so many great Patriots fans outside of New England.