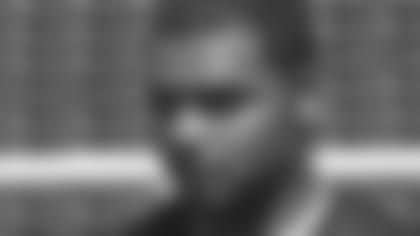 ]()With about a week remaining before the Patriots open up their preseason slate in Atlanta, Bill Belichick decided to move Thursday morning's practice inside Gillette Stadium in an effort to get the players acclimated to a venue more conducive to game conditions.
While special teams was the theme of the morning with plenty of kicking, returning and coverage taking place, the real news of the day came at the end of the workout when several heretofore unseen players – including Richard Seymour – made cameo appearances during a short walkthrough period.
"We basically had a meeting out there on the field," Belichick said in regards to questions concerning the returning players. He added that the status of players on the physically unable to perform list, Seymour included, has not changed.
But Seymour's presence still predictably generated plenty of attention. It was his first appearance of the summer, and there has been speculation recently, most notably in the Boston Herald, that the All-Pro defensive lineman was being held out of practice because he had yet to sign his contract extension that he agreed to earlier in the offseason. The report cited a rule in the collective bargaining agreement that states a player couldn't renegotiate the same contract twice in the same calendar year.
Both Belichick (on Wednesday) and Seymour (today) flatly denied that contracts had anything to do with his absence. Seymour said he was dealing with "a little tightness" in his quadriceps and that he hoped to be back on the field full-time soon.
"It feels good to finally get on the field with the guys," Seymour said. "It's something in the offseason that you train for, just to get back out on the football field. I was able to come back out in some walkthrough practices and I've been watching a lot of film, doing a lot of studying with the guys, having a lot of meetings. I just haven't been able to be out on the football field. But I've been able to get the mental reps I need."
The actual reps that took place on the field during the morning consisted kicking in about every conceivable form. Kickoffs, onside kicks, field goals, extra points, punts, blocked punts and coverage for every possible situation dominated the day.
That put kickers Martin Gramatica and Stephen Gostkowski in the spotlight (as if either will ever be able to escape it) and both performed well.
"Each one of is going to try to do our best and we know if we keep doing our best hopefully it will work out for both of us, or at least one of us," Gramatica said. "So we'll see what happens. I just want to do the best for the team and make every kick. I'm not even focused on what Steve is doing. I just focus on every one of my kicks. If it's good enough, I'll be here. If not, then I won't. I hope it is."
Belichick said that is was still way too early to get a gauge on the competition at this point. He often explains how the first week or so of camp can sometimes be different for various players. Some get off to great starts and level off while others start slow before hitting their stride.
"After seven or eight days you start to get to the point where you can really evaluate them," Belichick said. "At that point you're dealing with volume (of kicks) and you can chart them."
Who's hot: The kickers – Both took advantage of their extended opportunities inside the stadium. Both sent several kickoffs well into and even through the end zone, and if either missed a single field goal I missed it. Their attempts ranged from roughly 25-45 yards and pretty much every kick was true.
Who's not: NFL player reps – As is the case every summer, three officials were on the field and met with the team to discuss rules changes for the upcoming season. During their visit with the media, umpire Jeff Rice said the rule prohibiting several touchdown celebrations was actually implemented at the request of the player reps, who claim such behavior has gotten out of hand. What a joke.
Play of the day: One of Gostkowski's kickoffs was particularly long and appeared to go through the goal posts. Given the ideal kicking conditions with temperatures still soaring well into the 90s, the long kicks are understandable. But sending an NFL kickoff through the goal posts is impressive nonetheless.
In addition to Seymour, other members of the PUP list returning for the walkthrough included Johnathan Sullivan, Nick Kaczur and Dan Koppen. Also, Jarvis Green, Marquise Hill andDaniel Graham took part in the instruction work as well. Asante Samuel, Monty Beisel, Chad Jackson, Benjamin Watson and Troy Brown all missed practice but returned without shoulder pads for the walkthrough. Artrell Hawkins left practice with trainers and later returned without his pads. Tedy Bruschi and Tebucky Jones were not present for any part of the workout.
Belichick was asked if Sullivan's presence meant he had been cleared to return. Several reports have indicated Sullivan has not practiced because he failed to complete the conditioning run, but Belichick simply said he is "still in the same position. When he's ready to practice, he'll be out there."
As has been their practice under Belichick, the Patriots went through a number of select situations during the workout. Josh Miller punted from deep in his own end with two vice guys blocking the gunners on each side, then tried some from the plus side of the 50 that featured only one blocker on each side. Belichick explained such kicks often lead to less protection on the outside because good field position lends itself to more fakes. … Chad Scott, Antwain Spann, Willie Andrews and Eric Warfield all got some reps as the vice guys. … Laurence Maroney, John Stone, Ellis Hobbs and Andrews all took reps returning kicks. … Belichick said the afternoon practice would feature continued situational work with the offense and defense. … The Patriots will once again practice twice on Friday with the first session scheduled from 8:45 a.m.-10:45 a.m. and the evening practice from 5:30 p.m.-7:30 p.m.