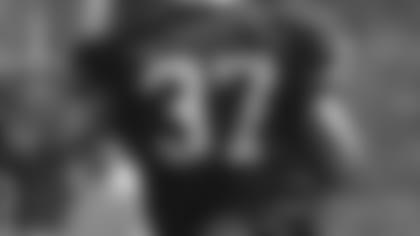 ]()After a huge day on Monday that saw many of the Patriots key players return to practice, Tuesday was kind of the calm after the storm. Now that the likes of Rodney Harrison, Richard Seymour, Dan Koppen, Daniel Graham, Monty Beisel and Randall Gay are back on the field, Patriots fans can finally sit back, relax and enjoy training camp.
Although his return may not be as ballyhooed as the guys who came back on Monday, rookie Garrett Mills made his debut at training camp today. Mills had missed the team's first 14 practices but was glad to finally be back with the rest of the team.
"I did everything the trainers told me to do and got back out here as soon as I could," Mills said. "The NFL is more challenging mentally but this is my job now so I need to go out and get it done every day."
As usual, some players were held out of practice. Tedy Bruschi, Chad Jackson, John Stone, Ben Watson, Marquise Hill, Jarvis Green, Chad Brownand Troy Brown, along with the two players still on PUP, all missed the morning session. Graham was still wearing a red non-contact jersey.
According to Bill Belichick, whether or not someone is at practice doesn't necessarily define their playing status for Friday's game at Atlanta.
"We'll take these practice sessions to see where players are and if they're ready to go on Friday," Belichick said. "The decision on who plays in the game will be based on what we see this week. We have players practicing that won't play on Friday."
The Patriots continued to spend a lot of time working on their running game Tuesday morning. Corey Dillon and Laurence Maroney spent a good portion of the practice going up against the scout team defense. If the early part of training camp is a barometer, the team is determined to improve on a rushing attack that finished 24th in the NFL last season.
"We're trying to get a lot of things done at the same time," Belichick said. "It's a lot of mental weight on the players. It's a grind but that's what we need to do to get them ready."
With players like Harrison and Seymour back in the mix, the team looks more like the real Patriots than it did just a few short days ago. Just seeing No. 37 practicing again is a sight for sore eyes in New England. Belichick was asked if he's surprised by Harrison's quicker than expected return to the field.
"We don't have a deadline on anybody," he said. "We take it day-to-day. Rodney has moved up a level. He's still not there yet but he's worked hard and come along way. Now we'll just take it from here"
Who's Hot: Kelvin Kight – Last week out at practice I predicted that Kight would make the Patriots practice squad and I've been ridiculed by one of my PFW colleagues ever since. Well, Tuesday the former Gator did me proud by having the best practice of any young receiver to date. Up until now, Kight has shown good hands in pass catching drills but hadn't seen a lot of balls thrown his way when the team went 11-on-11. However, with Stone missing practice, Kight lined up as the third receiver with the first-team offense and took advantage of his opportunity. He caught one pass from Tom Brady coming across the middle where he reached up for the ball, hauled it in and then turned on the jets to get upfield. He also had the play of practice on a bomb from Matt Cassel (see below). Kight stayed after practice to work on catching the ball and his route running, something he's done routinely since arriving in New England. He has such a strong work ethic that he declined my request to interview him, saying he would get me tomorrow because he had to go inside and study. That's the kind of player you root for to win a roster spot. Even though he arrived at camp late, Kight has picked up the Patriots system quickly and that drew the praise of Belichick at his Tuesday press conference.
"He's doing pretty good," Belichick said. "He started out in the kicking game and some of our special teams practices but now he's getting some opportunities at receiver. He's worked hard, spent a lot of extra time with Brian [Daboll] and he knows Reche [Caldwell]. He's actually picked up the plays rather quickly and has been able to get his assignments down. He's gotten some opportunities and has made a positive impact so far.
"It's kind of a little bit like Bam Childress last year. He wasn't in the spring camps, came in late and actually had a pretty good training camp. Eventually, he worked his way onto the team. I'm not saying he's Bam Childress but sometimes guys like that show up and start to get your attention after they make a few plays. One thing leads to another and before you know it, they're in a pretty competitive situation. We'll see how it goes."
Keep an eye on Kight. If he continues to develop and has a good preseason, he could be a prime candidate for the practice squad.
Who's Not: Johnathan Sullivan – I hate to pile on a guy who seems to be getting hit from all angles but Sullivan is flat-out not getting it done on the practice field right now. I've watched him the past two days and he's getting manhandled by every offensive lineman he lines up against, including rookie Dan Stevenson. Sullivan just stands up and either gets pushed out of the play or gets tossed to the side. To me, it doesn't seem like he's playing with any fire or sense of urgency. In contrast, rookie LeKevin Smith isn't blowing up plays in the backfield on every snap but he's fighting to get off blocks and holding his own. Sullivan is going to have to step up his play in practice or time could be running out on his second chance with the Patriots.
Play of the Practice: Kight was responsible for the two best plays of the morning practice. The catch and run from Brady was nice but the long pass he caught from Cassel was even better. Kight displayed his speed by splitting Eugene Wilson and Antwain Spann to catch a bomb from Cassel down the sideline. It would have been roughly a 60-yard touchdown reception in a game. Kight made a nice move to beat coverage and then showed the speed to create separation. His reception drew the biggest cheer from the crowd at the morning session.
During a goal line drill, Larry Izzo popped rookie running back Laurence Maroney pretty good in the hole. Maroney didn't let the hit slow him down though, as he kept running after taking the big shot.
Cassel took a lap around the field for the second straight day after fumbling a snap from center.
The Patriots used a four-man line in both their scout team defense and their regular defense. Mike Wright lined up at end with, Seymour moving inside. Meanwhile, Barry Gardner was at inside linebacker in that formation.
For the second time in three days, Ellis Hobbs tossed his helmet in frustration after giving up a completion. The second-year corner has had a rough start to camp so far.
Maroney and Childress were back on kickoff returns. Martin Gramatica's kickoffs were a little short today and he missed a field goal attempt at the end of practice. The veteran also had one of his long kicks go through the uprights, although it was tipped at the line of scrimmage.
Maroney had a nice run where he did a stutter-step in the hole and then accelerated for what would have been a big gain.
Harrison played safety when the Patriots went to their scout team defense.