Sixteen volunteers from across New England were honored as "Community MVPs" and were awarded grants totaling $100,000 from the New England Patriots Charitable Foundation in a ceremony at Gillette Stadium on June 9.
The Community MVP Awards, a New England Patriots Charitable Foundation program for the past 11 years, honor individuals who exemplify leadership, dedication and a commitment to improving their communities through volunteerism. The 2011 MVPs represent all six New England states and a variety of non-profit organizations.
"What makes America great is the award winners who are in this room. They receive no fan-fare or publicity, and they are the true heroes," said Patriots Chairman and CEO Robert Kraft. "They are ecstatic when we give them these modest grants and the return on investment is so great. This is one of the special days at Gillette Stadium."
Patriots Charitable Foundation President Josh Kraft, Pro Football Hall of Famer and Patriots Executive Director of Community Affairs Andre Tippett, Patriots kicker Stephen Gostkowski and Patriots defensive lineman Ron Brace were all on hand to congratulate the winners. They spent time welcoming and congratulating guests, participating in the award ceremony and signing autographs.
"Hearing all the stories of what they have done touched me. [Volunteering] is something I would like to do when I am done playing," said Gostkowski. "I really enjoy charity work and helping people. I see the sense of pride that they have for helping others and I am really happy to be a part of this."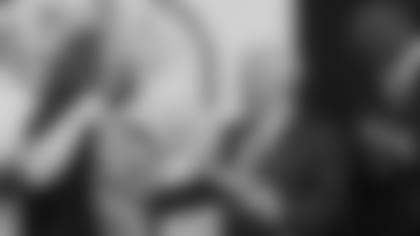 Nomi Kaim, a volunteer at the Asperger's Association of New England in Watertown, Mass., was the grand prize winner, earning $25,000 for the association. Five runners up received $10,000 for their charities and 10 additional MVPs were awarded $2,500.
"I am incredibly grateful because I know that this money is going to go to such a good cause," said Kaim. "It's going to make a big difference for thousands of people and we will be able to continue to do great work at AANE."
Up until the ceremony, the winner's placement had not been revealed. Joshua Kraft, who served on the selection committee, announced the winners in reverse order, leaving the grand prize winner to be announced last.
"Of everything my parents are involved with, this program is one of the most special and important to them. Having the opportunity to recognize these compassionate and selfless volunteers is a true honor," said Joshua Kraft. "In this economic climate, we recognize the strain on nonprofits and were proud to increase this year's grants to a total of $100,000. We thank them for their volunteerism and willingness to make our communities a better place."
Prior to the award program, Community MVP Award winners, representatives from their organizations and their nominators were treated to a special lunch where volunteers shared stories and learned about each others' non-profits.
"Receiving the Community MVP award on behalf of Link to Libraries was a great honor and privilege," said Link to Libraries Susan Jaye-Kaplan, one of the runner-up winners. "Having had great adversity in my own youth...I have a clear understanding of what it means to give back to a community where I have been the recipient of mentoring, caring, and wonderful library and librarian services. This is the frosting on the cake."
For more information about the Community MVP program, and for up-to-date information about how to apply next year, visit www.patriots.com/community.
A complete list of the 2011 Community MVP Awards is below:
$25,000 Grand Prize Winner
Nomi Kaim — Asperger's Association of New England, Watertown, Mass.
$10,000 Runner-up Winners
Kay Bernon - Berkshire Hills Music Academy, South Hadley, Mass.
Joey Cerato - Camp Sunshine, Casco, Maine
Rick White - Hebron Interfaith Human Service, Hebron, Conn.
Susan Jaye-Kaplan - Link to Libraries, Longmeadow, Mass.
Robert Lavoie - Marguerite's Place, Nashua, N.H.
$2,500 Finalists
Linda Zachariewicz - The CASA Project, Worcester, Mass.
Christine McCarthy - Cystic Fibrosis Foundation, Natick, Mass.
Judy Boss - Castleton Community Seniors, Castleton, V.T.
Natalie Fream - Main Street Art, Newfields, N.H.
Katherine Sullivan - Norma F. Pfriem Breast Care Center, Fairfield, Conn.
Mary Kay Salomone - Operation Support Our Troops, North Kingstown, R.I.
Heather    Philben - Peer Health Exchange, Boston, Mass.
Barb Savage – Samaritans, Boston, Mass.
Mary Benoit Houser - Springfield Boys & Girls Club, Springfield, Mass.
Dr. Anita Huse - The Upper Room, Derry, N.H.