Dedric Ward's first day as a Patriot was a busy one. The free agent wideout arrived in Foxborough Thursday morning, met with Bill Belichick and Scott Pioli, signed a deal to join the team's tiny receiving corps and scurried out to the practice field for the final day of passing camp.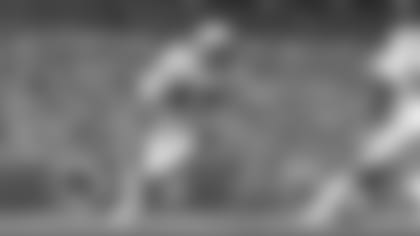 ]()
            Despite that hectic start, Ward believes New England will prove to be a good fit for his skills. "Obviously, being so late and missing most of these workouts and the passing stuff they do is a disadvantage," the 5-9, 185-pounder said shortly after practice. "But having knowledge of the system makes it that much easier. I know the offense and I know what they're doing so [offensive coordinator] Charlie [Weis] feels comfortable enough with me to know he can throw me out there right away and know what I can do."  

Ward's familiarity with Weis' system comes from his early days with the New York Jets. Ward spent the first four years of his career in New York (1997-2000) and Weis was the offensive coordinator for the first three of those. Spending most of his time under Weis as an extra receiver in the Jets spread offense, Ward enjoyed the experience.
"After taking a few visits and speaking to some different teams, being in a system that I had been successful in was obviously a big reason for me coming to New England," Ward said. "[The Patriots] have a passing-style offense. You see Deion Branch have a great start last year because he has good quickness and speed and it doesn't take a rocket scientist to see the different ways the Patriots exploit people's weaknesses.
"I saw that first-hand when I was in New York getting established with Coach Weis and his offense. I think it's a tremendous opportunity for a lot of guys to touch the ball. It's a high percentage, quick passing game where you get the ball in guys' hands who can do something with it after the catch."
Ward has periodically been that type of receiver during his six-year NFL career. In starting 15 of his 43 career games when Weis and Belichick were in New York working under Bill Parcells, Ward caught 65 passes for 1,014 yards and eight touchdowns.
But his best work came in 2000, one year after Belichick and Weis left for New England. Ward started all 16 games and established career highs in receptions (54) and yards (801) while adding three touchdowns. That performance was good enough to earn a free agent deal in Miami, where Ward played the past two seasons.
But things didn't go as smoothly with the Fish, despite Miami's glaring need for help at wide receiver. In two seasons with the Dolphins, Ward managed to start just two of his 29 games and caught only 40 passes for 381 yards and failed to score a single touchdown.
"Sometimes you get into different systems and different schemes and you don't get the opportunities you once had and that was kind of what happened in Miami," Ward said. "It was a bad situation for me – not from a personal standpoint but from a business standpoint. I don't think they utilized me as well as they could have or should have but that's obviously something the coaches decide.
"Charlie allowed me to do a lot of different things in New York – he got the ball into my hands – and it's definitely gratifying to know that I can come back and hopefully have some pretty good production later in my career."
Ward joins fellow vertically-challenged receivers Troy Brown, David Patten and Branch, as well as rookie Bethel Johnson (5-11) and second-year man David Givens, who at 6-0 is the giant of the group.
The only receivers on the current roster listed at greater than 6-0 are Chas Gessner, a 6-4 undrafted free agent out of Brown, practice squad veteran T.C. Taylor (6-3) and rookie free agent Dan Stricker (6-1). The Patriots had looked at a pair of bigger targets in free agents Oronde Gadsden (Miami) and Germane Crowell (Detroit) but were unable to reach an agreement with either.
Beyond the top three, battles for roster spots figure to be fierce. But Ward understands, despite his six years of NFL experience, that job security is never a certainty.
"Nothing has been given to me," he said. "I'm going to come in here and work my butt off and try to fight my way into the rotation – whether that's the fourth, fifth or sixth guy, whatever – I'm going to have to earn my stripes. I know they have some quality guys who have been in the system for a couple of years so I'm coming in with a level head knowing that everything I get is going to be earned."