Musings, observations and the occasional insight as we re-cap the mostly entertaining first round of the NFL playoffs...
The NFC has had the lead in the glamor department all season and next week's divisional round matchups will be no different. While the Falcons at Eagles game on Saturday will be intriguing, put me down for thinking the NFC will be represented in the Super Bowl by the winner of next week's Saints at Vikings game late Sunday afternoon. It's the last game of the weekend and should be the best.
New Orleans hung on at home against Carolina by the skin of its teeth, outlasting the plucky Panthers 31-26 in a game that got more dramatic as it went on. And now we have one of those strength against strength showdowns that pits the high-powered and well-balanced Saints offense against the muscle of the Vikings' dominant defense.
They'll call it an NFC divisional round game. But it feels like the NFC title game to me. And it's a rematch, echoing the start of the season when Minnesota played host to New Orleans in Week 1, winning 29-19 behind quarterback Sam Bradford's three touchdowns and 346 yards passing.
Both the No. 2 seeded Vikings (13-3) and No. 4 seeded Saints (12-5) are very different teams than they were in early September, but they're playing better than anyone else in the conference at the moment, exuding confidence and resiliency in close games.
The Panthers finally slowed the Saints two-headed running game down on Sunday, limiting New Orleans to 41 yards rushing on 22 carries, which is about 110 fewer than they allowed in both of their regular-season meetings. Undaunted, New Orleans turned to its big-play passing game, with Drew Brees carving up Carolina for 376 yards and two touchdowns.
The Saints can beat you a lot of different ways, on both sides of the ball. As can the multi-faceted Vikings, who earned a first-round bye this weekend. No offense to the Falcons or Eagles, but New Orleans-Minnesota is the main event next week.
Okay, so Saints head coach Sean Payton said he wanted to stay aggressive and that's why he went for that daring 4th and 2 near midfield with a five-point lead over Carolina and two minutes remaining. But if that's the case, why run the ball on 3rd and 2 with Alvin Kamara? He could have saved himself and the Saints fans from near cardiac arrest had he been aggressive on third down and played it a bit more conventionally on fourth down, punting the ball deep into Panthers territory.
Instead, Drew Brees threw an interception to Panthers safety Mike Adams — which he should have dropped since it was fourth down, but so much for situational football once again — and Carolina drove all the way to the Saints 21 yard line before the New Orleans defense saved the day.
What a beast Saints defensive lineman Cameron Jordan has been this season. He would not let New Orleans lose a game it lead from the outset, and the pass pressure he produced on that final Panthers drive created an intentional grounding penalty against Cam Newton that blunted the Carolina comeback.
As for Newton, you're going to be hearing about him this week and his experience in the league's newly modified concussion protocol in Sunday's fourth quarter. Newton was briefly knocked from the game by a big hit and spent time in the blue medical tent on the Panthers sideline, where he was apparently cleared of a concussion.
But in leaving the field, Newton had been jogging off when he suddenly went to the turf, looking unsteady as he kneeled. Recent additions to the concussion protocol say "A player who exhibits gross motor instability or significant loss of balance must be taken to the locker room for evaluation if it is not diagnosed as an orthopedic injury.''
But Newton was never taken to the locker room, and it was later announced he was suffering from an eye injury. Expect to hear more in the aftermath of yet another concussion protocol situation that might have moved too fast for those charged with the evaluation process.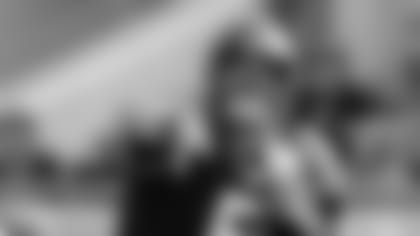 After 10 years between playoff trips, Jacksonville has nothing to apologize for in terms of the "ugly'' factor of its 10-3 conquest of visiting Buffalo in Sunday's AFC first-round game. A win is a win in January. Survive and advance is all that matters.
But I'm pretty sure Pittsburgh can hang with the Jaguars this time if quarterback Blake Bortles winds up running for more yardage (a career-best 88) than he throws for (87) next Sunday. Bortles was the first quarterback to win a playoff game without passing for at least 100 yards on 20-plus attempts since Tennessee's Steve McNair managed it against Buffalo in that memorable Music City Miracle wild-card game in 1999.
Bortles is back to looking like he's afraid to cut it loose and throw the ball downfield, and the Jacksonville offensive coaches clearly don't trust his accuracy or decision-making at this point. The Jaguars won 30-9 in Pittsburgh in Week 5, picking off Ben Roesthlisberger a whopping five times, and returning two of them for touchdowns. It may take another such herculean defensive effort to offset Jacksonville's late-season offensive limitations.
But at least history is on the Jaguars' side. Ten years ago, when Jacksonville was last in the playoffs, the 2007 Jaguars went into Heinz Field and upset the Steelers 31-29 in the first round. They had won there in the regular season as well, in Week 15 that year. Can Jacksonville pull off the sweep and match their feat of being the only Pittsburgh opponent to win twice in the Steel City in the same season?
I'm still not convinced tight end Ben Koyack had full control of that 1-yard fourth-down touchdown pass from Bortles, at least while he was still in the end zone. But I got the sense the NFL office didn't want to dissect the only touchdown in the game too thoroughly, they way it has so many other scoring calls this season. Replay czar Alberto Riveron might have finally come to the conclusion it's better to leave well enough alone than invite another week of derision and controversy.
It was called a touchdown on the field, just as the game-clinching interception by Jaguars cornerback Jalen Ramsey was deemed a legal catch. I think both calls were probably right, but if it's consistency the league's after, ask a Bills fan how they feel about those calls in light of the Kelvin Benjamin no-catch replay reversal in New England two weeks ago. Buffalo has a fair beef because the decisions have been all over the map.
It was a nice run for the Bills under first-year head coach Sean McDermott this season. Just finally ridding themselves of that galling 17-season playoff drought makes this year a significant success. But if the Bills want to make this postseason trip anything other than an aberration, they have to find themselves an upgrade at quarterback.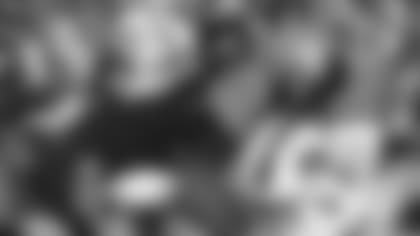 Tyrod Taylor had a chance to prove he belongs in the team's future on Sunday and the results were underwhelming, to put it mildly. Taylor threw for 134 yards on 17 of 37 passing, with one interception that was not his fault. He left the game in the final minutes to be checked for a possible concussion, and to be clear, Taylor didn't get much help Sunday from his receivers or the unimaginative play-calling of Bills offensive coordinator Rick Dennison.
But one touchdown could have put the Bills into position to advance, and Taylor simply couldn't produce. After three years with Taylor as the Bills starter, Buffalo has to do better at the game's most pivotal position. And with four picks in the first two rounds of April's draft, they'll never have a better shot to make a move on the quarterback front, be it a trade up or a picking a passer wherever their selections fall.
I'd be shocked if Taylor isn't traded or released before the Bills owe him a $6 million roster bonus in mid-March. And with that the search for Buffalo's next Jim Kelly will continue into its third decade.
The Titans scored three points in the first half on Saturday and won in Kansas City. The Jaguars scored three points in the first half on Sunday and won at home against Buffalo. In a nutshell, there's the statistic that underlines the lack of elite teams in the AFC this season. What times does that Steelers at Patriots AFC Championship game kick off in two weeks?
The No. 6 Falcons are favored by 2 1/2 points at top-seeded Philadelphia next Saturday, making the Eagles the first No. 1 seed to ever be an underdog in the divisional round. That's crazy, but not a huge surprise. I kind of predicted it last week, although I wasn't sure oddsmakers would go with Atlanta as a favorite. But with no Carson Wentz in the Eagles lineup and Nick Foles struggling mightily in Weeks 16-17, the Falcons should be favored. Atlanta has won seven out of nine games and is playing with the confidence of a team that has been there and done that.
Eight teams are left in the NFL playoffs. But no teams from outside the Eastern or Central time zone remain. This the first time since 2004 that no teams from Mountain or Western time zone remain in the final eight. Not sure what that means other than both the AFC and NFC West underachieved this season, with the division champion Chiefs and Rams both going one-on-done in the postseason.
Come to think of it, it also means we're in for a cold-weather divisional round, with games next weekend in frosty New England, Pittsburgh, Philadelphia and Minnesota, where the dome-based Vikings stay comfy.
The NFL's best division, the NFC South, has advanced two of its three playoff teams to the conference's final four: Both Atlanta and New Orleans. But the AFC South still has two teams alive as well, in Jacksonville and Tennessee.
Only three of the remaining eight teams have won a Super Bowl ring: the Patriots, Steelers and Saints. Years of frustration will end if one of the other five teams wins a title: Philadelphia, Minnesota, Atlanta in the NFC, and Jacksonville and Tennessee in the AFC. Those are five of the remaining 13 franchises that have never won a Super Bowl.
With the Panthers loss, owner Jerry Richardson has pledged to commence the sale of the team in the wake of his being investigated by the league for sexual harassment allegations that spawned settlements. In his 23 seasons owning the franchise, Carolina went a perfectly even 192-192-1 including playoffs.
It's not that I give the Titans zero hope of going into Foxboro next Saturday night and coming out a winner against New England. But the Patriots have dominated this series, out-scoring Tennessee 166-53 in their last four meetings. That's an average score of 42-13 when you're rounding.
The Titans haven't beaten New England since 2002, and haven't won in Foxboro since 1993, when they were still the Houston Oilers.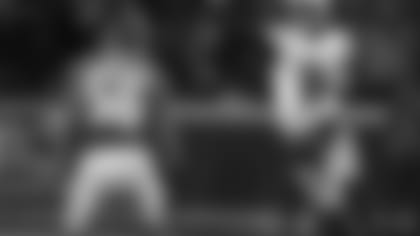 What a tremendous example of a quarterback doing whatever it takes to win a game. That's what the Titans' Marcus Mariota turned in against Kansas City. Don't look at the stats. They don't tell the whole story. Just roll the tape and watch the game. Passing, running, blocking and even catching his own 6-yard touchdown pass, that's the tour de force performance Mariota executed.
His third season in the NFL was undoubtedly a step back, but that's not all on Mariota. Don't make up your mind too soon about where Mariota's ceiling is. He can carry a team on his back in any particular game, and he willed Tennessee to that upset victory in Kansas City. When you see how his teammates react to him, especially after that game-clinching block he threw for Derrick Henry, that should tell you Mariota has something special and maybe even unique in his skill set.
You can pretty easily make the case for or against the significance of playoff experience, but I definitely think it was a factor that helped the No. 6-seeded Falcons knock off the No. 3-seeded Rams 26-13 Saturday night. Atlanta played as if it understood the urgency and intensity of a playoff setting, and Los Angeles played as if it trying to figure things out on the fly.
The Falcons never trailed in the game and didn't wilt when the Rams made a couple runs at them, chipping away at what was once a 13-0 first-half lead. Who knows how much Atlanta has learned and benefitted this season from its devastating Super Bowl collapse, but the Falcons have not let that game define them, and now can point to winning playoff games in consecutive seasons for the first time in the team's 52-year history.
And yes, I give Atlanta more than a decent chance to pull the upset next week in Philadelphia, where the Eagles haven't inspired much confidence of late. Asking the Falcons to win three road games in the playoffs to punch their ticket to Minneapolis is a tall order. But you have to admit it seems a bit more realistic after seeing Atlanta take down the explosive Rams.
So both teams that rested key players in Week 17 wound up losing at home on Saturday, convincing me all the more that you take your foot off the gas pedal at your own peril when it comes to preparing for the NFL playoffs. Tennessee and Atlanta had to win in Week 17 to make the postseason and they both have essentially been in the playoff-pressure games for weeks now, and I think being conditioned to that intensity level help them knock off the favored Chiefs and Rams.
It's always something of a damned-if-you-do, damned-if-you-don't situation for coaches, because getting an important player hurt in a meaningless Week 17 game would carry its own torment. But it's so difficult to flip the switch and get to playoff mode, and some teams simply can't manage it when they've clinched earlier and had some time to coast. When Saturday's games came down to crunch time, it was Tennessee and Atlanta that looked hungrier and made all the key plays, while Kansas City and Los Angeles could not turn the momentum their way.
Here's an obvious point of emphasis for the Rams to focus on as they look ahead to next season: Creating a true home-field advantage. Los Angeles was just 3-5 at the Coliseum this season, including their playoff loss (a "home'' win against Arizona came in London in Week 7). In their first two seasons back in L.A., the Rams are a lousy 4-11 at the Coliseum, and that's compared to a 10-6 road record over that same span.
The Rams may have returned to California, but they won't be all the way back until they've learned how to make L.A. work in their favor.
Again, Andy Reid? Really? In his five seasons in Kansas City, Reid is now 1-4 in the playoffs, three times going one-and-done in the postseason. His 2013 club blew a 28-point lead at Indianapolis in the first round, losing 45-44, with the Colts mounting the second largest comeback in playoff history. And then Saturday night, Kansas City led the No. 5 seeded Titans 21-3 at halftime, and still managed to lose 22-21 thanks to a scoreless final 30 minutes.
And it's not as if Tennessee is anything close to the quick-strike Colts of four years ago, who trailed 38-10 in the third quarter against the Chiefs before Andrew Luck cranked it up and got ridiculously hot. The Titans are a team constructed to get ahead and protect a lead with their running game, not dig out of 18-point halftime holes on the road. But no matter, when the Chiefs decide to end their season in excruciating fashion, no playoff opponent is going to stop them.
Inexplicably, the Chiefs ran running back Kareem Hunt just 11 times in the game, for 42 yards, despite the rookie having been the NFL's leading rusher this season. Hunt got just five carries in the second half, when Kansas City should have been trying to protect its lead and shorten the game by staying on the ground.
It has to be soul-crushing to be a Chiefs fan. With Reid finding ways to lose in the playoffs to inferior teams, what a cruel flashback to Kansas City's Marty Schottenheimer era, when the Chiefs were a great regular-season team that always wilted in the playoffs. Reid is 53-27 (.663) in his first 80 regular-season games in Kansas City, with four playoff trips and five winning seasons. But that winning percentage sinks to .200 in the playoffs, with two of the worst second-half collapses you'll ever see.
Most mind-boggling of all, Kansas City has now lost an NFL-record six consecutive home playoff games, and last won in the postseason at Arrowhead Stadium in the 1993 playoffs. Schottenheimer, Dick Vermeil, Todd Haley and Reid have all had a hand in compiling that galling record.
Reid wasn't the only playoff coach who came up small and forgot about his running game at the worst possible time. The Rams' Sean McVay, everybody's choice for the league's Coach of the Year award this season, pulled an Andy Reid as well. MVP candidate Todd Gurley had 14 carries for 101 yards (7.2 average), but he ran just six times in the second half, even though he gained 56 yards on those carries (9.3 average). Oh, and did we mention Los Angeles was 7-0 this season when their star running back got at least 20 rushes in a game?
McVay is a great coach and will have plenty of other playoff games in his very bright future. But his rookie season ended with something of a thud, and this loss will serve to tamp down some of the hype that had been generated by the 31-year-old's strong debut.
In other words, as Bill Parcells is fond of saying, don't go putting him in Canton just yet.
If the NFL Network report is true, and veteran referee Jeff Tripplette has decided to retire, it's very good news for the league. Tripplette has been a train wreck of a referee and mayhem and malpractice inevitably follow whenever he's in charge. He had no business being handed a playoff-game assignment and I don't care what the league's ratings for game officials say about his work. He's a calamity, and the Chiefs have every right to be screaming about the early whistle on Derrick Johnson's big Mariota sack and fumble that was ruled a non-fumble due to forward progress. The Titans got a field goal out of that mistake, and Kansas City wound up losing by a point.
Tripplette has hopefully worked his last NFL game.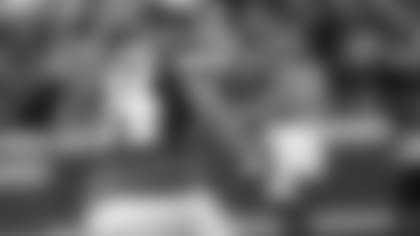 Speaking of retirements, Darrelle Revis should follow Tripplette's lead and quit, like he did on his team late in the Chiefs loss. What a farce of an effort Revis made on a couple plays, most notably Henry's game-clinching run. He wouldn't be the first cornerback to shy away from contact, even on the Chiefs. Marcus Peters is known for not wanting much to do with the tackling part of the job either. But Revis is out there going through the motions late in a playoff game, when his team is desperate and about to give away a game they once were firmly in control of?
It's an embarrassing look for the player who once was the best cover man in the league. The business decision Revis made was taking the Chiefs' money and then deciding to play only when he wants to play. And for that matter, the Chiefs entire third-down defense was abysmal in the second half against Tennessee.
Jon Gruden is back coaching in Oakland, but buyer beware, Raiders. I know Chucky is beloved in Oakland and Raiders Nation is hopeful he can recreate Camelot, but he's nowhere near a sure thing to elevate Mark Davis's team back to a level of true prominence.
And I'm also not convinced Gruden is the best thing that ever happened to Derek Carr's career. The Raiders franchise quarterback regressed badly this season and he needs to restore his game and maybe his confidence to a degree. Gruden may have the reputation of being a quarterback guru, but the record says otherwise. He churned through quarterbacks in Tampa Bay, winning only with Brad Johnson to any degree, and his personality and style of coaching is not a fit with everyone.
I get why the Raiders wanted Gruden, given the reality they may have to play two more lame-duck seasons in Oakland before heading for Las Vegas. But if they're expecting a return to greatness, maybe Davis should have inquired about luring John Madden or Tom Flores out of retirement instead.
The Falcons rolled up an eye-popping 37 minutes of possession time in their impressive win against the Rams, and that's a formula that will work very nicely next week at Philadelphia. The Eagles defense can obviously be stout, but if Atlanta can hog the ball and limit how much time Philly's offense is on the field, that will only accentuate the pressure to produce that unit has felt since Carson Wentz went down with a season-ending knee injury in Week 14. A little more ball control offense would have gone a long way for the Falcons in the second half of the Super Bowl.
Quite the slippery ice rink of a field that was Saturday night in Los Angeles. As much money as the NFL has at its disposal, why does there always seem to be poor field conditions to contend with somewhere in the playoffs? And you can't blame a cold-weather climate for the Coliseum's field issues. It was reportedly a new field put in after the recent USC-UCLA game, but it certainly wasn't new and improved. Falcons quarterback Matt Ryan and others narrowly avoided injury when their footing gave way repeatedly.
Can anyone explain to me why the NFL calls this round of the playoffs the  Wild Card round when four of the teams involved are division champions and  the other four are wild-card qualifiers? Calling it the first round of the playoffs has always been the only sensible way to deal with 50-50 nature of the eight-team field in my eyes.
With the Titans notching a playoff win on the road after clinching the franchise's first postseason berth since 2008, Titans owner Amy Adams Strunk unsurprisingly issued a statement Sunday supporting third-year Tennessee head coach Mike Mularkey. And that's understandable given the Titans hadn't won a playoff game since 2003.
But make no mistake, Mularkey's job was in jeopardy if the Titans had lost and lost big against Kansas City. Tennessee general manager Jon Robinson, a former Patriots front office member, was expected to pursue New England offensive coordinator Josh McDaniels if he the team had an opening.
And there are many within the league who feel Mularkey's power-run-based offense remains ill fitting for the talents of quarterback Marcus Mariota, whose development stalled in 2017. From a long-term perspective, the Titans may wind up losing as a cost of their playoff win this weekend.
Ridiculously Cool Football Card of the Week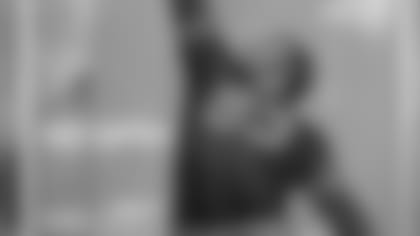 What, you think Odell Beckham Jr. invented the one-handed catch in the NFL in 2014? Hardly. Here's proof in the form of Bill Wightkin's 1950 Bowman football card, with No. 83 high-pointing the ball to win major style points. Wightkin was a rookie who played mostly defensive end for the Chicago Bears in 1950, after leading Notre Dame in receiving in 1949. The eighth-round pick went on to also play defensive tackle and offensive tackle for the Bears from 1950-57, and you don't see that kind versatility in today's NFL. Wightkin only caught three passes for 24 yards as a rookie, but clearly he had good hands. Or at least one good hand. His career high in receptions wound up being seven catches for 120 yards in 1952, but he did score on two of those grabs, so that's a ratio any coach can live with.