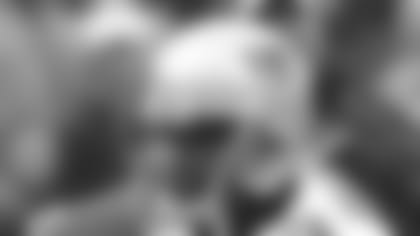 Deion Branch** – Branch had a pretty strong season catching 78 passes for 998 yards and five touchdowns but his numbers declined over the second half of the year. Branch had a big game in the playoff loss at Denver but in his eight games prior to that, he only topped 80 receiving yards once. It's not all Branch's fault, however. The Patriots offensive system isn't really designed for one receiver to put up big numbers. Also, with Troy Brown and David Givens missing time because of injuries, teams where able to take Branch out of the game by double-covering him. Like most of the Patriots, Branch had a good – not great – season in 2005. For a big-play receiver, he needs to make more big plays on a consistent basis. Still, Branch is the Patriots most complete receiver and their most explosive weapon in the passing game.
David Givens – Givens missed three games this season but ended up with his usual 59 receptions for 738 yards and two scores. Givens isn't a spectacular receiver but he's one of Tom Brady's most reliable targets. Of his 59 receptions, 32 of them went for first downs. Givens and Branch compliment each other well with neither player ever complaining they aren't getting enough balls thrown their way. Givens has been an important part of the Patriots success over the years but he enters the offseason as an unrestricted free agent. There could be teams willing to overpay for Givens and if that happens, he won't be back in New England. Should he sign elsewhere, the Patriots will have to dip into the free agent market themselves and sign a veteran to replace the reliable Givens.
Troy Brown – It seems like Brown has been with the franchise since they were the Boston Patriots but the veteran is still an important member of this team. Brown doesn't put up the kind of numbers he once did – he caught 39 passes for 466 yards this season – but he can still get open and is valuable as a slot receiver. Like Givens, Brown is an unrestricted free agent so the Patriots will have to decide if they want to bring him back for one more season. As a free agent last year, Brown turned down an offer from the Saints to re-sign with the Patriots. Since he had a chance to leave last year and didn't do so, it's doubtful Brown will sign with another team. He will either decide to retire or probably play one more year in New England. Brown's versatility and leadership would be valuable to the team, even if it were just for one more year.
Tim Dwight – Dwight was brought to New England to return kicks. He's never really been more than a third or fourth receiver during his career. The disappointing part about Dwight is he may have been more valuable as a receiver than a kick returner for the Patriots this season and that's not a good thing. Dwight made a couple of big catches this year – including a key 59-yard reception against the Dolphins – but he's too inconsistent to be counted on as a big receiving threat. Dwight is another unrestricted free agent and whether he returns or not will have a lot to do with what the team thinks of him as a return man rather than a receiver.
Andre' Davis - After coming over from Cleveland in a trade, getting released and then rejoining the team in October, Davis did some good things for the Patriots. He's never going to be a dominant NFL receiver but Davis is a solid deep threat and valuable special teams player. Davis only caught nine passes on the year and being yet another unrestricted free agent, his future with the team is uncertain. He probably won't get many offers from other teams and with the Patriots looking to reload at the receiver position, there's a strong chance the team will re-sign Davis for at least one more season.
Bethel Johnson – Johnson – a one-time second round draft pick – caught four passes for 67 yards and one touchdown in 11 games this season. To say his future with the team is in doubt would be generous. The Patriots are expected to see a lot of changes at the receiver position and after not doing much in his first three years with the team, Johnson will have to battle for a roster spot in training camp.
Bam Childress – Childress was only active for one game this season – the finale against the Dolphins – but he showed some potential in his brief playing time. Childress caught three passes for 32 yards in that game and also played some defensive back. The Patriots like players with versatility so if Childress has a good training camp, he could earn a roster spot in 2006.
Outlook for 2006: The receiver position will probably undergo a major overhaul this offseason. Branch is cemented as the team's No. 1 receiver and while the Patriots would love to have Givens back, that may not happen due to monetary reasons. If Givens leaves, the Patriots will have to be aggressive in free agency, especially considering that Brown, Davis and Dwight are also free agents. Brown could be back for one more season. He and the Patriots will sit down at some point and make a decision on his future with the team. The bottom line is this is an area of the team that needs to be upgraded. Expect the Patriots to have three or four new receivers on their roster once training camp starts. If both Givens and Brown depart, the team will have to find a second and third receiver through free agency. Some names to keep in mind are Joe Jurevicius, Antwaan Randle El, Reche Caldwell and Josh Reed. No matter what happens, expect this position to look a lot different when the 2006 season kicks off.
Tom Brady will take part in the coin toss at Super Bowl XL. He will become the first active player to participate in a Super Bowl coin toss.