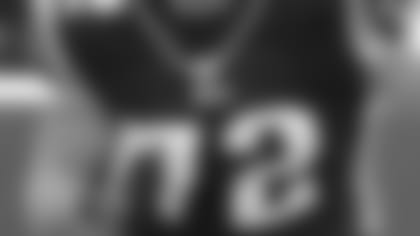 Matt Light** 2006: The left tackle position is probably the most looked at spot on the offensive line. That's because those guys are constantly going up against some of the best rushers in the league – guys like Dwight Freeney, Jason Taylor and Aaron Schobel. Light was manhandled by Taylor (who isn't?) but he had a pretty consistent year otherwise, coming on strong in the postseason against rushers like Freeney and San Diego's Shawne Merriman. He'll be replacing Baltimore's Jonathan Ogden at the Pro Bowl tomorrow, and was working with his position coach Dante Scarnecchia and the AFC's best during the week since coach Bill Belichick and his staff are the representing the conference in Honolulu this year. In addition to starting every game this season, Light recorded a fumble recovery and two tackles on turnovers.
Outlook: Light is a charismatic member of perhaps the most tightly knit group in the Pats locker room, the offensive line. He had a good enough year to make the Pro Bowl, but could still be challenged by some of the younger guys in this summer's training camp if he doesn't keep working hard.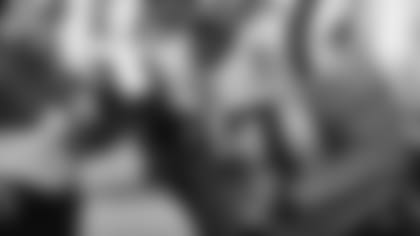 Nick Kaczur** 2006: Kaczur has been haunted by a lingering shoulder injury, which kept him off the field during the beginning of the season and out of the starting lineup until Game 8 against Indianapolis. After regaining his starting role, Kaczur got the job done well enough to keep it.
Outlook: He's been consistent, and a solid offseason could help him continue to regain strength in that shoulder that he had surgery on during the last offseason. He's under contract through 2009 and finished the season strong, but he'll have to defend his starting position in training camp.
Ryan O'Callaghan
2006: This former California Golden Bear proved to be a bear of a blocker in his rookie year, stepping in to start six of the first seven games at right tackle. He was strong in pass protection, but he suffered some neck injuries that had him on the injury report mid-year. He also had a memorable fumble recovery against the Bills in October, when Schobel stripped Tom Brady.
Outlook: If he can stay healthy and improve, he could knock Kaczur out of the starting right tackle position in his sophomore season as a pro. If not, his experience this year will make him a valuable backup.
Wesley Britt
2006: Officially listed as six-feet-eight-inches tall, Britt is the tallest player on the Patriots roster and one of the more physically intimidating players in the locker room. He had a good year in terms of backing up the other tackles and didn't make any memorable mistakes. He seems to have improved since spending the majority of the 2005 campaign on the practice squad. Britt recorded his first NFL start this season against Cincinnati, but was inactive during the playoffs.
Outlook: Britt needs to continue to grow as a player, but he's got all the tools at his disposal. It's just a matter of experience and time and how that maturity coincides with the team's needs.
Sean Bubin
2006: Technically a first-year tackle, Bubin was drafted by the Jaguars in 2004 and spent last year on the Vikings practice squad. The 6-foot-6-inch, 305-pounder was allocated to the NFL Europa (formerly NFL Europe) League last spring, playing for the Hamburg Sea Devils. He stayed on the practice squad after joining the Patriots mid-season.
Outlook: With needs at other position that appear more pressing, the Patriots might not make too many moves in terms of offensive tackles this year. If they don't, Bubin could have a chance to continue improving in the Patriots system.
Analysis: The Patriots line stayed pretty healthy after Kaczur returned, but their run blocking didn't always create the kind of space running back Laurence Maroney likes to work with. The unit is very jovial, and they all grew beards as a sign of solidarity this year. However, those got shaved after the 21-0 loss at Miami and the tackles stepped up their game, preventing edge rushers from hassling Brady too much at the end of the season. The tackles have lots of solid depth, which is good for motivating the starters to actively maintain their roles rather than resting on laurels.
Note:
As part of your weekend intake of content on Patriots.com, don't miss a blockbuster edition of Patriots Video News. Team cameras have been in Hawaii all week with exclusive footage of Belichick and the Patriots coaching staff leading the AFC squad in the Pro Bowl. If you're curious to see how Belichick has been interacting with LaDainian Tomlison and Peyton Manning and if you'd like to hear Belichick's banter on the practice field, PVN is your best source. Plus, this week's show has the first in a four-part free agency preview series. So don't miss Patriots Video News, right here on Patriots.com.