Even though it seems to happen every year, the finality of seeing the word "TRADE" scrolled beneath the Patriots logo come draft time still comes as a surprise.
Perhaps that impact was lessened this year in a draft that many claimed lacked star power but not necessarily depth, and one in which the Patriots possessed scarce few picks. As much as predicting a move down for Bill Belichick has become somewhat of a cliché, it was a move that made perfect sense this year - and the Minnesota Vikings emerged as a willing partner.
Armed with just five selections at the start of the night, Belichick was able to basically recoup his draft by swapping the 29th overall pick for the Vikings second- (No. 52), third- (83), fourth- (102) and seventh-round picks (226). On paper it was an even deal based on the draft trade value chart, but for New England it seemed to be one that stacked heavily in its favor.
At No. 29 there were certainly no sure-things to be had, and with no glaring needs that demanded addressing there was no reason to make the pick. At the same time, assuming the so-called experts are correct, there will be opportunities to grab some good football players in Day 2 and now Belichick will have more chances to do so.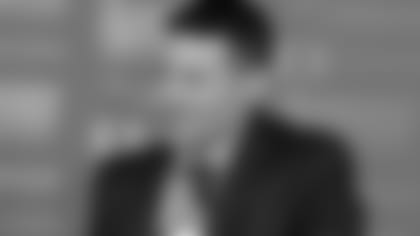 "We had conversations with a few teams and the opportunity made sense for us," player personnel director Nick Caserio said following a first round that took nearly four hours. "We got a pick in the fourth round, which we didn't have. We feel pretty good about going into tomorrow with four picks. Potentially we could have had just two."
The only question to ponder would be: Did the Patriots pass on a player that could have helped at 29? The Vikings ended up taking a player some felt the Patriots could have used in Tennessee wide receiver Cordarrelle Patterson. He is the type of big target at 6-3 that could have been a fit for New England on the outside, and certainly Tom Brady could stand to add another option in the passing game.
But despite some comparisons to Randy Moss as an outside deep threat, Patterson is nowhere near a sure thing. Neither were any of the other wideouts that remained on the board - players that include Baylor's Terrance Williams, Tennessee's Justin Hunter and Cal's Keenan Allen.
On the contrary, the top corners were gone by the time the Patriots came up, and with 10 front seven players also off the board by pick 29, making a selection didn't seem to make sense. In all, 18 defensive players were chosen in Round 1, leaving Belichick almost no choice but to add picks rather than reach for a player who likely wouldn't have represented an upgrade.
"We were ready to make a pick - no question," Caserio added. "We have a few players remaining that we were interested in. We'll see how it goes tomorrow. We're open to anything at this point."
So, with no position or player necessarily becoming attractive, Belichick stuck with his tried and true methods and made like Monty Hall and made a deal. By adding four picks he'll now have two twos and two threes to work with on Day 2, which gives him the type of flexibility he so desires.
With that flexibility comes possibilities, and for Belichick that almost always means trades. Caserio admitted there were players the team that are still available, and now the Patriots have the capital to move up to grab one if they so choose.
As always, ought to make for another interesting draft day in Foxborough.