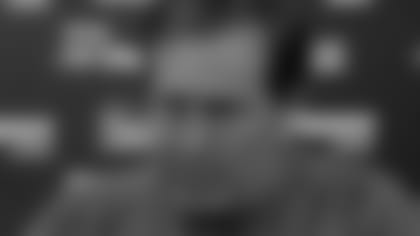 Bill Belichick** spent a good portion of his press conference Wednesday talking about the Chargers offense and the problems it poses for the Patriots this Sunday.
"They can do anything you want them to do on offense," Belichick said. "They have three guys with so much production in[Antonio] Gates, [LaDainian] Tomlinson and [Keenan] McCardell. Not just over their careers but this season as well."
The Chargers offense is indeed loaded as it showed this past Sunday by scoring 45 points against the New York Giants. In that game, star running back LaDainian Tomlinson broke out with 192 yards rushing after two subpar games to start the season. Tomlinson rushed for three scores against the Giants and also threw a 26-yard touchdown pass to wide receiver Keenan McCardell.
For the season, Tomlinson has rushed for 316 yards and six scores. He is also a dangerous receiver out of the backfield, which is evident by his 100 receptions in 2003. Most people believe Tomlinson is the best back in the NFL right now. While Belichick wouldn't go as far as to call Tomlinson the best, the fifth-year back out of TCU has earned the coach's respect. "I don't rate backs but he's pretty good," Belichick said. "He has a lot of power, a lot of speed, tough to tackle. There isn't much he can't do."
After missing the first game of the year against the Cowboys because of a team-imposed suspension for reporting to camp a day late, Gates has picked up where he left off last season. In his first two games, Gates caught 12 passes for 172 yards and a touchdown. Gates is a tough matchup for opposing defenses because of his combination of size and speed.
The former basketball player is 6-4 and weighs 260 pounds. As Belichick stated Wednesday, a guy that big with great speed presents a lot of problems. "He is a tough matchup for any team. He has great quickness, good size and great hand-eye coordination. He has great hands and he makes a lot of difficult catches but he makes them look easy."
Fourteen-year veteran McCardell must have missed the memo that said he is getting old because he is off to a tremendous start in 2005. McCardell leads the Chargers with 17 receptions for 257 yards and four touchdowns. McCardell has been able to stand the test of time because his game is not predicated on speed. He is known throughout the league as a great route-runner with exceptional hands. The one-time Brown used to play for Belichick in Cleveland and his former coach is not surprised that he is still getting the job done at age 35.
"I've coached McCardell. He isn't going to lead the Olympics or lead the Indianapolis scouting workouts I can tell you that," Belichick said. "But the guy has 10,000 receiving yards in his career. That is a lot more than almost everyone else who has ever played football."
Belichick said that speed isn't everything and that players in the NFL develop a style that complements their strengths. The Patriots coach went on to say, "Everyone has their own style and in the end, it comes down to if you can make that a productive style of play." McCardell's style must be working for him because after three games this season, he ranks third in the AFC in receiving yards and fourth in receptions.
Most of the talk about the Chargers this year has been centered on Tomlinson, Gates and McCardell, but quarterback Drew Brees is the one who orchestrates the Chargers attack. San Diego's offensive line has been a sore spot for the team so far this year, putting Brees under a lot of pressure. Despite the lack of time, Brees is hitting on 65 percent of his passes and he has a passer rating of 87.2. This is coming off a year where the former Purdue standout threw for 27 touchdowns and only seven interceptions.
Belichick gave Brees high praise for the way he manages a game. "He's a good decision-maker," Belichick said. "He is accurate with the ball and he converts third downs. He isn't careless and doesn't get fooled very often. In the end, a quarterback's job is to get the ball to his playmakers, to manage the game and to win and that is what Brees does."
The Patriots finally have a home game this Sunday but the team needs to be careful this doesn't turn into a sandwich game. The Patriots just played two physical games on the road against Carolina and Pittsburgh and travel to Atlanta and Denver in the upcoming weeks. Belichick does a great job of keeping his team focused on every game and the Patriots will need to be ready to play on Sunday. If they aren't, the Chargers offensive weapons could make for a disappointing homecoming.
Patriots make roster moves
The Patriots announced on Wednesday they signed free agent safety Michael Stone and re-signed offensive lineman Gene Mruczkowski. The team also signed guard Ryan Krug to the practice squad. To make room for Krug, linebacker Jared Newberry was released from the practice squad.
Stone played his college ball at the University of Memphis. He was drafted by the Arizona Cardinals in the second round of the 2001 draft and played four years with the team. In 2004, Stone ranked second on the Cardinals with a career-high 17 special teams tackles in 14 games. The 6-0, 201-pound safety provides depth now that Rodney Harrison has been lost for the season.
Stone is a player that Belichick is familiar with. The coach said on Wednesday, "Michael is a guy we did some work on coming out of Memphis. He was a good special teams player in Arizona and he has the versatility to play both corner and safety."
The Patriots originally signed Mruczkowski as an undrafted free agent in 2003 out of Purdue. He played in 10 games with the Patriots last season as a backup center. The team released him in September of this year but with Matt Light's injury, the 6-2, 305-pound Mruczkowski will provide depth along the offensive line.
Krug signed this season with the Patriots as an undrafted free agent out of the University of Connecticut but like Mruczkowski, Krug was also released just before the opening game. Krug returns to the practice squad after spending five days there after his release in September.
Wilson staying put
Belichick said on Wednesday that the team has no plans to move Eugene Wilson from free safety to strong safety to replace the injured Harrison. As he has stated in the past, Belichick pointed out again at his press conference the Patriots really don't have specified "free" and "strong" safeties. "No defensive player does just one thing," the Patriots coach told the media. "Everyone has assignments on defense and then they execute those assignments. Safeties have to support the run, they play zone coverage in the deep part of the field and the short part of the field, they play single coverage, they blitz. It depends on what the assignment is and what the play is."
Notes
Belichick was asked on Wednesday about the incident that took place on the field this past Sunday in Pittsburgh when one of the Steelers trainers came over to check on Matt Light. While the coach wouldn't get into specifics, he did say, "There is no organization or coach [Bill Cowher] that I have more respect for than the Steelers. I have 100 percent total respect for Bill Cowher, his organization and his football team." When asked again about the alleged confrontation, Belichick reiterated with a smile, "I have all the respect in the world for the Pittsburgh Steelers organization."… Cowher wasn't the only one who didn't notice the extra 52 seconds put back on the clock last Sunday. Belichick admitted that he missed the mistake too and wasn't aware of it. He did go on to say it affected both teams equally, "Whatever time is on the clock, that is what the teams play to."… The Patriots currently lead the AFC in passing offense and rank second in total offense after three games this season. The news isn't as good for the running game. The Patriots rank third from the bottom in the conference in that department…Sports radio WSKO in Providence, R.I. is reporting running back Kevin Faulk could miss the next 6-8 weeks with a leg injury. Check back with Patriots.com later today for the full injury report...According to *The Boston Herald, *the Patriots worked out running backs Amos Zereoue and Erik Bickerstaff as well as receiver Troy Edwards and defensive backs Michael Harden, Antwain Spann and Russell Stuvaints.