While most of the focus of sports fans in New England these days revolves around the forthcoming NFL draft and the opening of Red Sox season, four Patriots allocations saw action over the weekend in the second week of games in NFL Europe.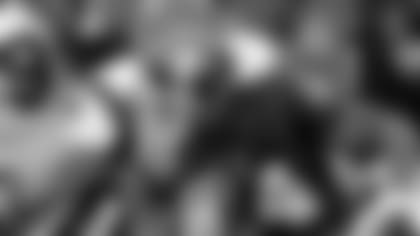 ]()Running back Kory Chapman, who spent last season on New England's practice squad, has seen the most action over the first two weekends of play across the pond. Sunday, Chapman had game highs with 17 carries for 83 yards (4.9 avg.) to help lead the Cologne Centurions to a 23-10 win over the Fire in Rhein. In two games this season the former Jacksonville State star has 23 carries for 114 yards (5.0 avg.) and one touchdown. He also returns kickoffs for the Centurions, with four returns for 86 yards for a 21.5-yard average. Chapman's 117 total yards from scrimmage ranks sixth in NFLEL.
Fellow Patriots allocation Cedric James was on the losing side in Rhein as the Fire fell to 0-2 on the young season. The New England wide receiver led the Fire with five receptions for 50 yards in the losing effort. In two weeks, James has a total of eight receptions for 78 yards (9.8 avg.) and one touchdown.
Another Patriots wide receiver played a key role in the closest game of the weekend as the Berlin Thunder improved to 2-0 with a 15-13 win over the now 0-2 expansion Hamburg Sea Devils in Berlin. New England's Ricky Bryant caught a 19-yard touchdown pass for the Sea Devils in the fourth quarter to give the new team a 13-12 advantage and hope for its first-ever victory, but Berlin eked out the win with a 37-yard field goal with just two minutes to play. While Bryant's touchdown was his only catch on Sunday, he also chipped in with four kickoff returns for 82 yards (20.5 avg.). Through two weeks, Bryant leads NFLEL in combined net yards with 70 yards receiving and 158 yards on kickoff returns.
Inside linebacker Grant Steen is the only defensive player New England sent to Europe this spring. Steen has started the first two game of the year at middle linebacker for the Frankfurt Galaxy (1-1). This weekend the Galaxy beat the Amsterdam Admirals 23-14 at home at Waldstadion in Frankfort behind an explosive rushing performance by Chargers running back Ahmaad Galloway, who carried the ball 33 times for 161 yards with one touchdown. In two games Steen has recorded three tackles while adding a fumble recovery in specials teams action for the Galaxy.
New England's final two spring 2005 NFLEL allocations, wide receiver Mark Bartosic and tight end Joel Jacobs, currently reside on the injured reserve list for the Fire and Admirals respectively.
A look ahead to next weekend's schedule has Frankfurt at Cologne, Berlin at Amsterdam and Rhein at Hamburg in a slate of Saturday night games. The Rhein/Hamburg game can be seen live on the NFL Network on Saturday at 1 p.m. EDT.