Adam Carolla, chats during a podcast at Carolla's home studio in Los Angeles on Thursday, March 19, 2009. AP Photo.


The Out-Takes Interview: ADAM CAROLLA
"I'm flying high over Tupelo, Mississippi, with America's hottest band...and we're all about to die."
However non-sequitorial, we considered that (almost) famous quote a splashier open than, say, "We're putting our cell on speaker, with America's hottest podcaster...and he's being really nice."
Yes, Out-Takes recently sat down with ADAM CAROLLA, the man behind the mic of the chart-topping-est podcast on iTunes, not to mention the known universe. You may recall him from his stint with JIMMY KIMMEL on their parody "brew"-ha-ha, The Man Show, or from his days and overnights as DR. DREW's Everyman coach-partner on the call-in show Loveline. Or from such disparate projects as Dancing with the Stars and The Hammer (a boxing movie hailed by Sports Illustrated as 2008's "best sports comedy") or maybe it was his four-year run on syndicated radio as the HOWARD STERN-approved successor to Howard Stern. In any case...
...now the North Hollywood native is venturing back into television - his untitled pilot, for NBC, shot last month - while simultaneously inviting talk of a "podcasting empire," thanks to his burgeoning network, ACE BROADCASTING. (Within a month of its inception, Carolla's flagship podcast set a world record, logging well over half a million downloads.) Despite all these goings on, a convalescing dog and twin four-year old bambini, Adam took time off to check in with Out-Takes about...the iffy legacy of the GATORADE DUMP...a personal preference for PAT PATRIOT...and his monstrous desire to go all Singletary on a bawling actress at the '01 Oscars.
On his Sunday Football routine...
ADAM: We go to Jimmy [Kimmel]'s. Jimmy has a 106-inch plasma set and in that set is four games going... Jimmy cooks, he's got a pizza oven. BILL SIMMONS is often there, along with [The Sports Guy's frequent B.S. Report contributor, Jimmy Kimmel Live! Writer] COUSIN SAL who's always there making book. It's an eclectic group. Once in awhile you'll see HUEY LEWIS walk through the place...JOHN KRASINSKI from The Office, even TOM CRUISE and his mother. It's weird, seeing it through the eyes of an outsider, it would sound pretty cool, and it is pretty cool, but...they're just a bunch of guys I've known for ten years plus. We just watch TV, bust each other's chops, drink beer and crack wise, you know...do what guys do. And it's a pretty knowledgeable football crowd. Even though I've been either 0-7 or 0-8 against the spread in the last two years...I actually know football. You wouldn't know it, though, by the checks I cut to Cousin Sal at the end of each season.
Speaking of...how 'bout that Super Bowl wager, Adam?
ADAM: I don't know how the damn Colts don't win the damn Super Bowl. They're up, 10-0, and I say to [producing partner KEVIN] HENCH, "Finally, I'm gonna win myself a Super Bowl," and he says, "Let New Orleans score...let's make the game entertaining, at least." It was so over at the end of the first quarter. It was a lot like when Denver jumped out in front of the Redskins [in Super Bowl XXII]. Except Denver was a dog in that game. This was the favorite jumping out 10-0! When the favorite jumps out 10-0, it's like...game over, right? Not so much.
Football's really wild now. As a kid...when the Steelers played in the Super Bowl, they won the Super Bowl. When Dallas played in the Super Bowl, they won the Super Bowl - unless they were playing the Steelers. Everyone who was supposed to win...pretty much won, for a long time. I mean, I know there's the Jets beating the Colts, but who the Hell even knew? And there's your goddamn Patriots beating my Rams. [Now] it's all over the place. And especially with the Giants beating the Patriots...the catch, Eli getting out of the grasp - it was total insanity.
[At this point, we felt a strong compulsion to move on...]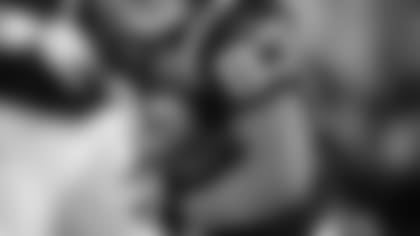 ]()Does your friendship with New Englanders like Bill Simmons and Family Guy creator SETH MACFARLANE encourage you to root for or against * the Patriots? *
ADAM: I actually used to be a Patriots fan, not because I was from the area, but because I loved their uniforms.
ADAM: Of course. Their new uniforms are [horrible]. The old ones are just so much nicer. They took a quantum step backwards - most importantly, in the helmet and logo. But...the Patriots switched to the new uniforms and they got hot, and they won a bunch of games and some Super Bowls so there's no way they're going back. But since BRADY's knee...WELKER's injury...not getting in at 11-5 a couple years ago...the immaculate reception on the helmet... Mojo over. Go back to the old unis.
On Super Bowl XXXVI against "his" Rams...
ADAM: I saw the ['85 Patriots] get dismantled by the Bears...and I was always sympathetic. Even when they were playing the Rams, I remember thinking to myself, "Ya know what, the Rams won last year, New England's 0-2 in Super Bowls...let 'em win one."
On voicing the character Death for Family Guy and being "the Tom Brady of cartoon Grim Reapers..."
ADAM: What happened was...NORM MACDONALD was like DREW BLEDSOE, he started off as Death during the first episode and, ya know, he went out of bounds, he didn't protect himself, he got a forearm shiver, and I stepped in. I haven't looked back.
OUT-TAKES: So can we get you on record calling Norm MacDonald the Drew Bledsoe of Death?
ADAM: Yeah. For sure. He knows it. He'll admit as much if you talk to him.
OUT-TAKES: Is he a good guy? I won't print anything if...
ADAM: You can print it. He's nuts. He's a really funny guy...but he's crazy.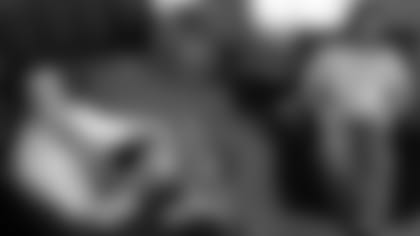 The ADAM CAROLLA PODCAST has featured MMA fighter MAYHEM MILLER, as well as MIKE TYSON and four-time NBA champ JOHN SALLEY. Three-parter: Have you thought about talking to an NFL player, who would that be and what would be your #1 question? **
ADAM: Steve Nelson...Steve Grogan...guys like that. Actually, I was thinking of...LEON LETT. The whole thing with Miami, when the ball was flailing around in the snow. Everyone's just standing around and he runs and jumps on it and kicks it... (LAUGHS) The Leon Lett screw-up. Not the Super Bowl DON BEEBE one.
[It was at this point that we embarked on a meandering, Wikipedia-less chat about where the hell this game was played, given the fact that there was all that snow on the ground. We concluded that it must've happened in Dallas, through the hole in the roof.]
ADAM: How often does it snow for Dallas games?
OUT-TAKES: I don't know, but I'm just thinking it's more often than in Miami.
ADAM: Definitely, the smart money's on Dallas. [Psst, Ace - don't look now, but according to Wikipedia, you finally won a football bet.]
ADAM: What I guess I would ask Leon was..."What do you think the other guys were doing just standing by the ball, looking at it? You must've thought these were the laziest guys in the NFL, right? Like they were thinking, "There's the ball. Eh, ya know what, forget it - that ground's [@$#&*!] cold!" And when Leon came charging past everyone, he didn't even fall on it, he literally led with his knee. He, like, did a hook-slide. I mean it was really cartoonish. It's not like he fell on it and it squirted out of his hands...
OUT-TAKES: Right, he didn't "Hank Baskett" it.
ADAM (GROANS): That Hank Baskett play, man. First off, Hello..."hands team." Hank Baskett's a wideout, for God's sake!
Your old friend DR. DREW's VH1 show Celebrity Rehab and its follow-up, Sober House, have inspired one of the most stunning character makeovers we've seen in years: DENNIS RODMAN as easily shocked father figure.
ADAM: Yeah. You know it's trouble when Dennis Rodman tells you to get it together.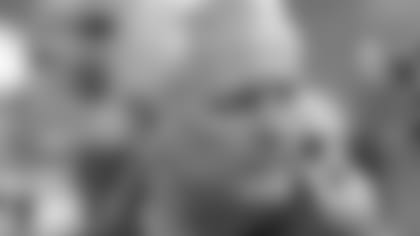 The podcast and, now, your live shows, often center on a bit called "What Can't Adam Complain About?" Any NFL takes? WADE PHILIPS and all that hugging on the sideline?**
ADAM: Yeah, the coaches are becoming too much like players, like they're trying to become part of the team, ya know? They're not an employee, they're the boss. The whole GATORADE DUMP thing, man. No way George Allen or Vince Lombardi or Weeb Ewbank would've gone for that [crap], right? That's bull[crap]. I know they do it every year now, but it's kind of weird, it's kind of disrespectful. I mean, can you imagine taking a big thing of Gatorade and dumping it on your high school coach's head? I would've met with a lot of laps the following Monday.
The Gatorade dump...it's weird. It's sticky, the guy's got to go do interviews, he's gonna have his kids with him, he's gonna be doing the presentation, shaking the hand of Mr. Kraft, the owner, whoever. And not only that...part of the bucket hits him in the back of the head, he's wearing head phones that could short out and electrocute him. Go ahead and do that move where you put him up on your shoulders and carry him off the field...
The other thing that really needs to be done is they need to raise the goalpost, the uprights. I'm tired of the ball sailing right over the top of the things and the guy going, "No good." You look at it in replay and...that thing was six feet over the top! You don't know if that thing would've hit and caromed in! I've seen plenty of kicks that went right over the top of it! Simmons and I - every year I bring this up, and he says something about putting up lasers.
Sports Illustrated named The Hammer [the boxing film Carolla wrote and starred in] "the best sports comedy of '08." When you sat down with Kevin Hench and director CHARLES HERMAN-WURMFELD, what were the films that informed what you were shooting for?
ADAM: Tonally, when I saw the movie, many years ago...Breaking Away - I always thought, I like that. I like the tone of it. It's funny, but not filled with jokes. Charles actually had never seen a sports comedy. Ever.
JANE LYNCH [best known for her work as predatory Cougar-slash-store manager in The 40 Year-old Virgin] has a great cameo in The Hammer. You've described her as coming in and nailing the scene, having the technical jargon down pat, sounding authentic -
ADAM: She's a pro, ya know? We were lucky to get Jane. Her agent didn't want her to do the part, then he wanted her to go uncredited. Agents are geniuses. Who would want their client credited in Sports Illustrated's best sports comedy of the year? But of course they thought it was gonna suck because everyone thinks everything's gonna suck, and probably rightfully so.
So, okay, two-part question: Who is the Jane Lynch of the NFL and, other than her, why on Earth is anyone watching Glee?
ADAM: Jane Lynch would be...KURT WARNER'S WIFE, circa 2001 -
OUT-TAKES (LAUGHS): Well, I meant, in terms of her being a pro, like, not flashy, coming in and nailing her job...'though I don't disagree with you about Brenda Warner.
ADAM: Who's the pro? I'm gonna say...I'm gonna have to pick a tight end, and I'm gonna pick...Cooley, CHRIS COOLEY. I don't see that guy drop balls, I see him take a pounding, he's got a good sense of humor... I want that guy goin' after my ball in the air.
Less trustworthy: FAVRE in the 4th quarter or MCCONAUGHEY in a rom-com?
ADAM: I'd say McConaughey in a rom-com, especially if anyone saw Surfer, Dude. That was horrific. Favre takes a lot of [um...grief?] for throwing ill-advised passes, but let's not forget, it was ridiculous that he threw it, but they still could've won in OT if the defense didn't just give it up.
Bigger mess: AMY WINEHOUSE or the OAKLAND RAIDERS FRONT OFFICE?
ADAM: Raiders front office. Amy Winehouse is a Brit, she's strung out - she's supposed to be a mess. These guys are running an organization... Ya know, JANIS JOPLIN, JIM MORRISON, there's a long line of people who are a mess in her profession, but it's not like there's a bunch of NFL franchises that have been this big a mess for this long.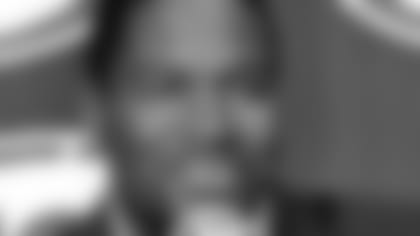 MICHAEL STRAHAN's dentist or MICHAEL STRAHAN's sitcom? Which one's worse?**
ADAM: I haven't seen the sitcom, but I'm gonna go ahead and say...the Subway commercial where he sings with JUSTIN TUCK.
You get to be MIKE SINGLETARY for two seconds and one hit. Who's across the line: SNOOKI in the hot tub, OPRAH on the couch or...SEACREST in Times Square?
ADAM: I'm gonna have to say HALLE BERRY at the Oscars.
OUT-TAKES: The crying Halle Berry?
ADAM: Yeah, the crying and talking about breaking down barriers. That Halle Berry.
Check out Adam's free podcast at iTunes, as well as the ACE Broadcasting website:
And here's a link to his 1st Year Anniversary Box Set - with over 270 hours of Adam!
John Cockrell is a screenwriter, whose other work has run the gamut from "Sesame Street Parents Magazine" to Playboy TV's "The Weekend Flash." (He figures everything else is pretty much in-between.)