WELKER EXTENDS STREAK TO 100 CONSUETIVE GAMES WITH AT LEAST ONE RECEPTION
Wes Welker extended his streak to 100 straight regular season games with at least one reception, including his time with the Miami Dolphins. He has a streak of 83 straight regular-season games with at least one reception as a member of the Patriots to extend his franchise record. Welker has caught at least one pass in each of his 90 games with the Patriots, including seven postseason games. The last time that Welker did not catch a pass in a game was December 24, 2005 when he was with Miami. He is now one of 38 NFL players to have a streak of at least 100 games with one reception.
LONGEST CURRENT STREAKS / CONSECUTIVE GAMES WITH A RECEPTION
185 Tony Gonzalez
123 Larry Fitzgerald
101 Reggie Wayne
99 Wes Welker
99 Anquan Boldin
91 Andre Johnson
NOT INCLUDING TONIGHT'S GAMES
WELKER'S 46-YARD TOUCHDOWN IS THE SECOND LONGEST TOUCHDOWN CATCH OF HIS CAREER
Welker's 46-yard touchdown pass from Tom Brady in the first quarter is the second longest touchdown reception of his career to the 99-yard touchdown reception he had at Miami on Sept. 12, 2011.
WELKER HAS 16th CAREER 10-PLUS CATCH GAME
With 10 receptions against Seattle, Wes Welker had his 16th career game with 10 or more catches, the most among active NFL players. Welker's 16 career 10-plus catch games are tied with Marvin Harrison (16) for second all-time, behind Jerry Rice (17).
Most Games with 10 receptions/Active Players
16 Wes Welker
15 Andre Johnson
15 Reggie Wayne
13 Brandon Marshall
12 Anquan Boldin
MOST GAMES WITH 10 RECEPTIONS IN NFL HISTORY
17 Jerry Rice
16 Marvin Harrison
16 Wes Welker
15 Reggie Wayne
14 Cris Carter
13 Tim Brown
13 Brandon Marshall
12 Anquan Boldin
12 Tony Gonzalez
WELKER TIES JERRY RICE FOR THE MOST 10-CATCH, 100-YARD GAMES IN NFL HISTORY
Wes Welker (15) tied Jerry Rice (15) with his 15th NFL game with 10 receptions and 100-yards receiving for the most in NFL history. Welker entered the Seattle game tied with Andre Johnson (14) and Marvin Harrison (14) for second place. Welker finished with 10 receptions for 138 yards.
WELKER HAS FOURTH STRAIGHT 100-YARD GAME TO TIE TEAM RECORD
Welker had his fourth straight 100-yard game to tie the team mark after finishing with 138 against Seattle. Randy Moss opened his Patriots career with four straight 100-yard games in 2007. The NFL record for most consecutive games with 100 yards or more receiving is 7 by Charley Hennighan (Houston) in 1961 and Michael Irvin (Dallas) in 1995.
WELKER HAS FOUR 100-YARD GAMES IN 2012
Welker now has four 100-yard games in 2012. Welker had a personal best with eight 100-yard games in 2011. Moss (2007) and Stanley Morgan (1986) have the New England record with nine 100-yard games in a single season.
WELKER RECEPTION PACE
If Wes Welker reaches 100 receptions in 2012, he will become the first player in NFL history with five 100-catch seasons. Through six games this season, Welker has 48 catches, putting him on pace to total 128 receptions in 2012. Welker's four seasons with 100 or more receptions ties Marvin Harrison and Jerry Rice for the NFL record.
MOST 100-RECEPTIONS SEASON IN NFL HISTORY
Player - 100-reception seasons
Wes Welker 4
Marvin Harrison 4
Jerry Rice 4
Brandon Marshall 3
Herman Moore 3
Andre Johnson 3
Reggie Wayne 3
PATRIOTS TOP RANKED OFFENSE CONNECTS AGAINST SEATTLE'S TOP RANKED DEFENSE
Seattle entered the game with the NFL's top ranked defense and was surrendering a league-low 258.6 yards per game and ranked second in points allowed (14.0) and fifth with 192.0 yards passing. The Patriots gained 475 yards in total offense, scored 23 points and gained 388 yards passing.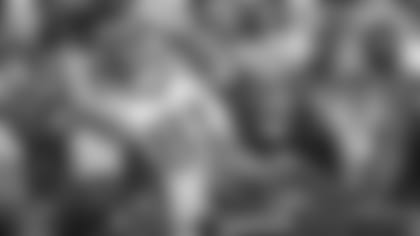 AARON HERANDEZ MAKES HIS RETURN
TE Aaron Hernandez returned to action after missing three games with an ankle injury that occurred in the 2012 home opener vs. Arizona on Sept. 16. He finished the game with 6 receptions for 30 yards, including a 1-yard touchdown catch in the second quarter.
JERMAINE CUNNINGHAM MAKES FIRST START OF THE YEAR
Jermaine Cunningham made his first start of the season when he lined up at end and Rob Ninkovich moved to linebacker due to the injury to rookie LB Dont'a Hightower.
CONSECUTIVE GAMES WITH AT LEAST ONE TOUCHDOWN PASS CONTINUES FOR BRADY
Tom Brady has now thrown at least one touchdown pass in 38 straight regular season games following a 46-yard touchdown pass to WR Wes Welker in the first quarter. It is the third longest streak, behind Drew Brees at 48 (current)) and Johnny Unitas (47) (1956-60). Brady's current streak started when he threw a touchdown pass in all 16 games in 2010 and 2011 and now the first five games of 2012. The old team record was 19 games, also set by Brady.
BRADY HAS HIS 49TH 300-YARD GAME TO TIE WARREN MOON 7TH MOST 300 YARD GAMES
Tom Brady had his 49th career 300-yard game after finishing with 395 yards at Seattle to tie hall of famer Warren Moon for the seventh most 300-yard games in NFL history. The 395 yards are the fifth best in Brady's career.
MOST 300-YARD PASSING GAMES IN NFL HISTORY'
Peyton Manning 66
Dan Marino 63
Brett Favre 62
Drew Brees 61
Kurt Warner 52
Dan Fouts 51
Tom Brady 49
Warren Moon 49
Joe Montana 39
BRADY HAS FOURTH 300-YARD GAME OF THE SEASON.
Brady had his fourth 300-yard game of the 2012 season with the 395 at Seattle. In 2011, Brady had a personal best 11 300 yard games. The NFL record for most 300-yard games in a season is 13 by Drew Brees (2011).
MOST 300-YARD PASSING GAMES IN A SEASON
13 Drew Brees, New Orleans, 2011
11 Tom Brady, Patriots, 2011
10 Rich Gannon, Oakland, 2002
10 Drew Brees, New Orleans, 2008
9 Dan Marino, Miami, 1984
9 Warren Moon, Houston, 1990
9 Kurt Warner, St. Louis, 1999
9 Kurt Warner, St. Louis, 2001
9 Peyton Manning, Indianapolis, 2009
9 Matt Schaub, Houston, 2009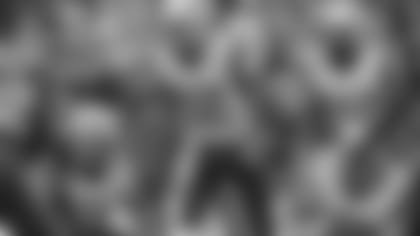 BRADY THROWNS FOR SEASON HIGH OF 36 COMPLETIONS
Brady threw for 30 or more completions for the 18th time in his career. His 36 completions are tied for the second most of his career. He had 36 at Chicago (11/10/02) and at San Diego (9/22/02) and 39 vs. Buffalo (9/14/09) and vs. Kansas City (9/22/02). His 58 pass attempts are a career high. His previous best was 55 at Chicago (11/10/02) and vs. Denver (9/24/06).
FIRST ROUND PICK CHANDLER JONES HAS FIRST TWO-SACK GAME
First round pick Chandler Jones had his first NFL two-sack game to increase his team-lead to five sacks on the year. He forced a fumble that was recovered by LB Rob Ninkovich on a 3-yard sack in the second quarter and had a 5-yard sack in the third quarter.
JONES NOW HAS THREE FORCED FUMBLES FOR THE SEASON
Jones now has three forced fumbles in 2012. The Patriots record for most forced fumbles in a season is five by Mike Vrabel in 2007.