WEEK 14 · Mon 12/12 · 8:15 PM EST
Patriots
New England Patriots
AT
Cardinals
Arizona Cardinals
The New England Patriots will have back-to-back games out West starting with a Monday Night Football game at Arizona this week followed by a game at Las Vegas on Dec. 18.
Arizona Head Coach Kliff Kingsbury was originally drafted by the Patriots in the sixth round of the 2003 draft. Kingsbury spent the year on the injured reserved list with an arm injury but did receive a Super Bowl ring. It is the second time this season the Patriots will face a head coach who is a former player of the team, after playing Kevin O'Connell and Minnesota on Thanksgiving.
SERIES HISTORY
The New England Patriots will face the Arizona Cardinals for the first time since a 20-17 win at Gillette Stadium on Nov. 29, 2020 and travel to Arizona for the first time since opening the 2016 season at Arizona on Sunday Night Football, a 23-21 Patriots win on Sept. 11.
After a 1-6 series start against Arizona, New England won the next five games before splitting the 2012 and 2016 meetings. The Patriots lead the all-time series with an 8-7 margin, including a 5-4 record in road games and a 1-0 record at what is now known as State Farm Stadium.
The Patriots have faced the Cardinals five times during Bill Belichick's tenure as Patriots head coach (2000-present) and are 4-1 in those games.
SERIES TRENDS
Schaefer Stadium: 0-1
Sullivan Stadium: 0-1
Foxboro Stadium: 1-0
Gillette Stadium: 2-1
Busch Stadium: 1-2
Sun Devil Stadium: 3-2
University of Phoenix Stadium: 1-0
Bill Belichick vs. Arizona: 5-1 (4-1 with New England)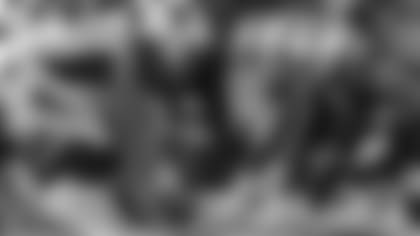 SCOUTING THE MATCHUPS
When the Patriots run - Edge: Cardinals
The promising ground production of the early season is long gone and given the ever-changing health status of the principals involved it's hard to imagine a turnaround coming anytime soon. Rhamondre Stevenson has been outstanding, consistently generating yards even when there don't seem to be many available, but he's been forced to do it alone as Damien Harris deals with a thigh injury that caused him to miss the Bills game. More importantly, the offensive line is dealing with plenty of injuries as well. David Andrews just returned from a thigh injury of his own, and right tackle Isaiah Wynn missed the last two games with a foot injury. Yodny Cajuste, Wynn's replacement, missed the Bills game as well, leaving newcomer Conor McDermott to fill in. The results have been predictable as the Patriots have failed to generate 100 yards on the ground as a team since Week 8. Arizona won't make it any easier in the desert as the Cardinals rank 10th in the league, allowing 110.8 yards per game on the ground. Nose tackle Leki Fotu anchors things in the middle and allows active linebackers Zaven Collins and Isaiah Simmons to swarm to the ball and make plays. While Arizona does not possess an exceptionally stout front, it has been effective and given the Patriots struggles should be enough to keep this group in check.
When the Patriots pass - Edge: Patriots
It's not as if the Patriots passing attack has been much better as of late, but the Cardinals should offer some opportunities for Mac Jones to make some plays. Jones has struggled while under pressure, which he's seen his fair share of given the patchwork nature of the offensive line. But the Cardinals don't generate a ton of heat on the passer with just 23 sacks as a team through 12 games. J.J. Watt leads the way with 6.5, followed by Zach Allen's 4.5. Simmons and Collins have the athleticism to be disruptive, but they're asked to help in coverage more often than not due to the struggles on the back end. Arizona's best corner, Byron Murphy, has missed the last three games with a back injury. Antonio Hamilton takes his spot but is also dealing with health issues. Safeties Jalen Thompson and Budda Baker join Marco Wilson, Trayvon Mullen and Hamilton to round out the secondary. The Cardinals rank 24th in the league, allowing 245.4 yards per game through the air, which should bode well for Jones, although he may be without his top target in Jakobi Meyers, who left the Bills game with a head injury. Even without Meyers, Jones should be able to find enough targets to take advantage of this weak secondary.
When the Cardinals run - Edge: Patriots
Kyler Murray will represent a huge X-factor in this matchup. From a conventional standpoint, the Cardinals do not run the ball exceptionally well. Veteran James Conner is a solid workhorse and leads the team with 476 yards on the ground with four touchdowns. But he averages just 3.9 yards per carry, and the team ranks 21st in the league with an average of 114.9 rushing yards per game. But Murray can provide a boost to those numbers when he decides to get involved as a rusher, which he's done 66 times for 415 yards and three scores. Despite his effectiveness on the ground, coach Kliff Kingsbury doesn't call Murray's number often on designed runs. Most of his production comes on scrambles, which may be in part due to his small stature and durability issues. Assuming the Cardinals continue to avoid using Murray on zone reads and other designed runs, the Patriots should be able to contain Conner. If Murray gets involved, things could be different. New England struggled mightily when dealing with Lamar Jackson and Justin Fields, and Buffalo's Josh Allen didn't run a lot but the Bills ground game was productive due in part to his presence. It will be interesting to see how Kingsbury chooses to approach things.
When the Cardinals pass - Edge: Cardinals
Murray is a talented quarterback, but for whatever reason he and the Cardinals passing attack haven't been able to put it together this season. He's completed 66.3 percent of his passes for 2,359 yards with 14 touchdowns, seven interceptions and an 87.1 passer rating. He also missed two games due to a hamstring injury. Arizona ranks 17th in the league with an average of 219.8 yards per game through the air, but those numbers have been on the rise when Murray and DeAndre Hopkins are both in the lineup. Despite missing the first six games while serving a suspension, Hopkins is tied with Hollywood Brown for the team lead with 49 catches and three touchdowns. The Cardinals average over 28 points in the four games when Murray and Hopkins are on the field, and Brown also recently returned to the lineup following a foot injury. Tight end Zach Ertz (47-406-team-high 4 TDs) and the versatile Rondale Moore (41-414-1) also provide Murray with options. The Patriots secondary has gaudy numbers, most of which were generated against backup quarterbacks and other struggling offenses. Lately opponents have been able to move the ball through the air against New England, and the Cardinals talented array of pass catchers will provide another challenge.
Special Teams - Edge: Patriots
In all honesty the Patriots special teams have been inconsistent for most of the season. Nick Folk was near automatic until missing three field goals over the last three weeks, leaving him 25-for-30 for the season. Arizona's Matt Prater hasn't been nearly as busy, connecting on 10 of 11 field goals as the fourth kicker the Cardinals have used this season. Veteran Andy Lee handles the punting duties for Arizona and averages 46.9 yards on 48 kicks with four touchbacks and 10 downed inside the 20. Michael Palardy replaced Jake Bailey for the Patriots and after a strong debut against the Jets he hasn't been as effective since. He averages 43.2 yards on his 16 punts. The difference maker here continues to be Marcus Jones, who provides electricity in the return game on a weekly basis. Jones averages 14.7 yards per punt return with a touchdown, plus 25.1 yards on kickoffs with a long of 46. Greg Dortch handles both for the Cardinals, but he's dealing with a thumb injury and missed Arizona's last game. Pharoh Cooper would likely his place if Dortch can't go. The Cardinals coverage units have been strong most of the season, but Jones will offer the strongest test they've faced all year.
Table inside Article

| 2022 REGULAR SEASON | NEW ENGLAND | ARIZONA |
| --- | --- | --- |
| Record | 6-6 | 4-8 |
| Divisional Standings | 4th | 3rd |
| Total Yards Gained | 3,827 | 4,017 |
| Total Offense (Rank) | 318.9 (24) | 334.8 (20) |
| Rush Offense | 104.9 (23) | 114.9 (21) |
| Pass Offense | 214.0 (20) | 219.8 (17) |
| Points Per Game | 20.8 (20) | 22.0 (6) |
| Total Yards Allowed | 3,741 | 4,274 |
| Total Defense (Rank) | 311.8 (7) | 356.2 (21) |
| Rush Defense | 111.2 (11) | 110.8 (10) |
| Pass Defense | 200.6 (9) | 245.4 (24) |
| Points Allowed/Game | 18.8 (7T) | 26.8 (31) |
| Possession Avg. | 29:39 | 30:38 |
| Sacks Allowed/Yards Lost | 32/213 | 31/248 |
| Sacks Made/Yards | 39/242 | 23/176 |
| Total Touchdowns Scored | 25 | 31 |
| Penalties Against/Yards | 72/590 | 82/648 |
| Punts/Avg. | 53/42.4 | 48/46.9 |
| Turnover Differential | +2 (10T) | +1 (13T) |
CONNECTIONS
Brian Hoyer
Tristan Vizcaino
Stephen Anderson
Kamu Grugier-Hill
Kliff Kingsbury
Shawn Jefferson
WHAT TO LOOK FOR...
With LB Matt Judon leading the team with 13 sacks and LB Josh Uche reaching 7 sacks, the Patriots are close to having two players reach double-digit sacks. The Patriots have had three seasons with two players reaching double-digit sacks -- 1977, 1985 and 2011. In 1977 Tony McGee (12.0) and Ray Hamilton (10.0) finished with double digit sacks, in 1985 Andre Tippett (16.5) and Garin Veris (10.0) reached at least 10 sacks and then in 2011 Andre Carter (10.0) and Mark Anderson (10.0) both reached double-digit sacks.
The Patriots have not had a turnover in the last three games. The last time the Patriots went four straight games without a turnover was in 2018 (10-29-18 – 11-25-18). The Patriots hold the NFL record for most consecutive games without a turnover with seven straight games during a stretch during the 2010 season.
S Devin McCourty enters this week second to Harrison Smith for the most interceptions among all active NFL players with 33. McCourty, Smith, Marcus Peters and Patrick Peterson are the only active players with at least 30 interceptions. The Patriots are 26-4 when McCourty has a pick in a regular season game. McCourty's 33 interceptions are third in team history to the 36 by Ty Law and Raymond Clayborn.
McCourty's 551 return yards are third in team history. He needs five return yards to move past Clayborn for second on the all-time team list.
McCourty has 39 career takeaways and needs one more to become the fourth Patriots player with 40 total takeaways, tying Ty Law for third in franchise history.
K Nick Folk enters this week with 57 straight field goals under 40 yards. His last miss under 40 yards was a 21-yard field goal attempt on Oct. 12, 2017 vs. New England when he played for Tampa Bay. The NFL record for most consecutive field goals made under 40 yards is 70 by Baltimore's Justin Tucker (2016-2020).
Folk is tied with Justin Tucker and Daniel Carlson for the NFL lead with 25 field goals and is on pace to finish the season with 35 field goals. His career-high is the 36 field goals he had in 2021. If Folk connects on 30 field goals in 2022, he would become one of six NFL players with at least five seasons with 30 field goals.
QB Mac Jones has a streak of 156 consecutive passes without an interception, the longest active streak in the NFL. His last intercepted pass was in the second quarter of the game at the New York Jets on Oct. 30.
LB Josh Uche had two sacks last in the last game to increase his 2022 season total to a career-high 7 sacks. DL Trey Flowers is the last Patriots player with back-to-back games with two sacks in 2016 – at Buffalo (10/30) and vs. Seattle (11/13).
RB Rhamondre Stevenson enters this week third in the NFL among running backs with 56 receptions and fourth in the NFL with 383 receiving yards.
Stevenson has a team leading 56 receptions and is on pace to finish the season with 79 receptions, which would be the second-most in a season for a New England running back to the 87 by RB James White in 2018. New England has had a running back lead the team in receptions eight times.
Stevenson has averaged 6.0 yards per carry in two games so far in 2022 with a 6.1 average (12-73) vs. Baltimore (9/25) and a 6.4 average (25-161) vs. Detroit (10/9). The last Patriots player to have three games averaging 6.0-yards per carry in a single season was Dion Lewis in 2017. The most games in a season for the Patriots with a 6.0-yard average is RB Carl Garrett with four games in 1969.
Rookie Marcus Jones, who won the 2021 Paul Hornung Award as the nation's most versatile player after returning two punts and two kickoff returns for a touchdown in college in 2021, ranks first in the NFL with 745 total return yards (294 punt return yards and 451 kickoff return yards).
Jones is first in the NFL with a 14.7 punt return average and tied for third in the NFL with a 25.1-yard kickoff return average.
Jones returned a punt 84 yards for a touchdown in the win against the Jets on Nov. 20. He will look to become the first Patriots player to ever return a kickoff for a touchdown and punt for a touchdown in the same season and the first NFL player to accomplish the feat since 2019 when Jamal Agnew did so for Detroit.
Jones will look to become the second Patriots defensive player to have more than one offensive touchdown in a season, joining LB Mike Vrabel who had two touchdown receptions in 2004, three in 2005 and two in 2007. The last defensive player with two touchdowns in a single season in the NFL was DL J.J. Watt in 2014 with Houston with three touchdown receptions.
WR DeVante Parker is averaging 19.0 yards per reception (23 receptions for 436 yards). The last Patriots player to average over 20 yards a reception was Rob Gronkowski in 2016 with a 21.6-yard average. The highest average in a single season for New England was Stanley Morgan in 1978 with a 24.1-yard average. Parker's career high was in 2015 as a rookie in Miami when he averaged 19.0 yards per reception.
LB Matthew Judon is second in the NFL to Nick Bosa (14.5) with 13 sacks and is on pace to finish with 18 sacks. The Patriots have never had a player lead the NFL in sacks.
Andre Tippett is the only Patriots player that has had more sacks in a season than Judon. Tippett had 18.5 sacks in 1984 and 16.5 sacks in 1985.
Judon has recorded three games with at least two sacks in a game in 2022. The team record is six games with at least two sacks by Andre Tippett in 1984. The NFL record is eight games by Reggie White with Philadelphia in 1987. Micah Parsons from Dallas has six such games so far in 2022.
DB Jalen Mills has two interceptions so far in 2022. He needs one more interception this year to match his career-high of three interceptions that he had in 2017 with Philadelphia.
WR Tyquan Thornton scored on a 19-yard touchdown run at Cleveland on Oct. 16, 2022. He is the sixth Patriots wide receiver to score on a touchdown run and first since Cordarrelle Patterson in 2018. If Thornton has a rushing touchdown this week he will become the first Patriots wide receiver with two rushing touchdowns in the same season and would join Darryl Stingley as the only other Patriots wide receiver with two rushing touchdowns for his Patriots career.
Rookie free agent DB Brenden Schooler is leading the team with 12 total special teams tackles. He needs five more special teams tackles to set the team record for most special teams tackles by a rookie. DB Willie Andrews had 16 total special teams tackles as a rookie in 2006.
BROADCAST INFORMATION
TELEVISION: This week's game will be broadcast by ESPN and can be seen locally on WBZ-TV Channel 4. Joe Buck will handle play-by-play duties with Troy Aikman as the color analyst. Lisa Salters will provide analysis from the sidelines. The game will be produced by Phil Dean and directed by Jimmy Platt.
NATIONAL RADIO: Monday's game will be broadcast to a national audience on Westwood One Sports. Kevin Harlan will call the game with Kurt Warner providing analysis.
LOCAL RADIO: 98.5 The Sports Hub is the flagship station for the Patriots Radio Network. A complete listing of the network's 33 stations can be found here. Play-by-play broadcaster Bob Socci will call the action along with former Patriots quarterback Scott Zolak, who will provide color analysis. The games are produced by Marc Cappello.