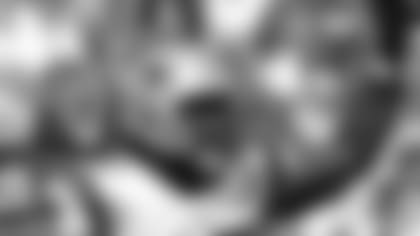 ]()Jarvis Green** has made a career out of rising to the occasion.
He may not be as big in stature as some of his defensive linemates, but the 6-foot-3, 285-pounder has often come up huge on the biggest stages of his career.
Green, the Patriots' fourth round draft pick out of LSU in 2002, had his coming out party in the 2003 AFC Championship game. He sacked league co-MVP Peyton Manning two times and split another to help the Patriots to a 24-14 win over Indianapolis that helped pave the way to the team's second Super Bowl victory in three years.
Despite performances like that, Green has spent the majority of his career as a backup, playing behind the likes of five-time Pro Bowler Richard Seymour and other former first round draft picks TyWarren and VinceWilfork. Instead of getting frustrated, the soft-spoken Green has kept his head down, continued to improve and built a reputation as perhaps the league's top backup defensive lineman.
In 2006, Green tallied 7.5 sacks, set a career high in tackles with 57 and led the team with three forced fumbles — all of which came on sacks and resulted in Patriots recoveries. Not bad for starting just four games. But with the Patriots talent on the D-line, he was slated to once again be a backup in 2007.
Then came the unexpected news prior to the start of the season that Seymour would miss the first six games after being placed on the physically unable to perform list. Seymour's absence likely means that Green will start consistently for the first time in his career. He is prepared to step up once again.
"For me, I don't think it's that much of a difference, because no matter what you have to be prepared for the upcoming week," Green said about the mentality he takes while starting or coming on in reserve. "We all have our responsibilities and what we're supposed to do. As far as my situation now, not much has changed. I know that I'm here to perform and no matter who's playing I can depend on the other guys in this room to do the same."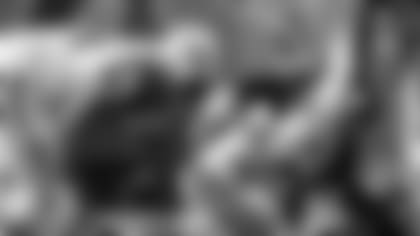 ]()Of course, Green was raring to go in the season opener against the New York Jets.
Starting at Seymour's usual position at defensive end, Green lined up against Jets 2006 top pick D'Brickashaw Ferguson—the first in a gauntlet of top tier left tackles he faces to start the season, including San Diego's Marcus McNeill, Buffalo's Jason Peters and Cincinnati's Levi Jones. Green kicked off the season in fine fashion with a 2-sack, 6-tackle performance against New York.
Last week against San Diego, Green started on a defensive front that held reigning NFL MVP LaDainian Tomlinson to just 43 yards rushing and the Chargers' offense to 201 total yards. Green got into the backfield to hurry quarterback Philip Rivers twice.
"Those are some good teams with good offensive lines," Green said. "They're all very physical and they're all very good at what they do. It's a good challenge to start the season."
Given his most recent chance to shine, Green recognizes what it could mean.
"Knowing that I'm going to be going out there as a starter, honestly, it's a great opportunity for me," Green said. "I know I'm going to have time to go out there and improve my game. I'm going into my sixth year, so I just want to start the season off right and do what I can to help the team."
Green is Guided by Hill's Memory
Moving a 300-pound lineman pales in comparison to the struggle Jarvis Green experienced when he lost close friend and teammate Marquise Hill, who drowned in Louisiana's Lake Pontchartrain after a jet ski accident Memorial Day weekend.
"When I heard the news and the way that it had happened, I just cried and cried for days," Green said. "Anytime you lose somebody like that it's tough, but also knowing his mom and his family and what they were going through just made it worse."
Green and Hill shared a bond that went far beyond football.After meeting each other during the 11th grade at a football camp, the Louisiana natives became quick friends. They remained close, literally, throughout their playing careers. Both played at Louisiana State University and wound up being drafted by the Patriots in different years.
In Foxborough, their lockers were just a few feet apart.
At Hill's funeral in New Orleans, his hometown that he'd worked so hard to rebuild with charitable contributions in the wake of Hurricane Katrina, Green served as a pallbearer. He eulogized that in both the first and last time he ever saw Marquise, he was laughing.
"He was just a great guy, a humble guy," Green remembered Hill. "Being a couple years behind me in college and then following me here to New England was a great time for both of us. He wasn't my blood brother, but he's a brother of mine."
Like his Patriots teammates, Green will wear a No. 91 sticker on his helmet to honor Hill, whose locker remains in tact in the Patriots locker room—a reminder of his light-hearted presence.
But Green will never need a reminder. He feels there will always be a 12th man in the huddle from now on.