Some people give off the perception of effortless excellence.
More often than not it's a front or a facade, but there are humble outliers who seem to be good at everything they do. Once they get to the top of one mountain, the next feels easier to ascend, or at least reasonable enough to figure out along the way.
By most every account, that's Jonathan Jones.
"Jon does everything right all the time," Bill Belichick said of the Patriots corner this past December. "Works hard. Trains hard. Always in good condition. Takes care of himself. He's a tough kid."
Belichick specifically was answering a question about Jones' competitiveness and versatility to play outside corner and cover some of the league's best receivers this season after the departure of lockdown corners J.C. Jackson and Stephon Gilmore.
The same sentiment is shared by people who know him through the lens of his other interests and hobbies -- those who have seen the post-it annotated textbook he carried around New England's locker room this season as he worked towards his pilot's license, talked to him about the 65 acres of land he's developing back home in Georgia, or or witnessed his ability to communicate with a group of local Boston elementary schoolers.
"It's about going out there and being really tough, smart, and dependable," Belichick said, more than a month before Jones was named as one of five finalists for the 2023 NFLPA Alan Page Community Award.
"He's all of those things."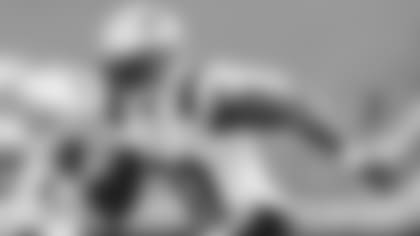 ---
---
Less than 48 hours removed from a loss to the Buffalo Bills, the soon-to-be free agent finds himself on a gray patterned couch at Saint John Paul II Catholic Academy's Lower Mills campus in Boston.
The result of that game eliminated the Patriots from playoff contention. Jones was in coverage when Stefon Diggs came up with a tip-your-cap touchdown pass from Josh Allen that all but sealed the deal, and that very well might be the way his seven-year tenure in New England ends.
But for anyone in that library who didn't know that, it would have been hard to tell watching him read Giant Steps to Change the World to a group of the school's youngest students, asking his actually audience questions after every page.
"On some days your dreams may seem too far away to realize," Jones read from the first few lines. "Listen to the whispers of those that came before… who had hard days but dared to make their dream come true."
This visit was a collaboration with his Next Step Foundation and iRobot, who came together to donate a STEM lab to the school. He'll do a similar visit to another local school in the spring. His daughter Skylar's love of science and sports inspires a lot of his community outreach, but his own underdog story shares similarities to those he's reading about from the children's book by Spike and Tonya Lee.
"Everyone has obstacles," said the Patriots' 2016 undrafted free agent signing, who parlayed passion and work ethic into seven seasons in the NFL thus far. "I've had my fair share of obstacles and these kids do as well, but if you continue to fight through adversity, there's an opportunity for you."
The cliche holds more weight coming from an NFL prospect who, despite his speed, fell from projections for being undersized. After a season-ending shoulder injury and the consecutive departures of corners J.C. Jackson and Stephon Gilmore, not many expected him to fill in on the outside with some of the league's most elite receivers joining the division.
Jones is up for every challenge, though. Not just a switch from the slot.
His latest, as he reveals to the class, has to do with a river dam on the Georgia compound he purchased last offseason. A young student had just announced that her dad is an engineer, and he is seeking some advice. Jones studied business at Auburn, but if football and track & field would have allowed, he probably would have taken up a track more along those lines.
This property development venture presented itself while the Carrollton native was looking for some land to take out his four wheelers. It became a much bigger undertaking once he saw the potential of a 65-acre plot with two lakes, cabins, and a church.
For the HGTV fan, who has been known to casually browse Zillow and abruptly move into a new home for no reason other than the desire to experience different areas and architecture, this is an unsurprising progression – even if his last construction project was just building his great grandmother a new front porch with his dad. For a bulk of his years in the league, he would change his address before and after every offseason instead of going back home.
"HGTV is always on at the house," Jones said. "It's something I love to just sit back and watch. I like to see the transformations of what someone starts and finishes with, and seeing people's ideas come to fruition is always awesome to see."
His vision for this Douglas County property includes rental cabins along the lake and the transformation of the old church into a giant event space. By the end of this offseason, he hopes to have a few animals on the farm.
"My mind just started running with the idea," Jones said. "I started to see barndominiums take off as the new thing: big open event spaces and living spaces. It was something I saw as an investment and building up for people to get use out of. When I saw the cabins along the lake I just thought of this idea of making it one big property where your family could come in, rent out the cabins. And if you look at trends, especially in our generation, not as many people are getting married in churches – it's these nice, creative little getaways that everyone wants for their weddings. I took those ideas and ran with them."
The project, as he's learning, isn't for the weak, but he wants to be as hands-on with it as possible.
Jones watched his grandfather run a construction company, and helped his handyman father with renovations around their house growing up. Parts of that Jack-of-all-traits persona certainly were inherited from them, but as he tries to reiterate to the students sitting before him, the confidence to take on anything came from his mother.
"I always enjoyed school, and looking back that was all my mom," Jones said. "She didn't care if I played football. She didn't care if I ran track. She cared that my report card had As on it – that's it. She pushed me, and that made football, college, and every step along the way that much easier."
---
---
What Jones' success seems to down to is a relentless desire to learn and challenge himself.
Between construction, his foundation, a young family and his upcoming free agency, he's excited for a busy offseason of just that. His latest hobby only adds to his plate, even if it helps him escape at the same time.
"For me it was just continuing my education and continuing to challenge myself outside of football, so I picked up aviation," Jones said. "It's something I've kind of always been into, but I had the opportunity this year to work on getting my private pilot's license."
At the time of his school visit, Jones has logged 35 hours in the sky and is just about ready to take the test. He likes to rent a plane out of Norwood for practice, and finds peace and beauty above the clouds.
It may seem odd to choose an escape that requires so much work, especially when your day job, young family, and foundation are tricky enough to balance. When Patriots staffers and teammates see his pilot textbook, they're slightly taken aback by it, but no one is surprised.
Instead, they just laugh. Of course he's trying to fly a plane.
"Just my curiosity in education, and how I'm outdoorsy – I ride four wheelers, motorcycles, jet skis -- I've pretty much done all that," Jones said.
"What's next? Let's go to the skies."
That mentality is what he wants to instill in the youth he and the Next Step Foundation work with. Really, it's what gave him his NFL platform. He credits great veterans in the locker room for a culture that inspired him to get out into the community and share his mentorship. Talking about it with these kids, he's giving them the playbook, blue print, and flight plan for how to achieve their goals too.
On and off the field, he's been proof of that concept: that if you are constantly looking to improve, willing to adapt, and always giving back, you will find success.
Jones doesn't know what the future holds for him, but his foundations work in the area won't be stopping any time soon. Wherever his plane lands next season, New England is where everything started to take off.
"I came in as a young man out of college and I've grown up so much," Jones said.
"From the football aspect, but then just life, going through so many obstacles and still being here. It's been a blessing. This is my home. It's what I know as an adult. The people here have embraced me and I've embraced them."