With 10 days still to go before the Patriots play another game, and training camp winding into its 19th day, the pace and execution on the fields showed some signs of slowing on Monday. The team was back in full pads after working in helmets and shells a day earlier, and with some key personnel sitting out there was an overall lackluster feel to the two-and-a-half hour practice.
Rob Gronkowski, Aaron Hernandez and Brandon Lloyd were among the missing, and Bill Belichick explained before practice that there was still some installation work to be done. So, it was understandable that some of the less experienced players who were thrust into roles in the passing game weren't quite up to speed as they attempted to continue the learning process.
"We'll take a few days here to try to finish up our installation, get through some situational things, work on things we need to work on and then get ready for Philly at the end of the week," Belichick said.
Operating without three of the top four receiving options, Tom Brady and the passing game went through some periods of inconsistency. At times he was carving up the defense, utilizing Wes Welker, Deion Branch, Donte' Stallworth andJulian Edelman with great efficiency.
But other periods featured less-than-desired results that featured more than a few dropped passes. The coverage also seemed to give the receivers trouble at times, particularly on one play where Kyle Arrington got underneath Welker on an out, only to drop Brady's pass that was thrown directly to him.
Overall Belichick was able to work his troops in a variety of situations in both 7-on-7 and in team periods. There was plenty of red area work and in between the punting unit got some reps as well.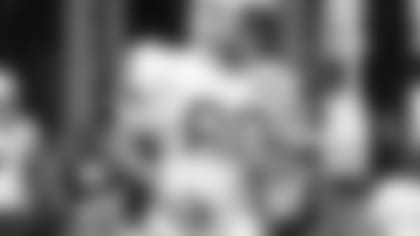 Rookie wideout Jeremy Ebert is trying to play catch-up after missing the first week of camp while on PUP with a leg injury. Recently he's been more noticeable in the passing game and with some regulars watching he was able to take a more regular role on offense Monday afternoon.
He appears to be a solid route runner and showed good hands on most of the balls thrown in his direction. He's also working punt returns into his repertoire, which is something he hasn't had much experience at. He bobbled one on Monday
"I try to learn as much as I can from Julian in the film room and just taking notes mentally watching him practice," Ebert said. "I'm trying to see the good things he does and take that and learn from it. I'm just trying to get better each day."
As Ebert was speaking to reporters, Branch walked by behind his teammate, motioning to a pile of equipment laying on the ground as he left a quick message.
"Jeremy, don't forget the pads, bro."
"It's just part of being a rookie I guess," Ebert said after ensuring Branch he had it covered before finishing his thoughts on trying to win a job. "Everything's bigger, faster, stronger. It's the best of the best. It's not Northwestern anymore. It's the Patriots so it's going to be tougher."
Third-year defensive end Jermaine Cunningham has heard his share of praise from Belichick this season. As one of the team's offseason award winners, Cunningham put himself in position to make some strides toward establishing a regular role on defense in 2012.
"He had a good start with the offseason program [and] did a good job in the spring. He's working hard. He's out there every day, working hard, getting better," Belichick said. "The big thing is he's been out on the field every day – that's the most important thing, is to be able to work and improve and get better. His durability has been good. He's worked on a lot of little things – different reads, techniques in the running game, passing game, gained some experience. I think the whole lead-up to it has been good. He really hasn't had that the last two years. This is the first year he's really had an offseason program in the National Football League – offseason to spring camps and all that."
But despite Belichick's words, Cunningham's development still seems a bit stunted. He's consistently been with reserve groups at defensive end and recently has worked on the inside in some sub packages. On Monday he had a difficult time in 1-on-1 drills against the offensive line and wasn't able to gain much penetration as a pass rusher.
Perhaps the switch inside may allow him to use his speed to his advantage and potentially carve out a role for himself.
"We'll see how it goes," Belichick added. "I don't know that there's enough evidence to know how that's going to turn out. We've worked a couple of our ends in there. We'll see how it goes."
Nick McDonald** first received notoriety in New England last season when he ascended from the practice squad and became the team's fourth starting center of 2011, and did so with seemingly very little in the way of mental mistakes. Now McDonald is emerging as a versatile offensive lineman in camp, despite getting off to a slow start after opening up on PUP due to a failed physical.
McDonald played both tackle spots during the second half of the preseason opener against New Orleans and during practice has added both guard positions to his resume as well. On Monday he took several reps at right guard with the first group, replacing Dan Connolly.
It's something the third-year pro doesn't seemed fazed by in the least.
"It's not really that different," he said. "Scheme-wise you have to know different assignments, but playing center you know guard is doing and playing guard you know what the tackle is doing. So, it kind of all works together. You just have to know everything."
Few offensive linemen have the versatility to play all five spots and Belichick has been impressed with McDonald's ability to do so thus far.
"He played tackle in college but has primarily played inside in the NFL," Belichick said. "We don't have a lot of depth at tackle, so he was probably the most experienced guy with also the athleticism to be able to play the position.
"I thought really, he did a pretty good job out there [in the preseason opener], for not much practice. He hadn't done it in a couple years, and went back out there and did a pretty credible job. So it was great to see. There are not many offensive linemen in the league that can play all five spots. If he could do that, that would be very valuable to our football team."
While Belichick was impressed with McDonald's ability to step in, he did add he was "sure sure [Logan] Mankins could play anywhere on the line."
!Buy: Deion Branch – Reports of the veteran's demise have been greatly exaggerated. After receiving little action in team periods over the past week, Branch was back at it on Monday, repeatedly getting open and grabbing passes fromTom Brady. Writing this classy wideout off would be a mistake.
Sell: Stevan Ridley – The second-year running back is enjoying a strong camp but Monday wasn't his best day. He got blown up byJerod Mayo trying to pass protect, then mishandled an exchange from Brian Hoyer that caused the pair to run a lap. It wasn't a fumble per se, but anytime the ball is on the ground and Ridley is involved it's worth noting.
Play of the day – In a true feel-good camp moment, converted tight end Alex Silvestro hauled in a Brady pass deep down the seam with a terrific over-the-shoulder catch. Silvestro has worked hard on improving his pass catching, but has really struggled. Brady was there to greet him with a slap on the helmet after the tight end returned to the huddle.
In addition to Gronkowski, Hernandez and Lloyd, the Patriots were without 18 others. That list included the four players still on PUP – Sebastian Vollmer (back), Daniel Fells (reported shoulder/leg), Myron Pryor (shoulder) and Jake Ballard (knee) – as well as rookie Markus Zusevics (torn pectoral/NFI). The remainder included Britt Davis (shoulder), Eric Kettani, Alfonzo Dennard, Malcolm Williams, James Ihedigbo, Spencer Larsen, Dane Fletcher (knee), Tracy White, Matt Kopa (reported ankle), Kyle Hix, Visanthe Shiancoe, Gerard Warren and Jonathan Fanene. Brian Waters remains away from the team on the reserve/did not report list.
According to ESPNBoston.com, the Patriots waived Davis after reaching an injury settlement with the wideout. Davis sustained a shoulder injury during the 7-6 preseason win over the Saints Aug. 9. If Davis goes unclaimed, the Patriots could re-sign him after Week 6, per NFL rules.
Kettani, Dennard, Ihedigbo, Larsen, Zusevics, Hix, Vollmer, Hernandez, Lloyd, Fells, Gronkowski and Pryor were all seen rehabbing their injuries on the fields. …
Logan Mankins was once again on the field but wearing shells instead of full pads as he continues his two-day grace period after coming off PUP over the weekend. Mankins will be eligible for full participation on Wednesday. … The Patriots will practice from 1:30 p.m.-4 p.m. in Foxborough for the next three days. The schedule for beyond Thursday has yet to be determined, but as always please check with patriots.com for the latest updates.