During the Patriots' most recent rookie mini-camp, the team began trying to replicate an old experiment.
Head coach Bill Belichickand offensive line coach Dante Scarnecchiaare once again attempting to train a former wrestler – in this case, 22-year-old Jermail Porter, who has never played football – to be an NFL lineman. They have succeeded in this endeavor before, having molded Stephen Nealinto a quality, starting guard. His only previous football experience came in high school.
Meanwhile, in April's NFL Draft, the Cleveland Browns made a former wrestler, center Alex Mack, their first-round selection. At the Scouting Combine in February, Mack talked at length about the inspiration he has drawn from Neal's success story.
Neal is the modern-day paragon of the wrestler-turned-lineman. But, he pointed out recently, he is certainly not the first.
"The guy who inspired me was Carlton Haselrig, a wrestler at Pitt-Johnstown. He played for the Steelers, was an All-Pro offensive lineman," Neal explained during a break from his offseason workout at Gillette Stadium. "For someone who might not remember him but knows me, I guess that kind of carries on his legacy. It's a pretty cool thing."
From his own experience, Neal believes it's easier for wrestlers to make the transition from mat to field than vice versa.
]()"If you don't want to do it, there's no reason to wrestle," he advised. "It's a tough sport. There's no facemasks and you're getting smashed in the face all the time. If you don't have a passion for it, it's hard to try to push someone in that area. If they like to wrestle and play football, it will definitely help them out."
It has clearly helped Neal. Since joining the Patriots in 2001, he has blossomed into a fixture at right guard on New England's offensive line. His hand-to-hand combat skills are evident at the line of scrimmage, while his athleticism shows when he pulls on sweeps and screen plays, making key blocks downfield.
"There's balance that helps me," Neal explained. "Plus, that never-give-up mentality, no matter what. That's the mentality I've always had."
The only thing that seems to hinder Neal is his history of nagging injuries. As a developmental player in his rookie year, he saw no action. In fact, he was released by the Pats and spent a few months on the Eagles' practice squad before being re-signed by New England later that year. In '02, Neal played two games (including one start) but was injured in late October and missed the remainder of the season.
The following year, he started on the physically unable to perform list (PUP) and eventually was placed on IR, missing the team's second Super Bowl run. He played in every game the following two seasons, but has missed considerable time ever since with a variety of injuries, notably a lingering shoulder problem.
"The first two Super Bowls, I didn't have much of a part in. I was here, but I really wasn't contributing to the team, as far as I'm concerned," he reflected. "I've been around a long time, but hopefully I can contribute some more and be part of more things to come."
Neal's hoping to reverse his fortunes this season, starting with his offseason workouts. This is the first time in years that Neal isn't rehabbing and can focus strictly on lifting and conditioning exercises.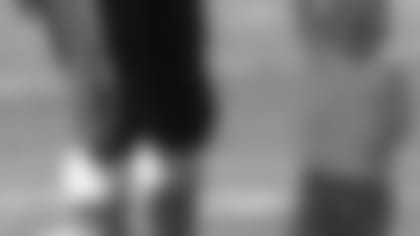 ]()"It's been pretty good. Just coming in here working hard. Trying to improve for next year," he said. "It's definitely a goal to try not to get injured. But you can't really control what happens. You just go out there and get your body in the best shape possible. I'm in there doing the offseason program, so hopefully it'll get me further along faster this year.
"For me, it's important to be here with all the guys. As an offensive line, we're a unit, so, we're always together."
The current starting unit has been in place – excluding injuries – virtually without interruption for the past few years, a rarity in pro football. How much longer they remain together remains to be seen. Neal is in the final year of his current contract, and he conceded he isn't looking too far into the future. The question of whether or not to return to football or to the Patriots is one he'll wrestle with at a later date.
"Football is day to day, as you know. I just take everything one day at a time and improve every day this offseason. When the season comes, I'll see how the body can hold up and at the end of the season, I'll see where I'm at then and decide if I'm going to keep going or what the options are."
At the moment, Neal seems content to be healthy enough to contribute and to have been in the NFL for as long as he has.
"I've definitely been very fortunate, and I've looked back and I think the biggest thing for me is having the opportunity I've had. The coaching staff here has us always prepared. And to be here in a place where all you have to do is worry about your job and everything else will take care of itself."