The NFL Combine kicks off this week in Indianapolis and as always there will be plenty of Patriots-related storylines to follow. In terms of items concerning incoming college prospects, Evan Lazar provided a comprehensive look at some things that will surely be worth monitoring.
Rather than focusing on the newcomers, we'll instead attack it from the veteran point of view. The Combine is about much more than gauging the ability of 300-plus college athletes. It's a time when the entire league convenes, including agents and general managers, and offers a chance for the parameters of deals to get done, whether those involve trades, free agents or retaining personnel.
For the Patriots there are several league-wide developments worth monitoring. Usually that starts with the team's own crop of pending free agents, a list headed by Jakobi Meyers and Jonathan Jones. The new league year is set to kick of March 15, and the legal tampering period opens March 13. That means the best chance to retain free agents would involve getting a deal done prior to the opening of the negotiating period, when players can receive offers and have a better understanding of exactly what awaits.
For Meyers, who is represented by Drew Rosenhaus, it would be hard to imagine a deal getting done at the Combine. Although Rosenhaus and Bill Belichick have enjoyed a strong relationship in the past, it would be surprising to see Meyers re-sign so close to being able to hit free agency.
Assuming he waits, Meyers is almost certain to enjoy a robust market. He is considered by experts to be the best free agent receiver available and projections have him garnering in the neighborhood of $15 million per year. Many hear a figure like that and immediately back away, claiming that price tag is too high.
But Meyers' production over the last three seasons certainly warrants that type of deal, and he has emerged unquestionably as Mac Jones' favorite target. In four seasons Meyers has 235 receptions for 2,758 yards and eight touchdowns. He's coming off back-to-back 800-yard seasons and has developed into a durable and reliable receiver for an offense that hasn't had a lot of options during his time with the team.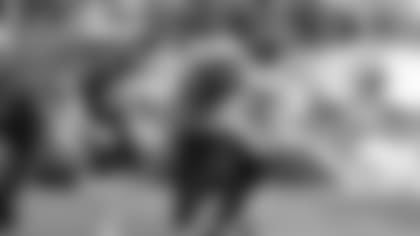 I would be in favor of retaining Meyers, even if the number creeps above the $15 million annual mark. The salary cap continues to rise significantly each year as the league continues to prosper, and totals that may have caused teams to balk in the past are viewed differently with the changing economics.
Wide receivers are no longer viewed as luxuries in today's offense-dominant game and the price tag for talent at all positions is rising. There has been a lot of talk about wideouts in particular benefitting from those increases with megadeals for the likes of A.J. Brown and Tyreek Hill receiving a lot of attention.
But the truth is the receiver position isn't alone. In fact, a look at the projected franchise tag numbers shows most positions are similarly rising and most are in the same neighborhood. The tag numbers for linebacker, wide receiver, defensive end, defensive tackle, cornerback and offensive line are all between $18-$21 million. So, wide receiver isn't an outlier, and it's becoming clear that if teams want talent they will have to be willing to pay for it.
Now, there are other options as well but those involve more than just money. If the Patriots hit Indy and broker a deal for a high-end receiver like Cincinnati's Tee Higgins or Arizona's DeAndre Hopkins and decide to let Meyers walk, that would be a different story. The offense needs a dominant force to pressure opposing secondaries, and as productive as Meyers has been he doesn't fit that category. Higgins would be a great option, but he would cost the Patriots plenty in terms of draft capital and would be looking for a huge extension as he is set to enter the final year of his rookie deal. Denver's Jerry Jeudy is another player in that category and as a less-accomplished player than Higgins wouldn't command as much on either end.
Elsewhere, the Patriots figure to be in the market for an offensive tackle and will be looking closely at the prospects. But it's also possible that they could lay the groundwork to acquire a potential free agent (San Francisco's Mike McGlinchey/Atlanta's Kaleb McGary?), which could alter their approach come draft time. It's part of the balancing act of the offseason as teams adjust their draft needs based on the results of free agency, a process that begins this week in Indy.
This kind of speculation is a big reason why the Combine is not just about the college players and provides loads of excitement for the NFL's hot stove season.
Devin McCourty appeared on NFL Network's "Good Morning Football" alongside brother Jason on Monday and offered a strong backing of Mac Jones. Asked to give his views on Jones' future, McCourty did not mince words.
"I think it speaks volumes that he's a captain in that locker room in only his second year and really kind of was a captain the year before as a rookie leading those guys, so I'm excited for Mac. I think sky's the limit," McCourty said. "I think he's the future of New England. Any doubts, I think you're wrong if you don't think that. I think he's the future. He's in that building right now, doing different things, working with guys, talking to guys, that's what he wants."
McCourty was just getting started.
"What I'll say about Mac is the Combine is sponsored by No Bull this year. Mac is no bull," he said. "They know the future is Mac Jones. And I'm excited for this guy this year because now you get Billy O'Brien coming in as an offensive coordinator. Great success, has done well everywhere he's been offensively. He gets to come in and now work with Mac. He's going to have stability around him. I think the team is going to go get another guy to be a receiver in that offense. Hopefully bring my guy Jakobi Meyers back and be a part of it.
"I think Mac has all the intangibles and the things that you want in a quarterback. He's only in his second year going into his third year, third offensive coordinator. Hopefully Billy O is there for awhile and I think you'll see the true growth."
Speaking of D-Mac …
Matthew Slater stopped by last week to discuss his decision to return to the Patriots for a 16th NFL season. After speaking on his thought process, Slater was asked if he had been in touch with his close friend McCourty, who is set to become a free agent and is currently mulling retirement.
"You know I'm talking to Devin. As soon as I decided to sign he was one of the first people I texted," Slater said. "I told him, 'Don't have me do this by myself.' I'm going to make no bones about it, I would much rather play with him another year and hopefully write a better chapter for ourselves as we close this thing out. But he has to make his own decision and I support it either way."
McCourty has stated that he will likely make his plans known around the start of the new league year.
DISCLAIMER: The views and thoughts expressed in this article are those of the writer and don't necessarily reflect those of the organization. Read Full Disclaimer