FOXBOROUGH, Mass. - On Tuesday evening, Patriots Chairman and CEO Robert Kraft, President Jonathan Kraft and other members of the Kraft family were joined by a dozen Patriots players at the Goodwill Headquarters in Roxbury, Mass to distribute Thanksgiving dinner, complete with all the trimmings, to 220 families as part of the New England Patriots Charitable Foundation's "Thanksgiving-in-a-Basket" initiative. In attendance for the Patriots were team captains Matthew Slater and Logan Mankins as well as Danny Aiken, Dan Connolly, Kanorris Davis, Jordan Devey, Julian Edelman, Stephen Gostkowski, Rob Gronkowski, Logan Ryan, Nate Solder, Shane Vereen, and several Patriots alumni, who teamed up with Goodwill and Stop & Shop, as well as the Krafts, to bring food to families in need.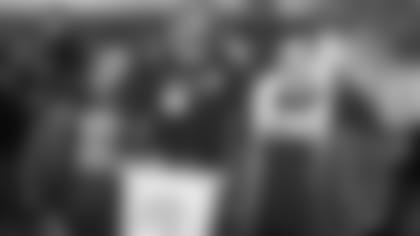 ](/node/46896)The tradition began when Mr. Kraft bought the team in 1994, making this year's event the 20th Thanksgiving Basket giveaway. The basket recipients are currently enrolled in or have graduated from Goodwill's job training programs or have children who participate in Goodwill's youth programs.
"We realize how blessed and fortunate we've been to be in the position that we're in [as players in the NFL]," said special teams captain and wide receiver Matthew Slater. "To be able to give back to people and be able to put a smile on their face for the holiday season means a lot."
Mr. Kraft and the players began the evening with a special greeting to the families in attendance before beginning to hand out turkey baskets overflowing with all the trimmings of cranberry sauce, gravy, peas, green beans, corn, stuffing, potatoes, bread, oranges and pies - a true Thanksgiving feast. Flashes of light sporadically illuminated the room as families took pictures with the Patriots who were personally escorting them and their baskets to their cars.
Each basket carried out in the arms of the Patriots players represented something much larger than the meal its contents will provide. The baskets symbolize the fulfilling and gratifying nature of the bond shared between the Patriots and their fans.
From top to bottom, the presence of the Patriots organization could be seen and felt throughout the room. It was evident from the wide-eyed stares of those witnessing their heroes in ordinary clothes doing something extraordinary. The families that came to the Goodwill Headquarters in Boston on Tuesday evening left with a Thanksgiving meal, smiles on their faces, and warm wishes from the New England Patriots this holiday season.