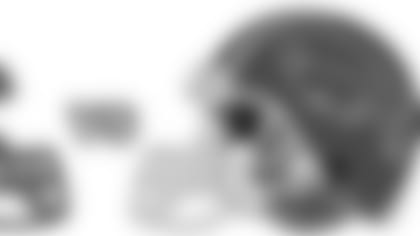 New England Patriots(0-0) vs.Buffalo Bills** (0-0)
Sunday, September 10, 2006
Gillette Stadium (68,756)
1:00 p.m. EDT
The New England Patriots will open their 47th season by hosting the Buffalo Bills at Gillette Stadium on Sunday, Sept. 10. All of the work the Patriots have done since last year's playoffs will be put to its first true test when the season gets underway against a divisional opponent for just the second time in seven years.
The Patriots have won five straight games against the Bills and are 25-7 against AFC East opponents since 2001. New England has claimed three straight divisional titles and have won the AFC East four times in the last five seasons. After posting 5-1 divisional marks in each of the last three years, the Patriots will aim to maintain their focus and put forth a solid effort against the Bills to get the season off on the right foot. New England will continue divisional play in Week Two, traveling to New York to play the Jets, marking the first time since 1999 that the Patriots will start the season with back-to-back divisional contests.
The Patriots enter this week's game sporting a 30-6 (.833) all-time record at Gillette Stadium, including regular-season and postseason games. New England has won 26 of its last 29 consecutive regular-season and postseason contests at home. The Patriots' .833 winning percentage is the highest of any NFL team since Gillette Stadium opened in time for the 2002 season. The Patriots also lead the NFL by allowing just 15.67 points per game at home since Gillette Stadium opened in 2002.
TELEVISION: This week's game will be broadcast by CBS. The game can be seen in Boston on WBZ-TV Channel 4. The network's number one crew will cover the game. Jim Nantz will handle play-by-play duties and Phil Simms will provide analysis.
RADIO: WBCN 104.1 FM is the flagship station for the Patriots Rock Radio Network. A complete listing of the network's stations can be found here. Play-by-play broadcaster Gil Santos is in his 30th season as the voice of the Patriots and will call the action along with Patriots Hall of Famer Gino Cappelletti. Santos and Cappelletti are celebrating their 23rd season as a broadcast tandem.
This week, the Patriots and Bills will meet for the 92nd time since the series between the AFC East rivals began in 1960. The Patriots lead the series 51-40, with one tie. The Patriots' 51 wins over Buffalo are their most over any opponent, seven more than they own over the New York Jets (44). New England has won 10 of its last 11 games against Buffalo dating back to the 2000 season. The teams have had many memorable matchups over the years, including a five-game span from 1999 to 2001 where four of the five contests were decided in overtime. PATRIOTS - BILLS QUICK HITS
The Patriots have recorded 51 wins over the Bills, the most against any opponent.
New England has won five straight games against Buffalo and has swept the season series in each of the last two seasons.
Bill Belichick holds a 10-3 career record against Buffalo, including a 10-2 record as head coach of the Patriots.
The Patriots and Bills have played in 19 games decided by three points or fewer since 1972.
The Patriots are 17-6 against the Bills in their last 23 meetings.
Since 1993, the two teams have played five overtime games, good for a total of 51:49 of extra time, almost equaling an entire game.
Over the series' last five games, the Patriots are averaging 29.2 points per game.
The Patriots defense has held the Bills to a touchdown or less in three of the last five games between the teams.
The Patriots will open the season against a divisional opponent for the 20th time in team history and for the first time since 2003. New England is 11-8 (.579) in its previous 19 season openers against divisional foes.
New England has the best record among AFC East teams in division games since the beginning of the 2001 season (25-7). The Patriots have won three straight division titles and have won four AFC East championships in the last five years.
Tom Brady is slated to start against Buffalo for the 11th time in his career. The Patriots signal caller has led the Patriots to nine victories over the Bills, his highest such total over any single opponent. Additionally, Brady has completed more passes (185), thrown for more yardage (2,178) and thrown for more touchdowns (17) against Buffalo than any other opponent. In addition to the Bills, Brady has also started against the Miami Dolphins 10 previous times and has started against the New York Jets nine times. CONNECTIONS
Bills head coach Dick Jauron is a native of Swampscott, Mass. and was a three-sport standout at Swampscott High, where he was named one of the top 10 Massachusetts prep athletes of the 20th Century by the Boston Globe.
Patriots head coach Bill Belichick was the Detroit Lions' assistant special teams coach from 1976-77, while Bills head coach Dick Jauron played safety for Detroit.
Dick Jauron was the head coach of the Chicago Bears when Patriots linebacker Rosevelt Colvin played for Chicago from 1999-2002.
Bills linebacker London Fletcher-Baker was a college teammate of Patriots offensive coordinator Josh McDaniels and Patriots director of pro personnel Nick Caserio at John Carroll University in 1996 and 1997.
Bills wide receiver Andre Davis played in nine games with four starts for the Patriots in 2005 after being acquired from the Cleveland Browns via trade on Aug. 22, 2005. Davis signed with Buffalo as an unrestricted free agent on Mar. 12, 2006.
Bills offensive line coach Jim McNally was the offensive line coach at Boston College from 1975-77.
Patriots secondary coach Joel Collier's father, Joe Collier, was the Bills' head coach from 1966-68.
Patriots linebacker Junior Seau played at Southern California from 1988-89 while Bills assistant head coach/special teamsBobby April was the Trojans' secondary/kicking coach.
Patriots linebacker Don Davis played for the St. Louis Rams from 2001-02 when Bills linebackers coach Matt Sheldon was the Rams' defensive assistant/quality control.
Bills wide receiver Josh Reed was a four-year teammate of Patriots defensive end Jarvis Green at LSU.
Bills running back Anthony Thomas was a teammate of Patriots quarterback Tom Brady at Michigan from 1997-99.
Bills linebacker Liam Ezekiel is a native of Arlington, Mass., and attended Arlington High and Northeastern University.
Bills guard Greg Jerman was born in Hyannis, Mass.
30-6The Patriots' all-time record at Gillette Stadium, the best record of any NFL team in its home stadium since it opened in 2002 (.833 winning pct). The record includes a 4-0 playoff mark.
15.67The average number of points per game the Patriots have allowed at Gillette Stadium, the best mark in the NFL since 2002.
88-6The margin by which the Patriots outscored opponents over a span of 10 quarters beginning with the fourth quarter of their preseason opener on Aug. 11 and lasting until the second quarter of their preseason finale on Aug. 31.
117-60The Patriots scoring margin for the preseason, nearly doubling the points scored by their opponents.
9-for-9Rookie kicker Stephen Gostkowski's perfect preseason included hitting all nine of his field goal tries and all 11 of his extra point attempts to lead the team with 38 points.
93.4Tom Brady's passer rating in the 2006 preseason.
93.5Matt Cassel's passer rating in the 2006 preseason.
1The number of 100-yard rushing games Corey Dillon needs to have recorded 40 such games in his career.
3The number of touchdown passes Tom Brady needs to move ahead of Vito "Babe" Parilli (132) into third place in franchise history behind Steve Grogan (182) and Drew Bledsoe (166).
20The number of points the Patriots' active scoring leader, Troy Brown, needs to reach the 200-point plateau.
21The number of catches Troy Brown needs to pass Stanley Morgan (534 receptions) to claim the franchise record.
29The number of receptions Kevin Faulk needs to pass Tony Collins (261 receptions) for the most by a Patriots running back in franchise history.
70The number of yards rushing that Corey Dillon (currently ranked 12th) needs to move ahead of Mosi Tatupu (2,415) and Leonard Russell (2,437) into 10th place on the Patriots all-time rushing list.
1,965The number of passing yards Tom Brady needs to become just the third player in franchise history to reach the 20,000-yard passing plateau, joining Drew Bledsoe (29,657) and Steve Grogan (26,886).
4The number of consecutive Pro Bowls to which Richard Seymour has been selected.
49The number of consecutive games the Patriots have played since they last lost back-to-back games, dating back to December 2002. The NFL record is 60 games by the San Francisco 49ers from 1995-99. The next longest active streak in the NFL is the Denver Broncos with 20.
5The number of consecutive 9 win seasons for the Patriots, the longest current streak in the NFL.
8The number of consecutive Patriots overtime victories, the longest current streak in the NFL.
8The number of career receptions by Patriots linebacker Mike Vrabel (including playoffs). All eight receptions have been for touchdowns.
89The number of consecutive games, including playoffs, that Tom Brady has started at quarterback.
32The number of years Bill Belichick has been an NFL coach, making him the longest tenured coach among the NFL's 32 head coaches.
11The number of division titles Belichick has won as a head coach or assistant coach.
9The number of head coaches who have won three or more NFL championships since the postseason era began in 1933. Belichick joined that elite club with a victory in Super Bowl XXXIX.
7The number of head coaches in the NFL or college who were once assistant coaches under Belichick (Romeo Crennel, Eric Mangini, Nick Saban, Charlie Weis, Kirk Ferentz, Pat Hill and Al Groh).
4The number of times the Patriots have appeared in the Super Bowl since Robert Kraft bought the team in 1994. No other team has made more than two Super Bowl appearances in that span.
13The number of playoff victories for the Patriots since 1994, more than any other team in the NFL during that span.
130-80The Patriots' overall record since Robert Kraft purchased the team in 1994 (including postseason), a .619 winning percentage.
74-30The Patriots' record at home since 1994, including regular-season and postseason games, a winning percentage of .712.
30-6The Patriots' record at Gillette Stadium, including regular-season and postseason games (.833 win pct).
73-34Bill Belichick's overall record as head coach of the Patriots, including the regular season and the playoffs, the best head coaching record in franchise history.
37-2Belichick's record in New England when the Patriots score 25 points or more.
57-5Belichick's record in New England when the Patriots score 21 points or more.
9
Coach Belichick is the only NFL head coach to win nine or more games in each of the past five seasons with the same team.