Foxborough, Mass. - Like several New England offensive linemen before him, fourth-year offensive tackle Brandon Gorin has made steady progress from practice squad player to contributor for the Patriots.
Gorin, who had played in eight career games entering this season, made his first career NFL start in Sunday's 34-20 loss to Pittsburgh in place of injured right tackle Tom Ashworth. And like fellow linemen Ashworth, Stephen Neal and Russ Hochstein before him, Gorin has worked his way though the development process into a position where the team is now depending on him.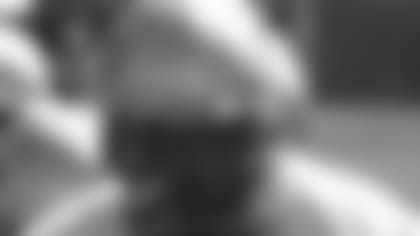 ]()"I think its been steady," Head coach Bill Belichick said of Gorin's progress. "I think it has been similar to a lot of other guys we've had in that situation. We've had a lot of guys that have been down that path. Brandon has worked hard. He had a lot of playing time this preseason when Matt [Light] and [Ashworth] missed some time. I thought his game really improved in training camp and in the preseason games. When he was on right side last week I thought he did a pretty solid job."
Gorin gained valuable experience during the preseason, starting three of the team's four preseason games because of injuries to Ashworth and Light. When reserve tackle Adrian Klemm was placed on injured reserve Oct. 7, Gorin became the top backup at both tackle positions.
Gorin, who also played left tackle against Pittsburgh when Light left with an injury during the fourth quarter, could be looking at a starting role again this week.
"As a player I hope you are ready to play," Gorin said. "You know what I mean? That's your goal is to get out there and play, so it was kind of like a big step. Obviously you are excited about playing. As a player there were a lot of things we could have done better, I could have done better. Any time you lose there are obviously things you think you can do better."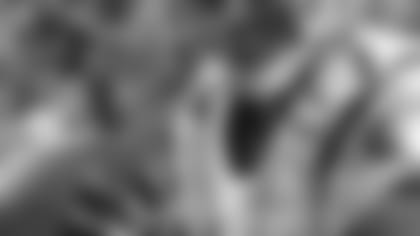 ]()Givens, Izzo Added To Injury ReportWide receiverDavid Givensand linebackerLarry Izzo** were among those listed when the Patriots released their initial injury report of the week. Givens, who was present in the locker room Wednesday but did not speak to reporters, missed a portion of team practice and is listed as "questionable" with a knee injury. The third-year player tied a career-best with eight receptions last week for 101 yards and two touchdowns, and leads the Patriots in receptions (32) and receiving yards (544) through seven games. Izzo, who has a team-high 12 special teams tackles, is also listed as "questionable."
The Patriots list cornerbacks Ty Law (foot) and Tyrone Poole (knee) as "out" this week. [news]
The rest of the injury report remains unchanged from last week. Ashworth (back), wide receiver Troy Brown (shoulder), and running backs Corey Dillon (thigh) and Patrick Pass (thigh) are listed as "questionable." Ashworth, Dillon and Pass all missed Sunday's game against Pittsburgh.
Wide receiver Deion Branch (knee) has been "doubtful" on the injury report since a Week 2 knee injury against Arizona. Quarterbacks Tom Brady (shoulder) and Jim Miller (shoulder) remain probable.
Par For The Course
Injuries are no stranger to the Patriots. The Patriots lost 103 games to injuries among starters last season and currently have 11 players on the injury report, not to mention seven others who are out for the season on the injured reserve. At a time of the season when the NFL landscape can shift suddenly because of key injuries, Brady doesn't think anyone should feel sorry for the Patriots in a league where injuries are so prevalent.
"I think a lot of the teams in this league are dealing with injuries right now," Brady said. "We happen to be one of them. We have been dealing with them all year. The guys who are stepping in and playing have to play well. Everyone else has to pick up for the guys who are going to be out. We lose two corners and the guys who step in have to play well. I don't think St. Louis is going to care very much. I think they are as happy as can be that Ty [Law] and Tyrone [Poole] aren't playing. That is what they are doing."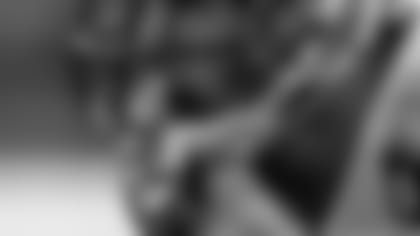 ]()Farley Fills Out Practice Squad** The Patriots signed free agent safetyScott Farley to the practice squad Wednesday. Farley, 24, signed with the Patriots during the offseason and spent training camp with the team before being released on Sept. 3. He played the 2004 NFL Europe season with the Berlin Thunder.
The Patriots have had an opening on the eight-player practice squad since the New York Giants signed safety Curry Burns on Oct 6. The Patriots current practice squad also includes wide receiver Cedric James, cornerback Earthwind Moreland, running back Kory Chapman, linebackers Justin Kurpeikis and Eric Alexander, defensive lineman Buck Rasmussen and guard Billy Yates.
Quick Hits
One player who Belichick has admired from afar is St. Louis free safety Aeneas Williams. "Williams is one of the players that I have as much respect for in this league as anybody, what he's done and how well he does it, playing multiple spots through the years. He's been tremendously productive and continues to be." ... Pittsburgh linebacker Joey Porter was named the AFC Defensive Player of the Week for his performance in Sunday's 34-20 win over the Patriots. Porter registered 3.0 sacks, forced two fumbles, defensed a pair of passes, and had eight tackles. ... Belichick said he didn't place too much importance on the last meeting between the Patriots and Rams in Super Bowl XXXVI. "Less than half of the players on our team played in that game, and less than half of the players on their team played in that game. So I wouldn't say it's too relevant." ... Belichick's take on playing on turf this week in the Edward Jones Dome: "Wear turf shoes."