Foxborough, Mass. - Corey Dillon capped his first season in New England much the way he started it, giving another strong performance for his ninth 100-yard game of the season in the Patriots 21-7 win over the San Francisco 49ers Sunday at Gillette Stadium.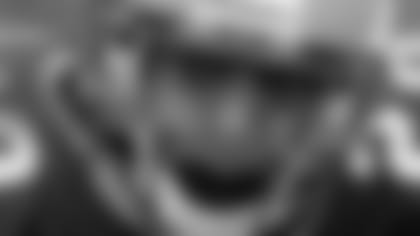 ]()Dillon rushed for 102 yards on 12 carries in the season finale against the 49ers, tying the franchise mark of 100-yard rushing games in a season set by Curtis Martin in 1995. It was the 37th career 100-yard game for Dillon, who also extended his career-high rushing total this season to 1,621 yards. Dillon became the first player in franchise history to reach the 1,600-yard plateau, also triggering a reported $375,000 incentive clause in his contract in the process.
"At, 30-years-old, I'm pretty sure most people didn't think I could do it," Dillon said. "But I didn't set out to get 1,600 [yards] and I didn't set out to get [any] incentives. I just went to work and played hard with my boys. They have just as much to do with this as me, the offensive line, they do a great job each week. It was a team effort. Without them, doing what they do, this probably wouldn't be possible."
Dillon scored the Patriots final touchdown of the game on a 6-yard run early in the fourth quarter, giving him a career-high 12 rushing touchdowns this season and the third-highest total in franchise history. He was quick to credit his teammates when asked if he has had time to reflect on his accomplishments in a record-setting season.
"When it's all said and done, maybe I can think back on it," Dillon said of his season. "But as of right now, I'm just preparing for who is next. As far as the record, I didn't do it by myself. I don't think the guys across the locker room get a lot of credit, but they go out there each week and put it on the line for me."
For Dillon, who was acquired in an offseason trade after spending his first seven seasons in Cincinnati, the next time he takes the field will be the first playoff game of his career.
"When I came here, I expected to win," Dillon said. "Did I expect 14-2? Well, I knew we would win. This has been a special season. Everyone in here has worked hard. This is real special. Just coming from where I came from, the past seven years, and to be a part of something like this, it's a tremendous feeling."
With Dillon this season, the Patriots averaged 133.4 net yards per game on the ground. It marked their highest total since averaging 145.7 yards per game in 1985 and the highest average per carry (4.07 yards) since averaging 4.13 yards per rush the same season.
"He has had a terrific year for us," Patriots head coach Bill Belichick said. "Certainly, the best running game that we have had in the five years I have been here."
Davey, Reserves See Action
When the game clock ticked down to zero at the end of the third quarter, it marked the end of the day for Patriots quarterback Tom Brady. Third-year quarterback Rohan Davey replaced Brady, playing the entire fourth quarter and completing 1-of-4 passes for 10 yards in just his second appearance this season. The only other appearance for Davey, a fourth-round draft pick in 2002 out of Louisiana State University, was when he completed 3-of-6 passes for 44 yards against Cleveland on Dec. 5th.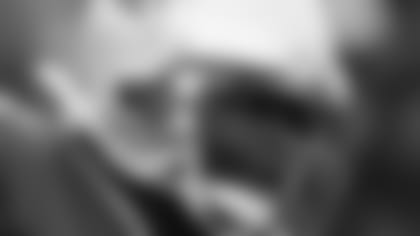 ]()"Whenever an opportunity like this comes along, especially when you haven't been playing the whole season, whatever little opportunity you get to go into the game and show that you have been preparing and to show that you can play, it's defiantly an exciting time," Davey said. "The best part about it is that guys like Tom [Brady] and the rest of the guys on the team, they're excited to see you get in there and get an opportunity.
Belichick, who said he didn't have a pre-conceived plan on how long to play starters, pulled most of the offensive starters for good with 8:36 remaining in the fourth quarter. Rookie fourth-round pick Cedric Cobbs took over at halfback, joined by Rabih Abdullah at fullback. Gene Mruczkowski replacedDan Koppen at center, with Russ Hochstein taking over at right tackle for Brandon Gorin, who moved to the left side to replace Matt Light. Wide receivers Bethel Johnson and Kevin Kasper saw most of the action at receiver during the fourth quarter. Defensively, linebacker Tully Banta-Cain saw action, while rookie defensive end Marquise Hill and second-year defensive tackle Ethan Kelley made their NFL debuts. Hill was the Patriots second-round pick in the 2004 NFL Draft, while Kelley was a seventh-round pick last season.
Secondary Shuffle
With Eugene Wilson deactivated and Ty Law still unable to return from injury, the Patriots were missing three of their four starters in the defensive secondary against San Francisco. Don Davis made his second consecutive start at safety alongside Rodney Harrison, while rookie Randall Gay returned after missing last week to start at cornerback opposite Asante Samuel. Davis played the entire game and recorded four tackles. Gay, who was inactive last week with an arm injury, made his ninth start of the season, finishing with four tackles and a pass defended. Troy Brown and Earthwind Moreland continued in their roles as extra defensive backs in passing situations.
"We've had a lot of different people back there in the secondary," Gay said. "You never know who you're going to be lining up next to, but everybody out there practices hard, practices to play, and fortunately enough to we've been able to do our assignments no matter who is back there."
Johnson Gets Crack On Punt ReturnsThe Patriots attempted to light a spark in the punt return game by using Bethel Johnson, the team's primary a kick returner, on punt returns against the 49ers. The second-year receiver, who had only one career return entering the game, replaced Brown and the injured Kevin Faulk in the role with mixed results. He returned his first attempt after the 49ers opening drive in the first quarter for an 86-yard touchdown, only to see the return called back on an illegal blocking penalty. He gained 8 yards on his other four returns, with one fair catch, but also muffed a punt midway through the third quarter.
"We haven't been as productive in the punt return game as we would like to be, and we thought he might be able to give us a little there like he has on the kickoffs," Belichick said. "Some plays were better than others. There were some positive things; there were some other things that could have been better. I'm sure he will be able to build on that and learn from it."
Scoring Streak Ends
When San Francisco quarterback Ken Dorsey hit fullback Steve Bush for a 4-yard touchdown pass with 2:48 left in the first quarter, it ended the Patriots streak of scoring first in an NFL record 20 consecutive regular season games. The last time the Patriots did not score first was on November 23, 2003, when the Texans led 3-0 in a 23-30 New England overtime win.
Game Day Inactives
The Patriots deactivated eight players from the active roster for Sunday's game: Law; Faulk; safeties Wilson and Dexter Reid; linebacker Matt Chatham; tight end Daniel Graham and defensive tackle Richard Seymour. Jim Miller was designated the third quarterback for the 16th consecutive time this season. Jarvis Green started at defensive end in place of Seymour, while Christiain Fauria started at tight end. Belichick said following the game that all of the inactive players would have been "less than 100 percent" had they been allowed to play.
Quick Hits
Sunday's paid attendance was 68,756, marking the 114th consecutive sellout in Foxborough including preseason, regular-season and postseason games. ... The Patriots finished 14-2 this season, tying the best regular-season record in NFL history by a defending Super Bowl champion. Five other teams accomplished the feat, most recently the 1998 Denver Broncos. ... Brady completed 22-of-30 passes for 226 yards, two touchdowns and an interception in three quarters of play. He finished the season with 28 touchdown passes, tying his career-high set in 2002. ... Linebacker Mike Vrabel caught his second touchdown of the season on a 1-yard pass from Brady in the first quarter. Including the playoffs, it was Vrabel's fourth career touchdown reception. ... Running back Patrick Pass led the Patriots with a career-high five receptions for 22 yards. ... Linebacker Tedy Bruschi led the Patriots with a game-high 15 total tackles. ... Linebacker Willie McGinest had the Patriots only sack, giving him a team-high 9.5 this season.