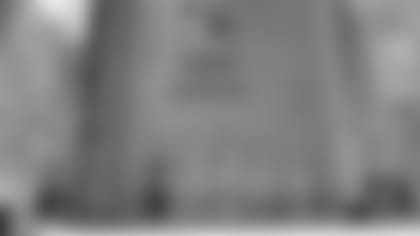 ]()Foxborough, Mass. - The New England Patriots on Thursday unveiled The Hall at Patriot Place presented by Raytheon, the crown jewel of Patriot Place and the only sports and education experience of its kind in the world.
Through a dazzling array of interactive and immersive multimedia exhibits and artifacts never before viewable by the public, The Hall showcases the history of the New England Patriots while providing a permanent home for the franchise's Hall of Fame. In partnership with Raytheon, The Hall also promotes math and science education through football for the thousands of schoolchildren expected to visit each year.
"The Hall at Patriot Place is not just a tribute to the greatest players in Patriots history, but to every player who wore the Patriots uniform and to every fan who has supported the team," said New England Patriots Chairman and CEO Robert Kraft. "There was a time when Patriots fans couldn't have imagined something like The Hall at Patriot Place. I think they'll be amazed when they see it. It is not only cutting-edge, it's a great community resource. It's an entertainment, educational and cultural experience unlike anything you've seen."
The experience begins as visitors enter an elevator on the ground floor and hear a voice from Patriots history welcoming them to The Hall. The journey continues throughout 36,000 square feet and two stories until visitors reach one of The Hall's signature exhibits and its premier photo opportunity: the Patriots' three Lombardi trophies.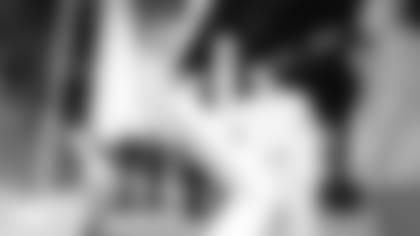 ]()The Hall features interactive exhibits designed to educate and entertain. Visitors can receive instruction from Patriots Head Coach Bill Belichick on how plays in the Patriots playbook are designed. They can also step inside a game-used replay booth and make the call on an instant replay review with instruction from NFL Vice President of Officiating Mike Pereira. Fans of all ages can test their vertical leap with help from Patriots running back Laurence Maroney, test their reaction time with instruction from Patriots center Dan Koppen, or compare their weight to NFL players with the help of 325-pound Patriots nose tackle Vince Wilfork.
In partnership with Raytheon Company, The Hall at Patriot Place presents an integrated math and science education program with lesson plans designed to combine elements of The Hall's exhibits in an engaging educational platform for visiting school groups. Additionally, all visitors can experience the "In the Numbers" exhibit, presented by Raytheon, which uses football to teach math and science in a fun and interactive way.
"I am excited that we are working together as a team with the New England Patriots to encourage these young fans from across New England, a place Raytheon is proud to call its 'home field' for 86 years," said Raytheon Chairman and CEO William H. Swanson. "It is our hope that tens of thousands of students will experience the math and science education program we have developed for school groups visiting The Hall during their field trips to one of the most exciting venues in this country."
Throughout The Hall are 19 high-definition touch screen kiosks, allowing visitors to interact with the exhibits in unique ways. Four and a half hours of exclusive video content is displayed on 11 60-inch high-definition TV monitors, seven projection screens and the 48-foot-wide panoramic movie screen in the Raytheon Theater, where a 15-minute signature film showcasing the history of the Patriots and their fans plays every 20 minutes. Exclusive audio experiences take Patriots fans into Gillette Stadium's tunnel as the team prepares to take the field, into the huddle as a play is called, and onto the sideline during a game.
Each of the 13 members of the Patriots Hall of Fame is immortalized on 30-foot high, six-foot wide video pylons utilizing the first Magink digital ink display in the United States. Fans can choose which Hall of Famer to highlight on one of four touch screen kiosks, causing the pylons to come alive with video and images of each player while additional information is displayed on the screen below.
"The Hall is first-of-its kind in many ways," said Patriots President Jonathan Kraft. "There is proprietary technology throughout. No other franchise is honoring its Hall of Famers, its alumni and its fans like this. The multimedia and artifacts are integrated to allow fans to access as much or as little information as they want, and there is something for every age group."
]()To complement the audiovisual experience, there are thousands of football artifacts on display at The Hall, ranging from the priceless (a football from the 1876 Harvard-Yale game) to the quirky (the infamous snow plow that cleared the way for a Patriots win over the Dolphins in 1982) to the sublime (Doug Flutie's 1984 Heisman Trophy).
On Thursday, Swanson joined Robert and Jonathan Kraft to cut a ceremonial ribbon and hosted 50 students from Foxborough Middle School at The Hall. The ceremony marked the official kick off to the Inaugural Patriots Hall of Fame Induction Weekend. On Saturday, Sept. 20 at 3 p.m. the Patriots will re-induct 12 Patriots Hall of Famers and welcome 2008 inductee Ben Coates as the 13th Patriots Hall of Famer in a once-in-a-lifetime ceremony. The event will take place on the Patriot Place Plaza just outside The Hall. It is free and open to the public.
The Hall at Patriot Place opens to the public on Monday, Sept. 22. Tickets are $10 for adults, $7 for seniors and military and $5 for children 5-12. Children 4 and under are admitted for free. The hours or operation are 10 a.m. to 5 p.m. from Monday to Friday, 10 a.m. to 9 p.m. on Saturday and 10 a.m. to 7 p.m. on Sunday. The Hall is not open during Patriots home games.
ABOUT RAYTHEON
Raytheon Company, with 2007 sales of $21.3 billion, is a technology leader specializing in defense, homeland security and other government markets throughout the world. With a history of innovation spanning 86 years, Raytheon provides state-of-the-art electronics, mission systems integration and other capabilities in the areas of sensing; effects; and command, control, communications and intelligence systems, as well as a broad range of mission support services. With headquarters in Waltham, Mass., Raytheon employs 72,000 people worldwide.
ABOUT THE KRAFT GROUP
The Kraft Group is the holding company for the Kraft family's various businesses, which have concentrated interests in five specific areas: the distribution of forest products, paper and packaging manufacturing, sports and entertainment, real estate development and private equity investing. Together, the Rand-Whitney Group and International Forest Products conduct business in more than 80 countries annually and form one of the largest privately-owned paper packaging and distribution companies in the world. The Kraft Group's sports and entertainment division features Gillette Stadium, New England's premier concert and entertainment venue and home to the National Football League's three-time Super Bowl Champion New England Patriots and Major League Soccer's New England Revolution. The Kraft Group's real estate development team oversaw the construction of Gillette Stadium and Patriot Place, a 1.3 million square foot lifestyle and entertainment destination adjacent to Gillette Stadium. For more information, please visit www.thekraftgroup.com.
ABOUT PATRIOT PLACE
Patriot Place is the premiere lifestyle and entertainment destination in New England. Located adjacent to Gillette Stadium in Foxborough, Massachusetts, Patriot Place features 1.3 million square feet of shopping dining and entertainment. In addition to large and boutique retailers, restaurants and other nightlife venues, Patriot Place is anchored by New England's first Bass Pro Shops, a state-of-the-art Cinema de Lux movie theatre, Showcase Live, CBS Scene Restaurant & Bar and The Hall at Patriot Place presented by Raytheon. For more information, please visit www.patriot-place.com.