Now, it feels like training camp.
Full pads were the directive today as the Patriots took the field for the third straight day to open 2012.
"Today will certainly add a new dynamic with pads," predicted player personnel director Nick Caserio shortly before today's session. "So, there will be a few more things in play, a little bit of live contact. We'll go out there this afternoon and hopefully have a good practice."
Language in the new collective bargaining agreement dictates that the first couple of days of camp be in light or no padding. The energy level on the field – and among yet another capacity crowd of fans – amped up considerably as a result.
The fiercest hitting came during o-line/d-line pass rush drills and running game drills featuring centers, guards, and tackles squaring off against defensive tackles, ends, and linebackers, with a QB handing off to a back. The collisions heard during those blocking encounters were intense, with coaches barking from both sides of the ball to encourage the game-like simulation of full-speed action.
Of course, with the increased collisions came some expected results: a greater number of players needing medical attention.
With about an hour left in practice, All-Pro tight end Rob Gronkowski sprinted off during with a trainer after one particularly violent collision in 11-on-11 work. He appeared to be holding a hand to his face, but it was unclear exactly what was wrong. Some 20 minutes later, he jogged back on to the field with a big bandage on his chin. He took part again fully in the remainder of practice.
The news wasn't so good, however, for undrafted rookie defensive end Justin Francis, who needed to be carted off. He appeared in a great deal of pain on the back of the motorized cart, lying down and bent over on his left side, clutching his left leg. And linebacker Tracy White walked off with assistant strength coach Moses Cabrera right before 7-on-7 work late in practice. It's unclear why, but he didn't appear to be seriously injured.
Wide receiver Julian Edelman also looked like he cramped up early in the day during an individual drill. He went off to the sideline and got some help stretching from a trainer. However, he was able to pop back up immediately and rejoin the receivers. He took part fully in the rest of practice.
Unfortunate as those injuries are, they are a fact of life in football and in training camp, and a necessary evil for the coaching staff to determine which players can do the job, and which can't.
"I think the first few days when you're in shells or when you're in the mini-camps, the big emphasis is the individual techniques, the fundamentals as it pertains to your position, playing on your feet," Caserio explained. "Obviously when you put the pads on, you start to get into the physical dynamic of the game and that certainly comes into play, whether it's in the running game, hat and hand placement on the offensive line, playing with good technique defensively, shedding blocks, getting off of blockers, etcetera, being able to handle contact if you're a receiver in the secondary when the ball arrives.
"More than anything, just the sheer weight of the pads, it's certainly different from anything we've done to this point so I think you have to get yourself, your body, acclimated to having the pads and the speed that goes along with it. There's just another jump that you take relative to what you've done during the offseason, just training-wise and then mini-camps and obviously here into training camp."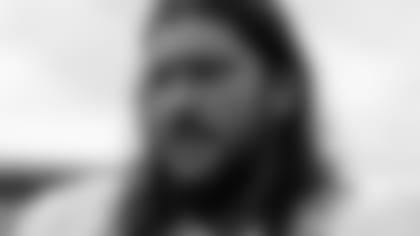 Mammoth offensive lineman Robert Gallery (every inch and pound of 6-7, 320) has been seeing significant action at the left guard spot normally occupied by Logan Mankins, who continues rehabbing from knee surgery.
"You need it… to get ready for the season," he said afterward about the physical nature of today's practice. "It was a good start, but we've got a long way to go."
The second overall pick in the 2004 NFL Draft, Gallery was projected to become Oakland's franchise left tackle, but he never quite made that move from guard, and so farm remains in that spot here in New England in his ninth NFL season.
"You know, I'm just here to work on my skill, get better every day, and do what I can do to help the team," he remarked about his role with the Patriots thus far. "I'm excited to be here with this team. I'm ready to get things rolling… wherever they put me, I'll take snaps."
Gallery should benefit from the expertise of his new position coach, long-time Patriots assistant Dante Scarnecchia.
"He demands a lot, like a good coach should," observed Gallery. "It's been enjoyable working with him so far. He pushes us to be the best, like he should do."
** Buy: Dane Fletcher – The third-year inside linebacker is getting significant, quality reps and making some plays in 7-on-7 and 11-on-11
Sell: Justin Francis – A surprise contributor during the spring and early days of camp, this undrafted rookie suffered what looked like a severe leg injury late in practice. He had to be carted off the field.
Play of the Day: Ras-I Dowling tackle of Stevan Ridley -- During full-speed 11-on11 action, running back Stevan Ridley took a carry outside to his left. Waiting for him was cornerback Ras-I Dowling, who laid a shoulder perfectly into Ridley. The ball carrier was knocked clean off his feet, which resulted in many loud "Ooohs" from the assembled audience of fans.
…Pro Bowl right guard Brian Waters remains a no-show so far in camp. Director of Player Personnel Nick Caserio, speaking with reporters before practice, said he had no update on Waters' status. A reporter asked if Waters' absence was cause for fining the player, to which Caserio responded, "[A]t this point really no change from where we were the other day that Bill [Belichick] mentioned." Belichick had said that Waters' case was an excused absence during the spring, so the reporter followed up to find out if that remains the case, or if he's being fined for missing practice time. "I'm not going to get into the exact details of it," added Caserio. "Our stance and where we are hasn't changed from where we were the other day."
…Rookie DB Alfonzo Dennard appeared to injure his right leg during Friday's practice. He appeared on the field Saturday, but only in shorts and a t-shirt.
…Eight other players remain present for practice, but not in uniform. They include o-linemen Logan Mankins, Sebastian Vollmer, Nick McDonald, and rookie Markus Zusevics; rookie DB Nate Ebner; rookie wide receiver Jeremy Ebert; tight end Daniel Fells; defensive lineman Myron Pryor.
…Tight end Jake Ballard is the only player who hasn't yet made an appearance in camp. He is on active/PUP recovering from a knee injury.
...For more details from Saturday's practice, please visit the PFW Blog.