After months of talk, analysis, film study, interviews, workouts, and seemingly endless mocks, we're about to put chatter to rest, as the NFL convenes for its Annual Selection Meeting -- more commonly known as the draft. Starting Thursday night at 8, NFL clubs will begin choosing the members of their rookie class of 2012.
The Indianapolis Colts, who own the top overall choice, have already announced that they'll be taking Stanford QB Andrew Luck -- to no one's surprise. All that remains is the formality of Commissioner Roger Goodell reading Luck's name off the card that's presented to him by a Colts staffer at Radio City Music Hall in New York.
In the meantime, the staff of Patriots Football Weekly -- Publisher Fred Kirsch, Editor Paul Perillo, Assistant Editor Andy Hart, and Staff Writer Erik Scalavino -- is on the clock, answering the most pertinent questions heading into this year's draft.
The Patriots have the ammunition -- four picks in the first two rounds -- to move around any way they want during the draft. Do you expect the Patriots to trade up, trade down/out or make their picks in the first round?
They will make the picks. Just not enough dance partners this year.
- FK
I believe the Patriots will take a player at 27 and move the 31st pick in an effort to add some picks in the later rounds.
- PP
They will trade up into the low 20s to get a guy they are targeting on defense. Then they will trade out of the 31st pick for picks next year and later in this draft.
- AH
I would love for New England to target a blue-chip prospect and make a bold move up to get him. But they didn't do that last year, when the draft was the deepest it's ever been at the position they still need most (pass rusher), so, I have little faith they'll do so this year. If history is our guide, Bill Belichick will not make two picks in round one. He'll deal one for more picks in lower rounds this year, or a future first-round pick (which he probably won't use in the future, either).  
- ES
List the top four positions (in order) you think the Patriots will target in rounds 1 and 2.
Outside linebacker, defensive tackle, running back, offensive line.
- FK
Outside linebacker, defensive back, defensive tackle, offensive lineman.
*- PP *
Outside linebacker, defensive end, safety, wide receiver.
- AH
Pass rusher (DE/OLB), defensive back (preferably a corner), wide receiver, and offensive lineman.
- ES
Which top-rated player will fall the farthest in the draft?
Coby Fleener. While he is certainly the top-rated tight end this year, it's a weak class. He'll fall out of the first round as teams give the credit for much of his production at Stanford to Andrew Luck.
- FK
Dontari Poe. His Combine performance overrated his value and teams will realize that as they watch his college tape.
- PP
Luke Kuechly. The Boston College linebacker may be lumped in with the idea that inside linebackers aren't that valuable. What kind of a game do we have when fullbacks and inside linebackers aren't wanted?
- AH
Memphis defensive tackle Dontari Poe. Sure, he had a great Combine performance, but did we hear about this guy before February? No, and there's a reason for that -- he's not that good. Most teams should realize this when they're on the clock and, consequently, Poe will be taken where he should have been all along -- late in the first round, at best, and possibly in the second.
- ES
Which prospect will end up having the most productive NFL career?
In terms of starts and Pro Bowls, the surest bet is Matt Kalil, but it's hard to gauge o-line production, so, I'll go with the obvious choice in Andrew Luck, even though I'm dubious of the Colts ability to build around him now that Bill Polian is gone (yes, I said that).
- FK
It's hard to argue against Andrew Luck. He just seems to have everything you'd want in a quarterback including the desire to be great.
- PP
Trent Richardson may be the best overall pick in this draft and barring injury will have approach 10,000 yards in the NFL. He's going to be a star.
- AH
Luke Kuechly, the BC linebacker. He may not be a perennial Pro Bowler, but, like Jerod Mayo, he has the ability to be a triple-digit tackler year in and year out. Can't get much more productive than that at his position.
- ES
Which first-round pick will be the biggest bust?
There won't be any JaMarcus Russell- or Ryan Leaf-type busts this year but the biggest disappointment will be Andre Branch. After being chosen by the Jets at 16, Rex Ryan will dub him the next great pass rusher and like most of the New Jersey coach's proclamations, this one won't live up to its billing either.
- FK
I could stick with Poe here but I'll go with Ryan Tannehill. I like his athleticism but he's going to be overdrafted by a wide margin by a team badly in need of a quarterback.
- PP
Quinton Coples is compared by some to Julius Peppers. Not even close. He has great potential but will never live up to it as he'll bounce around the league.
- AH
Quinton Coples. The UNC defensive end isn't nearly as talented as some of his recent predecessors (Julius Peppers, Robert Quinn), but he's benefitting from being in a crop of lackluster pass rushers. He'll be drafted higher than he should.
- ES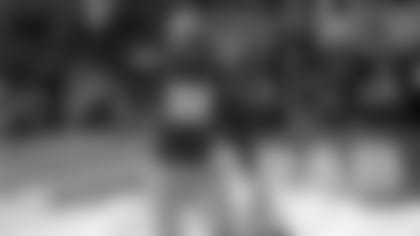 What will be the most surprising pick/development of the weekend for the Patriots?
Not only do the Patriots make the 27th and 31st pick in the first round, the biggest stunner will be no late-round trade with the Philadelphia Eagles.
- FK
The Patriots will draft at least as many players on offense as defense.
- PP
New England will surprise some people by taking a pair of edge players with its first two selections.
- AH
I'll be stunned if the Patriots make no trades.
- ES
Who will be the Patriots top pick?
Outside linebacker Melvin Ingram manages to slide to 27 and the Patriots jump all over him despite his 6-1 frame.
- FK
Chandler Jones, OLB, Syracuse -- Versatile Willie McGinest type who can also help the pass rush.
- PP
Since Fred has top-10 picks falling to 27, I'm tempted to go with Trent Richardson here. But I'm going to live in the real world and go with Syracuse DE/OLB Chandler Jones, even though New England might actually have to trade up a bit to get him.
- AH
Illinois defensive end Whitney Mercilus.
- ES