Over the coming weeks leading up to training camp Patriots Today will be debating some of the more interesting individual positional battles that will be taking place in New England. After Brian Lowe and Jackie Brittain make arguments for the players who'll be competing for roles and jobs this summer, the PFW staff will analyze the debate and declare a winner. We continue the series with a look at the battle at wide receiver!
Michael Jenkins vs. Kamar Aiken
The arguments: Brittain is taking her chances with Jenkins, the experienced veteran who's in his first season in New England. She maintains that the much younger Aiken hasn't done nearly enough in prior NFL seasons to prove his worth. Brittain also likes what she's seen from Jenkins during spring practices. Lowe, on the other hand, is confident that Aiken will make the team, citing his half a season of experience on the Patriots' practice squad last season as an edge over the newcomer Jenkins. Lowe is also impressed with Aiken's measurable and believes at least one young, untested receiver like Aiken will beat out an established vet like Jenkins.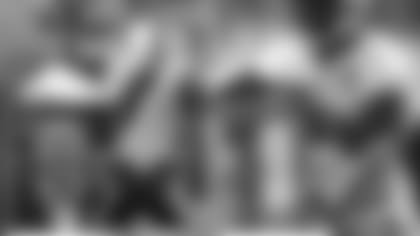 The verdict – Jenkins: It really is a tough call this year, as both Lowe and Brittain point out, with so much turnover at the wide receiver position from a year ago. It's conceivable that both of these tall receivers could find themselves on New England's 53-man roster at the end of the summer, but if there's only room, it will likely be Jenkins, who spent most of his down time in spring practices attached to the hip of quarterback Tom Brady. The two of them, along with free agent Danny Amendola, would go off to a clear spot on the practice field to work on route-running and timing precision. This could be an indication that Brady is already developing a chemistry with Jenkins, something the QB has had a more difficult time doing with most of the younger receivers who've come through Foxborough in recent years. Wide receiver will be one of, if not the most competitive positions to watch this summer, and at the end of it, I think Jenkins barely squeaks out a spot on the roster over Aiken. At this point, it seems it's Jenkins' job to lose.
Now it's your turn to weigh in. Who has a better chance of making the Patriots roster at wide receiver – Michael Jenkins or Kamar Aiken?
http://polldaddy.com/poll/7246274/
What do you think of the battle between Jenkins and Aiken? Let us know with a comment below!