The twin practice fields behind Gillette Stadium generated a game-like atmosphere on this 13th day of Patriots training camp. Overflow, standing-room-only crowds numbering close to 15,000 packed the bleachers, the berms surrounding the fields, and the walkways just beyond as, once again, folks flocked to watch New England take part in a joint practice with the New Orleans Saints.
Though the two clubs square off Thursday night in a preseason contest, Tuesday's full-pads affair had a game-like atmosphere to it as well. Saints owner Tom Benson and rocker Jon Bon Jovi (a long-time pal of Bill Belichick) were among notable guests who took in the action, as did a large group of invited military personnel.
The energetic scene – with, at times, the two teams running drills together and against one another – brought back memories of 2010, when the Saints first paid an extended visit to Foxborough prior to a preseason game.
"It's always great when we practice against a class franchise like this one," Vitt, who's filling in for suspended head coach Sean Payton, told reporters shortly after the workout. "We got a lot of good work done today – some first- and second-down, we got situational third-down stuff, and a two-minute drill. We had good work today. A few nicks and bruises, but we're OK, and we look forward to coming out tomorrow."
At least two Saints players left practice early with injuries, as Vitt indicated, but the Patriots seemed to emerge unscathed, and the head coach seemed pleased with the day's effort.
"Great to work with the Saints, you know, great organization. Great respect for the ownership, Mr. [Tom] Benson," Belichick raved. "Of course, Sean and Joe and his staff and players, we had a really good practice in terms of working with them.
"We miss Sean not being here," Belichick noted. "I think the world of Sean. He's a great friend, and I look forward to seeing him back out here soon."
Vitt, however, was on the New Orleans staff when the two teams met in 2010. Consequently, the planning for this year's get-together was easier.
"Yeah, I think so. I think there's a lot of trust involved," added Vitt. "We know what we want to get out of each day. I think the biggest thing is, the players trust one another. They know we can work tempo, angles to the ball, without just beating each other up. Whenever you have that trust between two teams, it makes it a lot more compatible."
From the Saints' perspective, it was beneficial to test their new defensive scheme being installed by new coordinator Steve Spagnuolo against an offense as loaded as New England's.
"I said to start the practice today," Vitt explained, "if you're putting in a new defense, who better to go against every day than Drew Brees? And then all of a sudden you go on the road and are going against Tom Brady. Both those guys do a tremendous job of looking [defenders] off and fitting the ball in there. The tempo's great. The chemistry between him and [Wes] Welker is unbelievable. You've got to have you're A-game, so, this is going to do nothing but make us better."
Belichick was equally satisfied with what New Orleans players were able to provide in terms of competition for his Patriots.
"We got a lot of good new looks, and we need them. We'll learn from them, make us a better football team. It was a good day today.
"We'll take a look at things tonight. We have some situations and other things to build on tomorrow, but instead of just playing one game against a team like this, we like to get three days of work, so, we took advantage of that to help ourselves get better."
Players seemed to enjoy the seeing new faces, too.
"Today, we were full go, full intensity," stated tight end Rob Gronkowski.
"I love being able to come up here and compete against them," remarked Saints quarterback Drew Brees. "That's a tightly run ship. They know how to win, how to work, how to prepare. It's nice to see that."
The teams will meet again Wednesday morning for another practice.
Patriots, Saints visit Eagles
New England's joint practice with New Orleans may have seemed like a joyous occasion – which it was in many ways – but there was a more serious element to it as well. The session kicked off a little later than planned because both Belichick and Vitt flew to Philadephia Tuesday morning to attend funeral services for the son of Eagles head coach Andy Reid.
Saints owner Tom Benson offered to let Belichick accompany Vitt and the Saints delegation on his private plane so they could all get back in time for practice. The service ran a little long, to accommodate the estimated 900 people who attended, so, to be safe, the joint practice in Foxborough was changed from 1:30 p.m. to a 2 o'clock start. But the squads still got in a nearly two-and-a-half-hour joint session.
"It was kind of a heavy heart today, going to Garrett Reid's services and seeing Andy," said Belichick. "I was glad I had the opportunity to be there and see Andy and his family and the Eagle organization. My heart goes out to him."
"I'm very, very fortunate to work for an organization whose owner allowed us to take a team plane," declared Spagnuolo. "Mr. Benson allowed us to go down. Myself, Mickey Loomis, Joe Vitt, Ken Flajole one of our defensive coaches, and Coach Belichick came along with us, and that was special for us, too. I know that Andy and his family and his wife Tammy really appreciate it."
At the conclusion of practice, both teams formed a big circle on the sideline between the two fields. At the center, New England's special teams captain, Matthew Slater, and New Orleans' placekicker John Kasay addressed their fellow players. They all then got down on one knee and Kasay continued to speak. Turns out, according to Spagnuolo, they were conducting an impromptu team prayer for Reid and his family.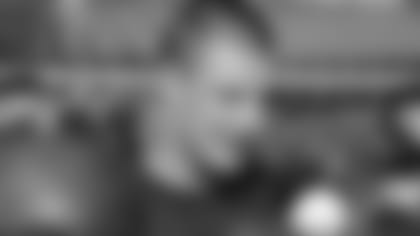 Gronkowski spent a few minutes talking to reporters after practice, and, as you might expect, his surgically repaired ankle was a subject that came up. The All-Pro tight end was asked if he's fully recovered.
"It's camp. If you have offseason surgery or you don't, you're going into camp the first week, I would never say you're 100 percent ready to go because that's what camp is for, to get your body back in football shape," he replied. "We're a couple weeks deep. I'm feeling good, taking every rep they ask me to take, doing my job. Everything's going well. Getting ready for the next day."
The overwhelming response of Patriots fans, he added, has helped him keep his intensity level high during this long days of camp.
"It's crazy. I've been talking to some other people around the league and they're only getting a couple thousand fans, or a couple hundred, per practice. That was about 15,000. We probably could have had a lot more. Fans are unbelievable. They're doing a great job coming out and supporting us.
"They give you that extra energy boost going in, when you're kind of lousy there for a moment, they get loud and excited and get you going, too. They always make noise – sometimes unnecessary – sometimes necessary. It's all fun."
Buy: Patriots d-line – As a unit, they had good success in 1-on-1 drills with the Saints o-line, and in live team action, rookie Chandler Jones got good pressure and made a great play to knock down a Brees screen pass attempt.
Sell: Patriots secondary – Tough day for this group against a potent New Orleans offense, highlighted by a nice pass breakup by Sterling Moore in the end zone. Unfortunately for Moore, the ball landed directly in the hands of Saints receiver Joseph Morgan, who'd fallen to his back on the right side of the end zone.
Play of the Day: Gregory INT – During 11-on-11 team period, the New Orleans offense, led by quarterback Drew Brees, was moving the ball fairly well in a hurry-up offense mode. Brees tried to take a shot down the seam. It's unclear who the intended target may have been, as a couple of Saints receivers crossed paths. Brees' pass sailed past both of them and into the waiting hands of safety Steve Gregory, who made the easy pick and advanced several yards before the play was blown dead.
Quote of the Day: "[New England] is the Microsoft of our industry… Bill Belichick is the Don Shula, the Bill Walsh of my era." ~ Saints interim head coach Joe Vitt
For more details about today's practice, please visit the PFW blog.