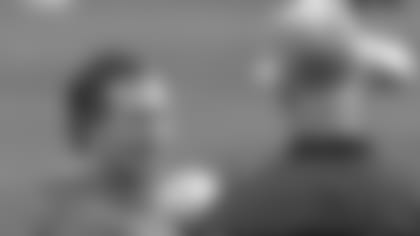 ]()Thursday evening's practice began at 7pm and was open to suite holders, Kraft employees and their families, and the media. It was a full-pads workout in the the Gillette Stadium bowl.
Not participating was Willie McGinest, P.K. Sam, Chad Morton, Randall Gay, Duane Starks, Ty Warren, Bethel Johnson and Benjamin Watson.
Returning from missing a few practices of late was Daniel Graham. Between his and Watson's absences, tight end Jed Weaver has seen increased reps and has only helped his chances of sticking with the team if and when all the tight ends are healthy and the final 53 need to be chosen.
Early on, Bill Belichick spent time with the outside linebackers as they took on the tight ends in one on one blocking drills. Across the field, the inside 'backers did the same against the running backs.
While the offensive and defensive linemen worked against each other, the rest of the team lined up in pass formation and coverage. The offense had the clear advantage throughout with the only pass incomplete being one where the coverage forced Doug Flutie to throw the ball away.
During punt return drills, Kevin Faulk, Tim Dwight and Hank Poteat shared the return duties. With Bethel Johnson out, Dwight is clearly the fastest player on the field but he'll likely need to also win a job as a receiver to earn a spot on the team.
The team then split up offense and defense on opposite sidelines for some full squad work.
The starting 11 on defense was Richard Seymour, Vince Wilfork, Rodney Bailey, Mike Vrabel, Tully Banta-Cain, Rodney Harrison, Eugene Wilson, Asante Samuel, Tyrone Poole, Rosevelt Colvin and Chad Brown.
On offense Matt Light, Logan Mankins, Dan Koppen, Stephen Neal and Brandon Gorin made up the line left to right. David Givens and Deion Branch were the wideouts with Weaver and Graham the tight ends, Tom Brady under center and Corey Dillon in the backfield.
Brady opened by connecting with Givens who made a nice toe-dragging catch along the sideline. Poole had a nice break-up of a pass intended for Branch but Branch later wound up on the receiving end of a touchdown pass from Brady a few plays later.
Rohan Davey also had a touchdown pass, finding David Terrell in the end zone and Matt Cassell did the same with tight end Joel Jacobs.
Live goal line work was seen for the first time this summer. The defense had the upper hand for the most part. Chad Scott's beautiful hit on Cedric Cobbs at the 2-yard line was the highlight. Dan Klecko took some reps at fullback.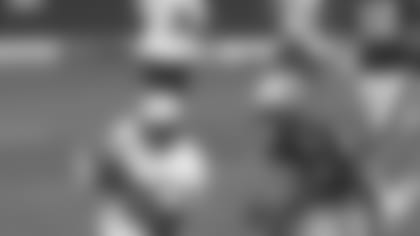 ]()Later in the practice the team worked on its two-minute drill and again, the defense had the upper hand. Brady did find reliable Troy Brown for a first down on a fourth and 20 situation but was then immediately picked off by Poole on the next play. Doug Flutie had his turn and after completing a few passes -- two of them to Weaver -- he was "sacked" to end the series.
Notes: Kicker Robbie Gould impresses with his leg strength. After easily connecting on a 53-yard field goal while working with coach Brad Seely, he was good on a 56-yarder with room to spare. He got under his next attempt, though, and was wide right and short. Later, he missed from a much shorter distance during team field goal work. His problem is consistency. ... Owner Robert Kraft took in the practice on the sideline. ... Chad Brown had a nice practice with a pass defensed and a would-have-been tackle for a loss on a Dillon run play. ... With Morton and Johnson out of uniform, rookie Ellis Hobbs has seen his share of reps as a returner increase. ... Tempers simmered a bit during goal line work when Graham and Banta-Cain locked up after the whistle. No harm done. ... Boston College head coach Tom O'Brien was a guest at practice as he was earlier in the day.