If quarterback Tom Brady is the face of the New England offense, then running back Corey Dillon is the unit's legs. And while he will probably never have to carry the entire load the way he had to at times during the first seven years of his NFL career in Cincinnati, a lot will be expected from the powerful workhorse in his second season with the Patriots.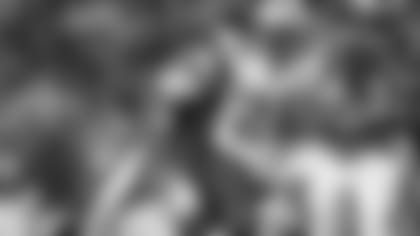 ]()After joining the team via trade last spring, Dillon dominated in his first year carrying the rock at Gillette Stadium. The 6-1, 225-pound bruiser set a career-high and franchise record while finishing third in the NFL with 1,635 yards on 345 carries (4.7 avg.). Dillon also reached the end zone a career-high 12 times in bouncing back from a disappointing, injury-filled 2003 campaign with the Bengals.
Heading into 2005, with a new contract extension in hand, Dillon ranks 18th in NFL history in rushing yards with the potential to break into the top 15 all-time if he can notch his eighth career 1,000-yard season in what will be his ninth year in the league. For his career Dillon has started 110 of 122 games played with 2,210 carries for 9,696 yards (4.4 avg.) with 57 touchdowns. He also has 207 career receptions for 1,585 yards with six touchdowns.
Dillon may not be able to repeat the dominating, record-setting production he put up in 2004, but he's clearly one of the key cogs in New England versatile, unpredictable offense. His addition almost single handedly removed the dink-and-dunk tag from the unit a year ago, leaving the balanced attack that finished fourth in the league in scoring and averaged better than 4.0 yards per carry as a team for the first time since 1985. In just one season in New Engalnd Dillon has transformed from unknown newcomer to the driving force of the New England offense and if he can remain healthy in 2005 the group could once again push past new limits of offensive output.
But as much as Dillon has established himself as the top dog in the Patriots backfield, the depth of the position has yet to be established. While veteran Kevin Faulk remains entrenched in his role as the team's third-down and change-of-pace back, unproven returnees Cedric Cobbs and Kory Chapman will compete with rookie free agents Earl Charles and DeCori Birmingham for the backup role and the chance to pick up Dillon's scraps.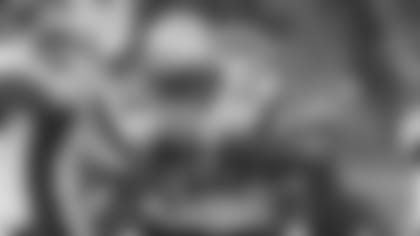 ]()Despite being limited by a knee injury early in the season in 2004, Faulk saw action in 11 games and finished the season with 54 carries for 255 yards and two touchdowns. He also caught 26 passes for 248 yards with one touchdown. When healthy Faulk adds spark to the New England offense and is a classic example of the many solid, unheralded, consistent contributors that have helped make the team so successful in recent years. Entering his seventh NFL season the former LSU start should continue to be a unique option for the team's offensive attack.
Without the luxury of a true veteran backup, the 6-0, 225-pound Cobbs, a 2004 fourth-round pick out of Arkansas, has to be considered the top candidate for the role. After beginning his rookie season on PUP, Cobbs finished the year playing in just four games and totaling 22 carries for 50 yards (2.3 avg.). The second-year player spent the entire offseason working to get in true NFL shape in an effort to avoid the injuries he encountered last summer, but also worked on the mental aspects of the game as he attempts to work his way into a New England offense that is like nothing he'd seen before. If Cobbs can improve in his pass protection he should be able to earn a few carries spelling Dillon during the regular season as coaches and teammates grow more confident in his unquestionable athletic ability.
Chapman is a former Jacksonville State star who spent last summer in Ravens training camp as an undrafted rookie before spending much of the regular season on the New England practice squad. In an effort to quicken the transition from small college player to NFL action, Chapman spent the spring playing for Cologne in NFL Europe. He finished second in the league with 718 yards on 126 carries (5.7 avg.) with five touchdowns. Chapman clearly has some natural ability and he will spend the preseason proving he can transform that into production against true NFL caliber talent. While he likely faces an uphill battle for a roster spot, he could be an option for the future.
Birmingham is a versatile athlete who returned punts and kickoffs in his time at Arkansas. He finished his career with 1,151 yards on 233 carries in the backfield while averaging 21.7 yards on 61 kickoff returns and 10.5 yards on 52 punt returns. Considering the depth the team has in the return game, the 5-10, 210-pound Birmingham faces a crowded fight for opportunities to showcase his skills in the preseason.
Charles joins New England as an undrafted rookie free agent after an injury slowed senior season at Marshall in which he rushed for 805 yards on 178 carries with five touchdowns. The 6-1, 215-pound Brooklyn, N.Y. native entered the 2004 college season on the Doak Walker Award Watch List, expected to be one of the top backs in the country after a junior season in that saw him rush for 1,039 yards and 12 touchdowns. Charles is an intriguing talent who bears watching as a possible practice squad candidate.
]()Joining Faulk in the third-down role, if necessary, is free agent return specialist addition Chad Morton. While Morton's main role in his five NFL seasons has been in the return game, the former Redskin does have 88 career carries for 360 yards and 48 receptions for 419 yards and one touchdown. If he earns a roster spot it will likely come on special teams, but his value as an emergency running back could play a slight factor.
At fullback, Patrick Pass returns to the spot where he started four of 14 games played in 2004. A 5-10, 217 pounds Pass will never be the powerful, blocking fullback that some teams employ (a role that New England fills out on specific occasions with the likes of Dan Klecko, Richard Seymour, Russ Hochstein or Daniel Graham), but his versatile talents both on offense and on special teams have been a good fit in New England over the last five seasons. Pass set career highs across the board in 2004 with 39 carries for 141 yards and 28 receptions for 215 yards, while continuing his solid special teams play.
The only other fullback in the mix is Navy rookie free agent Kyle Eckel. More of a ball carrier than blocker in Navy's wishbone system, Eckel notched back to back 1,000-yard seasons in his final two years at the Academy. He finished his collegiate career with 2,906 yards on 615 carries (4.7 avg.) with 25 touchdowns. At 5-11, 240-pounds he has the size to be a lead blocker, but will have to prove he can succeed in that role at the NFL level. Eckel also still has commitments to the Navy, but said at rookie mini camp that he expects he would be allowed to play football this season if he made an NFL roster.
So while there probably won't be a lot of changes in terms of the key contributors in the backfield as Dillon, Faulk and even Pass probably have decent holds on their roles, the battles to fill out the depth in the backfield should be interesting. Cobbs clearly has the biggest upside of anyone in the group behind Dillon, but still has a lot to prove this summer as he battles the other young running backs for action in the preseason. There are only so many carries, and more importantly only so many roster spots, to go around. That should make for interesting action involving the running backs as the team builds toward the Sept. 8 season opener.
NotesWhile the two-time defending Super Bowl champions were nominated for five awards in last night's 13th annual ESPY Awards in Los Angeles, Bill Belichick was the only New England representative who walked away with hardware as the Patriots coach took home Best Coach/Manager honors. New England was also nominated in the Best Team category, Best NFL Player (Tom Brady), Best Championship Performance (Deion Branch's 11-reception, MVP Super Bowl XXXIX output) and Best Record Breaking Performance (New England's 21-game winning streak that spanned parts of the 2003 and 2004 seasons). The 2005 ESPYs will air on ESPN on Sunday, July 17th at 9 P.M.