The Patriots put the finishing touches on their preparation work for Thursday's preseason opener against the Baltimore Ravens on Tuesday afternoon, taking part in what amounted to a half-speed walkthrough in full uniform.
While plenty of key Patriots were not in uniform, there was one notable newcomer to the action as linebacker Mike Vrabel was taken off the physically unable to perform list and took part in his first practice of the summer.
"It feels real good. Just getting a little work in like today and starting to move forward is going to be a big plus for me," Vrabel said after practice.
The 12th-year veteran joked with reporters about the reason for his absence, saying "old age" was responsible for the first delayed start to camp of his career. He also indicated that it would be unlikely that he'd play against the Ravens given his extended time off, but did say he would be prepared for whatever Bill Belichickhad in mind.
"I expect to play whenever Bill puts me in there," Vrabel said. "So if Bill wants me in there I'll play. But one practice usually isn't enough for Bill. An hour and a half in pads is really much."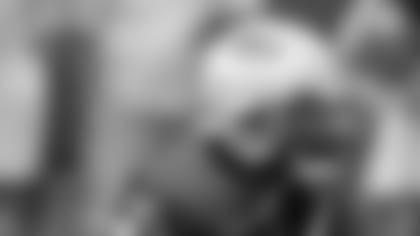 ]()Vrabel talked excitedly about the defense and some of its new members, most notably young guys like rookie first-round pick Jerod Mayo, third-round pick Shawn Crable, and undrafted rookies Vince Reddand Gary Guyton.
He said the youngsters weren't afraid to ask questions and have displayed a willingness to learn and an overall enthusiasm for the game.
"It's just a good group of guys," he said. "They put football first. They're young, energetic and if they want me to offer some advice I'm going to try to help them any way I can. When I was young [in Pittsburgh] I had the luxury of relying on guys like Carnell Lake, Dermontti Dawson and Jerome Bettis. Guys can approach Tedy Bruschiand Rodney Harrisonand try to follow in their footsteps."
Beyond Vrabel's appearance there weren't too many other noteworthy things to report. Tom Brady, who was scheduled to meet with the media after practice, did not do so because he was not in attendance. Brady also took Monday morning's practice off so all signs seem to indicate that he won't play against the Ravens given the practices were geared mostly toward preparations for that game. Randy Mossalso didn't suit up, marking just the second practice he's missed thus far.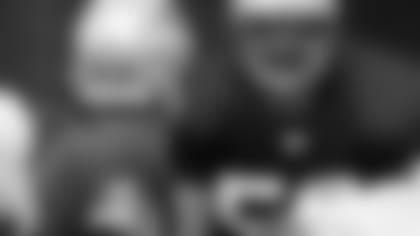 ]()With Brady out, Matt Casseland Matt Gutierrezhandled the majority of the reps with rookie Kevin O'Connell mixing in periodically. It was difficult to gauge any of the passer's performances given the laid back nature of the practice.
Who's hot: Chris Hanson –The punter has displayed a big leg throughout camp but it was his touch that drew the eye on Tuesday. He had already gotten off a few bombs heading in one direction before switching sides to work on situational kicking. He deftly landed a couple of high arcing kicks inside the 5, where the coverage team easily downed them just outside the goal line.
Who's not: Jonathan Stupar – It's tough to call anyone out during a glorified walkthrough but the undrafted rookie had a tough afternoon. He was replaced by Stephen Spachon one play when he didn't know where to line up, drawing some choice words from tight ends coach Pete Mangurian, and then dropped a short pass from Cassel a short time later.
Play of the day: Antwain Spannjust continues to make plays. On a goal line pay midway through practice, he stepped in front of Marcus Pollard in the end zone and picked off a Gutierrez pass for a would-be touchdown. Spann may be knocking on the door for a role on defense depending on his performance in the preseason.
There has been much discussion this summer about the new defensive communications that will be allowed for the first time in 2008. Belichick's reaction to the entire system has been lukewarm, and on Tuesday he indicated what he had been hinting at in recent days.
"We won't use it during the game," Belichick said playfully. "Is that what you're looking for? You can put it in the headlines. No, we won't use it."
The return of Vrabel meant just four players remained on PUP: Stephen Neal,Oliver Ross, Jarvis Greenand Mike Wright. In addition to that group, those missing practice included Brady, Moss, Kelley Washington, Jason Webster, Jonathan Wilhite, Sammy Morris, Mike Richardson, James Sanders, Rodney Harrison, Kyle Eckel, Ryan O'Callaghanand Matt Light. Wilhite appeared to come up with a leg injury during Monday night's practice. … Newly signed offensive lineman John Welbournwas in pads for his second practice with the team after arriving yesterday. Belichick said he wasn't sure how much the veteran could provide in Thursday's preseason opener against the Ravens. As a result, Dante Scarnecchia's troops did plenty of moving around on Tuesday and should be expected to play multiple spots against the Ravens. … Terrence Wheatleymade a nice leaping defection of a potential touchdown pass from Gutierrez to Jabar Gaffney. … Toward the end of practice the Patriots special teams got some work with the four major units – punt, punt coverage, kickoff and kickoff return taking three reps each. Chad Jacksonand C.J. Jones handled the punts while Matthew Slaterand LaMont Jordantook the kicks. … Tuesday's practice was the last open to the public until next Monday. The team will have a walkthrough tomorrow (closed to public and media) and then not return to the practice fields again until next week.