Wes Welkerhas been a regular in the locker room these days, but not on the football field. Since starting the Cincinnati game in Week 2 of the preseason, the Pro Bowl wide receiver has been out of commission with an undisclosed injury.
"It's pretty much team policy that we don't speak about those things," he told curious reporters on Tuesday.
]()Is there any concern that he might not be ready in time for the regular season opener on September 14? If there is, Welker wouldn't admit to any.
"Right now, I'm just working hard to get back out there," he offered. "That's my goal right now – just continue to work hard on a daily basis and get back there as soon as possible."
He was asked if, at this point in his career, he even needs to get the preseason work to be ready when the games count.
"Yeah, you know, every day you can get reps in is big," he insisted.
As for his fellow starters on offense, Welker was impressed with what he saw against Washington last Friday. Without him in the lineup, the combination of QB Tom Bradyand WR Randy Mosscombined for two spectacular touchdown passes in the first half.
"I thought they looked great. Randy and Tom were putting on a little bit of a show for a while. They played really well," Welker said before pointing out, "There are still a lot of things we need to work out, but it was a good starting point."
Another player who's trying to get back into football shape is linebacker Paris Lenon. The veteran free agent missed the majority of practices this preseason, but finally took the field in practice and in the game against the Redskins last week. Lenon played both on defense and special teams.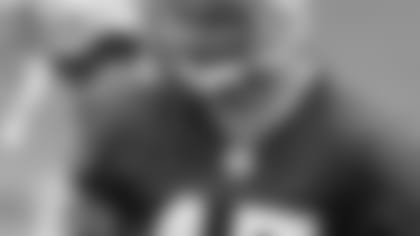 ]()"Yeah, you know, I wasn't able to get out there in the first two games," he observed. "Just trying to get back in the groove and play football again.
"Mentally, I've always been in it. I've been in all the meetings. Physically, I'm starting to get back. It hasn't been that long, but I'm coming along pretty well."
He's also looking forward to contributing this Thursday in the preseason finale versus the New York Giants.
"It's just another opportunity to go out and prove you can play," he said.
There's also an opportunity on the Patriots roster now that veteran Tedy Bruschihas hung up his cleats – a fact reporters pointed out to Lenon on Tuesday.
"This is the National Football League. So, there are always new faces and people are expected to step up," he responded. "I won't necessarily say you'll fill the shoes of Tedy Bruschi, but we'll have to go out and do the best job we can."
Bruschi, like Lenon, was injured for much of this preseason, but Lenon admitted he was still somewhat taken back by the news of his teammate's retirement.
"It was a little bit of a surprise to me, but obviously, it was his decision and I'm very happy for him. He had a great career. He's a great man. I got to know him a little bit and talked to him quite a bit. I'll definitely still talk to him.
"We spent a lot of time together in the training room for a while," Lenon added with a smile. "He's a great man and a great football player."
Hair today, gone tomorrow
Around the Pats locker room today, it was evident that the rookies finally got their traditional initiation haircuts from the veterans.
Some were simple – QB Brian Hoyer, OL Sebastian Vollmer, and WR Julian Edelman, for instance, were given a clean shave down to the scalp. OL Rich Ohrnberger, on the other hand, was wearing a hat to disguise his new 'do, but it was clear from the little that was visible in back that he had some sort of pointy Mohawk-type thing going on.
Meanwhile, long snapper Jake Ingram– he of the famous flowing mane – was spared the scissors, but not the humiliation.
"I'm supposed to get mine braided tomorrow," he revealed with a laugh.
As always, some good and bad news at practice Tuesday, with regard to attendance. On the down side, Welker continued his absence. And TE Chris Bakerwas not on the field for the first 20 minutes of practice, when the media is allowed to observe. Fellow tight end David Thomasalso missed his second straight day. Others missing from action: rookie WR Julian Edelman, CB Terrence Wheatley, CB Shawn Springs, RB Laurence Maroney, OL Dan Connolly, rookie DL Myron Pryor, and LB Shawn Crable.
On a positive note, DL Mike Wrightwas back in uniform after missing Monday's session. Meanwhile, RB Sammy Morrisand rookie CB Darius Butler, who wore red, no-contact jerseys on Monday, were back in their normal white and blue shirts today.
There was a hint of fall in the air here in New England today, with sunny skies and temps in the mid-70s. Today's practice is the final padded workout of training camp (shorts and shells again) and the preseason. Wednesday, the team will conduct a walkthrough to prepare for their preseason finale here at Gillette versus the New York Giants on Thursday night. By Saturday, all NFL teams must make final cuts to form their 53-man rosters for the regular season.