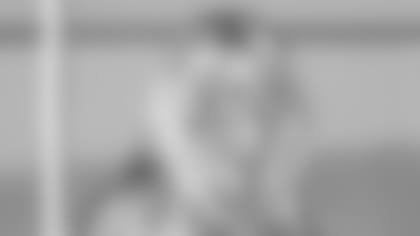 On Saturday, March 31, the final round of the New England Patriots Cheerleaders 2007 auditions took place at Gillette Stadium. Having made it through the preliminary rounds of auditions with almost 300 paticipants, the 67 finalists arrived with hopes that by the end of the day they would be that much closer to one of the coveted positions as a 3X Super Bowl Champion New England Patriots Cheerleader.
Upon arrival, each candidate was asked to take a short quiz, to ensure that they had a good understanding of the Patriots organization, history, the NFL and football in general. Since Patriots Cheerleaders represent the Pats at appearances all over the New England and around the world, it is very important for the ladies to be knowledgeable in these areas. We are very happy to say that all 67 finalists had virtually perfect scores.
The first portion of the audition was the swimsuit modeling segment, where each candidate modeled a bathing suit of their choice. Next, the question and answer segment took place. Two by two, the finalists were asked to stand in front of the judging panel and answer a personal question. Among other criteria, the ladies were scored on content of their answers and the poise during their delivery.
Next, the dancing portion of the audition commenced. In groups of two, the finalists were asked to execute a series of high kicks and splits and perform both choreographed routines from the preliminary rounds. Each candidate was then asked to perform a freestyle routine. Everyone did a great job of putting together an entertaining combination that displayed their individual talents as a dancer.
After an optional tumbling segment, the 9 judges headed into the tabulation room. There was so much talent among all 67 finalists, that the judges were faced with an extremely difficult decision. After much thought and discussion, the number was narrowed down to 35. Those 35 candidates attended two weeks of optional practices, and the final squad was announced on April 14th. Below is a list of the 24 member squad!
2007 Patriots Cheerleaders
Alicia Bardaro
Lindsey Barrows
Cortney Bennett
Carrie Binette
Lindsay Bloom
Alyssa Caddle
Corie Mae Callaluca
Alysha Castonguay
Tanya Croteau
Quinn Kingston
Molly Lang
Danielle Lannon
Angela Lavoie
Briana Lee
Stacey McIntyre
Sandra Smyly
Crystal Thompson
Leah Vandale
Meghan Vasconcellos
Angela Vernaglia
Jessica Wanzie
Julie Warner
Meghan White
Dinna Yap