PHILADELPHIA – The Patriots and Eagles cut their second of two joint practices short on Tuesday, working out for just under 90 minutes at the steamy NovaCare Complex. While the Patriots have traditionally been conducting practices that have been roughly two hours in length, sometimes slightly longer, the Eagles under first-year head coach Nick Sirianni have been stopping at about 90 minutes.
Bill Belichick explained how the teams spoke beforehand and some compromises were made, and it's possible that one dealt with the length of the workouts. As for the work on the field, Belichick was pleased with the effort on Monday and felt the level of physicality was good.
"Coach [Nick] Sirianni and I talked about that before practice," Belichick said. "Talked about it after practice. I think the working tempo was good, and I think we all got a lot out of practice. I think they felt like they did. I know we felt like we did, and it was very similar. Honestly, probably as similar as we could get to the way we would have practiced without Philadelphia if we just practiced with ourselves. I think that's an important part of developing your team is learning how to practice and practicing so that you get better, the guy you're working against gets better, both sides of the ball get better.
"At the same time, it's not a full speed level, but it's a level where we can work and improve and try to minimize the risk to having a lot of guys on the ground and having piles and things like that. That's how we practice. It's obvious that's how the Eagles practice. I thought we had a good working practice."
That was the case again on Tuesday despite the shortened time on the field. Belichick talked about the need for improvement each day and explained how things would change to the red zone.
"I'd say the big thing for today is what we're doing is a lot different than what we did yesterday," he said. "Really all our work today is going to be in the red area. Of course, some of the fundamentals are the same, but there are a lot of things that are different down there. It all happens at a much more condensed space, whichever side of the ball you're on. It doesn't matter. We'll get a lot of snaps in the red area. Probably as many as we would in a couple normal weeks of practice against a different team with different players in a different scheme, so this will be a really valuable learning day like yesterday was for us as well."
Despite several missing pieces on offense, specifically at the tight end position, there were some positives that came out of the practice for the offense. For the most part it was a struggle but both Cam Newton and Mac Jones did manage to make some plays, albeit mostly on shorter throws underneath the coverage.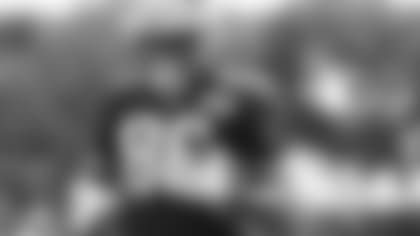 One exception came when Jones found Devin Asiasi on a quick out in the end zone for a touchdown off a nicely executed play action fake. Asiasi was basically the last man standing at the position with Hunter Henry (shoulder), Jonnu Smith (ankle), Matt LaCosse (head) and Troy Fumagalli all out of the lineup. Henry was in pads for the second straight day but did not participate. Fumagalli was in workout gear and was with a member of the training staff before practice. No word on the reason for his absence.
Asiasi had a ball glance off his hands on an earlier rep but responded by grabbing a touchdown near the left pylon. He's been slowly working his way back into the mix after missing the first part of camp on the COVID list and he talked about his mindset in practice.
"I had to just move on with that next play mentality," he said of his touchdown. "I've been feeling better lately, it's been a week since I've been back and it feels good to be back out here."
Without the bulk of the tight ends, who figure to be a huge part of the offense, especially in the red zone, the quarterbacks had trouble finding open targets. Jones was intercepted by linebacker T.J. Edwards while trying to force one across the middle to Asiasi in traffic, and Newton had a few near-misses as well.
Jakobi Meyers seemed to be one of the few wideouts consistently making catches, but much of his production was on shorter curls that wound up well short of the goal line. Still, it was a strong day for Meyers, who continues to operate as the Patriots best receiver.
"It's the hardest part of the field," Meyers said of working in the red zone. "There's no excuses though. You have to run good routes and find ways to get open. I felt like we got better today, a lot better."
On defense things improved from Monday as well. Eagles quarterback Jalen Hurts had some nice throws, particularly when working to impressive second-year wideout Jalen Reagor and tight ends Zach Ertz and Dallas Goedert. But the coverage seemed tighter on Tuesday with J.C. Jackson and Joejuan Williams using their physicality in the tight quarters to compete.
"When they get to the red zone it's all about getting into that end zone," safety Adrian Phillips said. "There's a lot more intensity down there. It really picks up a lot. They got you on your heels and you have to respond."
It wasn't always perfect, both Phillips and Kyle Dugger (more on that later) gave up some plays and Devin McCourty was complaining about a possible push off on another when Joe Flacco missed an open tight end in the corner. But overall Phillips' impressions of the intensity seemed accurate as the secondary showed some fight going against some talented Eagles receivers.
Beyond the red zone work, here are one man's impressions of Day 15 of Patriots training camp.
*There weren't any changes among the lists on Tuesday but there was some activity in terms of absences. Jarrett Stidham, Stephon Gilmore, Terez Hall, Byron Cowart (PUP) and Cameron McGrone and Joshuah Bledsoe (NFI) remain out. In addition, Lawrence Guy, Nick Folk, Anfernee Jennings, Tre Nixon, Myles Bryant and Joe Cardona all missed practice once again. For Folk it's now been seven straight practices he's been out, giving rookie Quinn Nordin plenty of opportunities to perhaps earn a roster spot. Nordin has shown a strong leg and has been more consistent over the past week or so. Cardona has been out the last four practices, giving newcomer Brian Khoury a chance to handle the long snapping duties. Jennings, Nixon, Bryant and Guy all missed practice for the third straight time.
*Newcomers to the absentee list included LaCosse, who was hit in the head by Philly's Derek Barnett while running a shallow crossing route on Monday. LaCosse left practice and watched most of the proceedings from the sidelines and was not in uniform again on Tuesday. Fellow tight ends Smith (ankle), Henry (shoulder) and Fumagalli were present but did not take part in the joint workout. Jonathan Jones, who appeared to be shaken up on Monday and saw the trainers, also was not in uniform.
*Chase Winovich wasted little time getting back in the flow of things after being activated off PUP on Sunday. During Monday's joint practice he took regular reps with the second group in 11-on-11 drills against Philadelphia and was active throughout. The same was the case again on Tuesday.
"Chase needs to just start to get his reps back on the field, and we'll bring him back," Belichick said before practice. "We'll just take it day by day. Depending on what we are doing that day and so forth, work him into areas that we feel like he's ready for. Obviously he needs to work in every area because he hasn't done much. We'll just try to catch him up the best we can."
*Mac Jones once again donned a brace on his left knee. He spoke about the decision to wear it on Monday, explaining he wanted to try it out and see how it felt, but it was noteworthy that it was the first time he's worn one thus far this summer, including during the preseason opener against Washington. He was asked if he suffered any injury against the Football Team but claimed there were no issues.
*Belichick spent some time chatting with Mike Lombardi before practice. Lombardi was part of the Patriots organization in 2014-15 and his son, Mick, is currently the team's wide receivers coach.
*A couple of Eagles legends were on hand to watch practice as Ron Jaworski and Hall of Famer Harold Carmichael spent time in one of the VIP tents.
*Members of the UPenn football team and coaching staff watched practice as guests of the Eagles.
*Williams got lot of high-end reps with front-line players with Jones on out of the lineup. He did a nice job early against Travis Fulgham, using his size and strength to disrupt a slant route near the goal line. One time he was able to knock Fulgham off his feet early in his route, and at 6-2, 215 pounds Fulgham is a good-sized receiver.
*Dugger continues to struggle in coverage most days and was again victimized at times on Tuesday. When he's moving forward and operating near the line of scrimmage, Dugger's athleticism and physicality shine. When he's forced back into coverage, however, things have been different. He lost Goedert and Ertz on a couple of occasions trailing across the formation. He did make a terrific play to prevent Marken Michel, a first-year receiver out of UMass and Sony's brother, from grabbing a touchdown.
*One of the strongest defensive periods for the Patriots came late in practice in the low red zone. With the ball inside the 5 New England's defense prevented touchdowns on all three plays. The offense was able to find the end zone when Newton called his own number on a quarterback draw.
*Practice ended with Nordin booting four field goals ranging between roughly 33-48 yards. He made the first three but on the final attempt, which seemed to be leaking a bit to the left as it approached the uprights, the officials made not signal after calling the first three good. It looked like he squeaked it in but it was tough to tell for sure.
*Asiasi, Meyers, Michel, Phillips, Christian Barmore, and Rhamondre Stevenson and all spoke to the media after practice.
*The teams will conduct walkthroughs on Wednesday in preparation for Thursday night's second preseason game at Lincoln Financial Field. Kickoff is set for 7:30 p.m.
Check out photos of the Patriots-Eagles joint practices at the Nova Cara Complex in Philadelphia on Tuesday, Aug. 17, 2021.