After three consecutive weeks of being inactive for games, Patriots wide receiver Donald Hayes was back in uniform on Sunday in Oakland.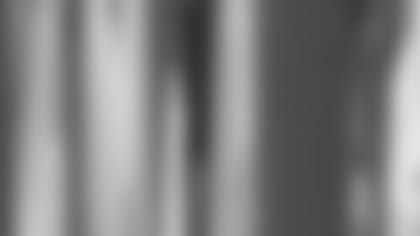 ]()
            Although Hayes did not play against the Raiders, the fact that he has worked his way back into the mix at wide receiver can only be seen as a positive. Hayes started the season in dramatic fashion with three catches for 54 yards against the Steelers, including a 40-yard score. But after showing little production in games two through six, Hayes has just 11 receptions for 124 yards this season, the free-agent addition admitted to the *Boston Globe* that he was having trouble with learning the offense.  

Since then the former Carolina Panther has been relegated to inactive status and scout work as rookie David Givens moved into the fourth receiver spot. But according to Patriots Head Coach Bill Belichick on Wednesday, fans have not seen the last of Hayes. The coach said that the veteran receiver will likely be a contributor on this team before the season plays itself out.
"I think that Donald has had a couple real good weeks of practice, and I wish that we could have gotten him more snaps in last week's game, or even the week before," Belichick said. "I think that's moving in a positive direction even though there isn't anything on Sunday afternoon or Sunday night right now to point to in the last couple of weeks. I really think he's moving in a positive direction. I think that he's done a good job, and I think before it's over we are going to hear from him."
Belichick went on to say that while Hayes's playing time has been limited it hasn't affected his attitude or approach to the game.
"Donald works hard, and he's a player that we all, I mean collectively as a staff and the players in the organization, we just a lot of respect for him," Belichick said. "He works hard, he wants to get better, football is important to him. He goes out there every day and tries to find a way to make himself a better football player, and you can't ask any more than that of a guy, you really can't. We've all got our weaknesses, we've all got our shortcomings. You try to work hard to improve them, and they're going to improve and they have improved, and what more can you ask of a player. And Donald's done that. He hasn't moped around, obviously he's disappointed in the situation, I don't think that's any secret, but he hasn't let that affect the way he's prepared with work, or practice, or trying to get better. And we've all seen that on the field."
Hopefully fans will see the fruits of Hayes' labor as the season unwinds. The big receiver would be a welcome addition to the New England offense down the stretch, especially in key division games in the month of December.
The Patriots made a number of roster moves over the last few days, starting on game day Sunday. Guard Russ Hochstein, formerly on the practice squad was put on the 53-man roster for the game in Oakland. He was inactive for the game.
On Tuesday the team released veteran cornerback Jimmy Hitchcock. Hitchcock had been with the Patriots for nine games since signing on Sept. 16, but was active and played in just one game.
Today the team signed fullback Idris Price to the practice squad to fill the spot formerly held by Hochstein. Price is a 6-0, 240-pound first-year player who formerly spent time with the New York Jets in training camp as an undrafted free agent out of New Haven.
The team also signed linebacker Dean Wells to the 53-man roster on Wednesday. Wells is a 10-year NFL veteran who has started 77-of-129 games in his career with the Seahawks and the Panthers. The 6-3, 248-pound Wells last played for the Panthers in 2001 and is a former fourth round pick of the Seahawks out of Kentucky in 1993.
Both the Patriots and Vikings released injury reports Wednesday for Sunday's game at Gillette Stadium. The Patriots report was rather short and consisted of two players that missed the better part of this past Sunday's game at Oakland. Saftey Tebucky Jones is Questionable with a leg injury. Jones left Sunday's game with leg cramps. Guard Joe Andruzzi is also Questionable with a knee injury that has been bothering him for a few weeks now. He left the Raiders game in the second quarter and did not return.
Minnesota has a much longer list of wounded players. Wide receiver Cedric James (ankle) is Doubtful. Tackle Lewis Kelly (ankle) is Questionable. Guard Corbin Lacina (leg), wide receiver D'Wayne Bates (low back), linebacker Henri Crockett (hip flexor), tight end Byron Chamberlain (knee) and running back Moe Williams (heel) are all listed as Probable for Sunday's game