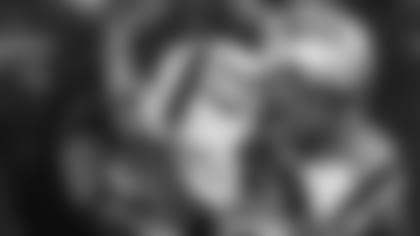 ]()It was one of the most highly anticipated games in recent history, and the Patriots were losing.
When New England faced Indianapolis in week nine, it was the deepest into a season two undefeated teams had ever met. Trailing 20-17 late in the fourth quarter, Tom Brady moved the ball down the field the way he had for most of the season- by completing passes to Randy Moss and Donté Stallworth, both recent acquisitions at wide receiver. On first-and-10 from the Indianapolis 13- yard line, however, Brady threw what turned out to be the game-winning touchdown to a more familiar option. Nine-year veteran Kevin Faulk caught his short pass and ran it in for the win, the preservation of a perfect 9-0 record, his first touchdown of the season and the 22nd score in his career.
"When I turned I thought I was going to initially get hit," said Faulk, "but when there was no one within a couple of yards I was like, 'wow, that's a big blue end zone over there. It'd be mighty nice if I could get in it.'"
Ask him about what many would consider the highlight of a highlight-reel season, and Faulk deflects the moment to an indication of team dedication rather than personal achievement.
"I took pride in it because it eventually wound up being the winning score for us and I just knew how hard during the course of the week that we were preparing for them," he said. "You know, it's just that game. That game was so important to both teams and I'm pretty sure if it was any other guy on the team, they would have been real excited just to score, too."
Faulk predates the building he plays in and his tenure with the Patriots is longer than that of the man who coaches him. On a team that has been frequently and loudly heralded for all of its new additions, he has served as an anchor on the field and in the locker room for almost a decade.
He's never been a numbers guy, and has never rushed for 100 yards in a game or 1,000 yards in a season. He is a quintessential role player, a lunch-pail carrying back just interested in doing his job well. Despite that altruistic approach, his consistent production has made him New England's all-time leader in both return yards (4,688) and receptions by a running back (323).
"He is an ultimate team player," Head Coach Belichick said of Faulk, who trails only Troy Brown and Tedy Bruschi in seniority on the Patriots roster. "Everything I've ever asked him to do...the next day he's working on it, the next week he's working on it. He wants to know whether or not you feel like it's gotten better or what else he can do to improve it."
His work ethic and team-first mindset contributed to Faulk being named one of nine Patriots to earn offseason awards. He was also voted a team captain this fall for the first time in his career.
"It means a whole lot," he said of the honor, "especially for the simple fact that it was my teammates that voted me captain. It just let me know the respect- factor that they have for me, pretty much how they look at me as a player as well as a person on the team."
"I've never really let anyone know how I feel about it - that's just me," Faulk told the New Bedford Standard Times this fall. "I'm a private person."
Faulk is one of four players on the Patriots roster who went to Louisiana State, but he is the only one who committed there before the Tigers' recent resurgence. In 1994, Faulk signed on to a squad that was undergoing a coaching change, had endured six consecutive losing seasons and hadn't been to a bowl game since 1987. The Tigers went 7-4-1 in his rookie campaign, including a win over future LSU coach Nick Saban's Michigan State team in the 1995 Independence Bowl.
By the time he completed his four years in Baton Rouge, Faulk held school records in rushing yards (4,557), all-purpose yards (6,833), total touchdowns (53), rushing touchdowns (46) and total points (318). He ranked fifth in NCAA history in all-purpose yards and total touchdowns and trailed only Georgia running back HerschelWalker for SEC records in rushing yards and rushing touchdowns. Faulk was named to Louisiana State's Athletics Hall of Fame in 2006.
LSU's transformation is not that different than the Patriots'. While New England had already started its upswing by the time Faulk arrived in 1999, it was a long way from the powerhouse franchise it has evolved into today. Then the 2000 season brought Coach Belichick. The following year Tom Brady became the Patriots' starting quarterback. Seven years and three Super Bowls later, Faulk is still a fixture of New England's offense.
"I was more of a guy that depended on his ability more than mentally," said Faulk, of his early days in the NFL. "Now, just being around Coach and the coaching staff for so long, I'm more of a complete football player. I don't just play football; I read it.
"I just think of it as coming to a team and being a part of a team that can do something special each and every year that we're out there, including the first and second year that I was here."
Faulk's current incarnation isn't as a starting running back, but that's not to say he won't be ready if the opportunity presents itself. Last season when Laurence Maroney missed two pivotal games late in the season, Faulk helped pick up the slack, scoring a career-high two rushing touchdowns against Houston. Now,with Sammy Morris on injured reserve, Faulk's role is increased again.
"I would say people I've come across have really instilled in me that there're things in this world that you can't control and there's nothing you're going to be able to do about it," he said. "But the only thing that you can control is you. No matter what happens, you have to be able to control what you can do.
"For example, in football. You could come into a situation where a team told you that you could compete for the starting running back job.When it was all said and done before the season, you didn't win the starting running back job. Either you're going to go and work harder, continue to work hard as if you were the starter, or you're just going to go into a shell and not do anything and just pout. Well, the first game of the year something might happen. You don't want [anything] to happen, but [it] might happen. Then you have to step up into that role and be the starter. You're not ready now because you didn't continue to work harder, continue to work hard knowing that this might happen."
As for all of the emphasis on the passing game, a veteran like Faulk understands the importance of a balanced attack.
"We know, as a running back corps, that if you can't run the ball you're not going to be able to win championships.You're not going to be able to win games in December or January. You have to be able to run the ball, so it's just something that we know that sooner or later it's going to come down to us and we have to be ready."
With Faulk, you can be confident he will be.