FOXBOROUGH, MASS. - Fans attending Thursday's Patriots preseason home opener against the Cincinnati Bengals will have the opportunity to witness history as 1966 AFL MVP Jim Nance and Patriots founder William H. "Billy" Sullivan will be inducted into the Patriots Hall of Fame in a free, public pregame ceremony outside The Hall at Patriot Place presented by Raytheon. Legendary Patriots radio voice Gil Santos will emcee the event, with nearly 60 Patriots alumni, including several Patriots Hall of Famers, in attendance. Patriots Chairman and CEO Robert Kraft will present Patriots Hall of Fame trophies to the Nance and Sullivan families. Fans are encouraged to gather in Patriot Place Plaza at 4:00 p.m. The ceremony will begin at approximately 4:15 p.m.
In 2009, as the Patriots are celebrating their 50th anniversary, fans had an opportunity to vote for one of three hall of fame finalists, each of whom were perennial American Football League (AFL) All-Stars for the Boston Patriots. Jim Nance earned the honor, becoming the 14th player and the first running back to be inducted into the team's hall of fame.
Nance was drafted by the Boston Patriots in the 19th round of the 1965 AFL Draft despite leading Syracuse in rushing in 1964 and tying Jim Brown's school record with 13 rushing touchdowns as a senior. In 1963 and 1965, Nance also earned All-America honors as the NCAA's heavyweight wrestling champion.
In just his second season with the Patriots (1966), he led the AFL and earned league MVP honors after setting a franchise record with 1,458 yards rushing. In the 10-year history of the AFL, Nance was the only player to eclipse the 1,400-yard plateau and his 104.1-yard rushing average per game that season remains a franchise record -- 43 years later.
Nance was voted to the AFL All-Star game in 1966 and again in 1967 after leading all AFL and NFL rushers each year. It is the only time a Patriots back has led the league in rushing in back-to-back seasons. He also earned the distinction of being the only AFL player to rush for over 1,000 yards in back-to-back seasons. He was traded by the Patriots to the Philadelphia Eagles in 1972, but left New England as the franchise's all-time leading rusher in nearly every statistical category. His 45 career rushing touchdowns remain a franchise record.
In 1966, Nance was the first Patriot to grace the cover of Sports Illustrated. The photo captured his 65 yard touchdown run against the Buffalo Bills in the Patriots' 14-3 victory. The game was billed as "The Game of the Year" in 1966.
Nance was a powerful runner. Yet, he also had five career runs from scrimmage of 50 yards or more, including three touchdowns. He rushed 299 times in 14 games in 1966, including a game against the Oakland Raiders that he carried 38 times for 208 yards and two touchdowns in a 24-21 win. His single-season rushing attempts record was broken 31 years later by Curtis Martin, but remains second all-time, and his 208 yards rushing remains second only to Tony Collins' 212 in 1983.
In addition to his tenure in New England, Nance also played in seven games for the New York Jets in 1973 and finished his career by playing his final two seasons in the World Football League (WFL) from 1974-75. He became the WFL's all-time leading rusher with 2,007 yards on 490 carries (4.1 avg), including 15 touchdowns.
Nance passed away on June 17, 1992. He is survived by his daughter, Rachel, who will represent her father at the Patriots Hall of Fame induction ceremony the weekend of the Patriots' preseason opener August 20-23.
Patriots Chairman and CEO Robert Kraft on Jim Nance: "I am glad that the fans selected Jim Nance for this honor. Like so many others, he was one of the reasons I became a Patriots fan. He was an attraction. He brought fans to the games and that was very important in building a loyal fan base. Four decades later, we still have many season ticket holders who became fans of the Patriots in the 1960s because of players like Jim Nance. The fact that he still holds some prominent rushing records 38 years after his playing career speaks volumes."
Patriots Head Coach Bill Belichick on Jim Nance: "Jim Nance is really, when I look back on all the players that I remember both growing up and even as a coach, he's kind of really the prototype fullback… I remember being a kid at the Naval Academy and going to his wrestling matches and seeing Jim come in there and, boy, he looked like a fullback in his wrestling outfit. He was, of course, an NCAA championship wrestler with just incredible quickness and balance and power for a big man. Of course, you saw that on the field and off the field. I think the recognition there is certainly well-deserved. He was a very, very hard guy to tackle and deal with. [He was], like I said, more of a prototype fullback. I know Jim Brown - and the greatness that Jim [Brown] has brought to this game is on a different level - but it's almost like Jim [Brown] was a halfback with his speed and his elusiveness in the open field. Nance was a pretty special player here and in that era as well."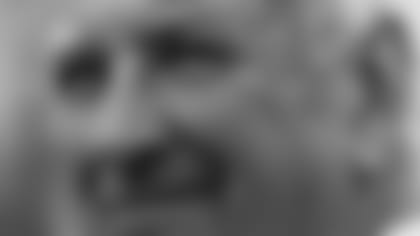 In a fitting tribute on the occasion of the New England Patriots' 50th anniversary celebration, Patriots Chairman and CEO Robert Kraft will induct the franchise's original owner, Billy Sullivan, into the Patriots Hall of Fame as a contributor. Sullivan is the first contributor to be inducted into the Hall of Fame, which was heretofore comprised of 13 players, with Jim Nance selected by the fans in 2009 to be the 14th Patriots Hall of Famer
On Nov. 16, 1959, William H. Sullivan, Jr. was awarded the eighth and final franchise of the new American Football League. Sullivan and nine other investors posted the franchise fee and sold non-voting public stock in the franchise to raise capital. A public contest resulted in the naming of the new team "the Patriots." During the 1960s, the Patriots played home games at stadiums throughout Boston, including Boston University Field, Fenway Park, Harvard Stadium and B.C. Alumni Stadium. A year after the AFL-NFL merger in 1970, the franchise moved to the newly-constructed Schaefer Stadium in Foxborough, Mass. and the team was renamed the New England Patriots. In 1975, Sullivan purchased additional stock to become majority owner. In 1976, he purchased all the remaining non-voting stock in the team. In 1983, Schaefer Stadium was renamed Sullivan Stadium to honor Sullivan's contributions to the franchise. Sullivan owned the Patriots through 1988, when he sold the franchise to Victor Kiam. He remained team president through 1992.
Patriots Chairman and CEO Robert Kraft on Billy Sullivan: "Billy Sullivan made professional football a reality in New England. We are celebrating the Patriots' 50th season and all of the wonderful memories we have as fans of the Patriots, and without Billy Sullivan there are no Patriots. I hope this recognition will ensure that his contributions are never forgotten by Patriots fans."
Patriots Head Coach Bill Belichick on Billy Sullivan: "We're all grateful to Billy [Sullivan] for what he did for this franchise. He made it possible for all of us to be here, in some way or another."
ABOUT THE PATRIOTS' HALL OF FAME SELECTION PROCESS
Beginning in 2007, the Patriots started a new hall of fame tradition, inducting one player or head coach to The Hall each year. The process for induction now involves a panel of media, alumni and staff who collectively nominate the players or head coaches most deserving of induction. After the nominations are made and discussed, the committee votes and the top three tallies become that year's finalists. The Patriots then give their fans the opportunity to vote online to select each year's winner. Earlier this year, a 19-person nomination committee met at The Hall at Patriot Place presented by Raytheon to discuss this year's candidates for induction. Those votes were tallied and the three finalists were Houston Antwine, Jon Morris and Jim Nance. Fans had the opportunity to vote from April 21 until May 31. Since the new process was implemented, the fans have inducted Stanley Morgan (2007), Ben Coates (2008) and now Jim Nance (2009).