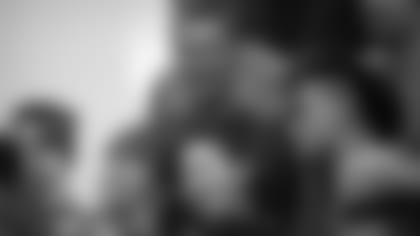 "We had an opportunity, I think, 10 years ago and my team was going to play here. Unfortunately, it didn't work out. But one day I hope that there are many games here over the course of the year because it's such a great sport, and because I love it so much. To bring that here, to bring the discipline and the incredible strategy involved. It's just a great event and hopefully a lot of the Chinese people would enjoy it."
Brady was referring to a plan back in 2008 for the Patriots and Seattle Seahawks to tangle in a preseason tilt at the Olympic Stadium in Beijing just before the Summer Games that year, but like he said, plans fell through.
TB12 had more to say about his overseas voyage, as CSNNE.com recounts today.
Brady isn't the only Patriot making friends in foreign lands. Wide receivers Julian Edelman and Danny Amendola are down in Mexico promoting this coming regular season's contest with the Oakland Raiders… and having some fun with Mexican fans along the way. Some 2,000 of them waited nearly as much as a full day to meet the duo at a Mexico City mall.
"Viva Mexico!" Edelman is said to have yelled to the crowd upon arrival, while his teammate played to the audience draped in a Mexican flag. And that's not all they did, as ESPN and CSNNE.com provide more info.
On the field, there isn't much to report at this time of year, when the NFL makes every team take about a 6-week break before training camps start. But The Boston Globe offers its list – Who doesn't love lists? – of what it believes are the 10 most important Patriots players when the defending champions return to practice next month.
"Butler might have $65 million reasons to shun the new guy, but instead he's been in the film room giving Gilmore pointers about the Patriots defense and how it plays in certain situations," the column asserts. "They've been talking quite a bit about playing corner, about techniques, strategies and whatever else happened during the course of practice."