The Patriots came home from the Jersey swamps on Sunday evening with a much-needed victory and an even 4-4 record. For the time being, football season continues in New England, thanks mostly to the generosity of Jets quarterback Zach Wilson.
A loss may have driven a nail in the coffin since it would have dropped the Patriots to 3-5 and two games behind Miami for third place in the AFC East, let alone playoff contention. With that disaster averted, hopes for a postseason run remain in play, albeit with the need for tremendous improvement during the second half of the season.
Before that improvement can take place, though, the Patriots have some decisions to make. First on the docket involves the trade deadline, which hits at 4 p.m. this afternoon (November 1). Bill Belichick has some options at his disposal depending on how opportunities might present themselves.
At 4-4 he can go either way. He could be a buyer and hope his team's best football is ahead and add a key piece that might jumpstart a run to the playoffs. Or he could opt to sell a player or two in an effort to acquire some draft capital for the future with an eye toward furthering the rebuilding process.
As is usually the case, neither Belichick nor his personnel lieutenants Matt Groh and Eliot Wolf asked for any advice, but my call would be simple: sit this one out.
Unless a rare opportunity comes about where a talented player suddenly becomes available for an abnormally cheap price, or someone wants to grossly overpay for one of your assets, I'm not sure a lateral move does much to push the needle either way at this point.
The Patriots have some candidates to deal given their contract status and positions. Those mostly reside at wide receiver as Nelson Agholor and Jakobi Meyers are set to become free agents after the season. Agholor hasn't seen much playing time as of late, and he and Kendrick Bourne, who has an additional year left on his deal, have been the subject of trade rumors for weeks. Agholor's contract makes him less desirable on the market unless the Patriots decide to eat some of the money.
Meyers has emerged as the team's best receiver and has been as dependable as any player on the roster over the last three seasons. He should be the kind of player the team is looking to re-sign, not unload for a mid-to-late-round pick. As for Agholor and Bourne, the depth can look great at a position before suddenly taking on a different look.
Of the five wideouts that are currently on the roster – Meyers, Agholor, Bourne, DeVante Parker and Tyquan Thornton – only Parker has suited up for every game. And Parker went down after the first play against the Jets on Sunday, and reportedly is dealing with a sprained knee that could cost him some time.
So, dealing one of the wideouts comes with risk, and assuming none of the veterans would warrant more than a late-round pick it makes more sense to hold onto all of them to better ensure having some options for Mac Jones each week.
In a similar vein, Jabrill Peppers represents depth at safety and therefore has seen his name in trade rumors as well. He was needed on Sunday when Kyle Dugger was unavailable due to an ankle injury, and he helped fill the void. Peppers will be a free agent as well, and like the wideouts wouldn't garner much more than a late-rounder in return. Again, keeping him makes more sense than dealing him for a Day 3 pick.
On the flip side, acquiring a difference-making offensive linemen, to choose a position that could used some added depth, seems unrealistic. Using any significant resources to add to a team fighting just to get above .500 doesn't seem like the wisest course of action. The best case for a Patriots acquisition likely would involve a secondary player brought in solely to add depth, or to perhaps replace the struggling Isaiah Wynn or Marcus Cannon at right tackle.
So, in the end it might just be best to sit tight and focus on further developing the players who are here and putting as much around them as possible. Obviously this mostly involves Jones, whose future could be impacted greatly by what transpires over the balance of the season.
Finding out as much about what that future looks like, and if Jones is in it, is much more valuable than adding or subtracting at the deadline.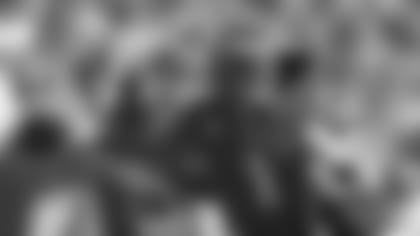 The evolution of Eagles quarterback Jalen Hurts as a passer continues to be one of the more fascinating elements of the season. When Hurts first saw playing time as a rookie in 2020, he was little more than a running back playing like a Wildcat quarterback. Watching him drop dimes to A.J. Brown (three touchdowns) against Pittsburgh on Sunday just solidifies what we've been watching all season.
No longer is Hurts looking to run on every dropback, and the Eagles offense is taking off as a result. Prior to Sunday Philly was having a hard time putting two great halves together as the offense seemed to fizzle out after hot starts most games. But against the Steelers Hurts was almost flawless with four touchdowns and a 140.6 passer rating before sitting much of the fourth quarter. And the Eagles defense continues to dominate.
It's all added up to a 7-0 start, and with games against Houston, Washington and Indy on tap, it's easy to see the winning streak hitting double digits.
Baltimore seems to find its way onto my radar each week for one reason or another. A couple this week that stood out about the Ravens:
Baltimore has led by double digits at one point in all eight games this season, which is a remarkable feat that is only topped by the fact that they somehow hold just a 5-3 record. The last team to lead by 10 or more in all eight games to start a season was the 2019 Patriots, and they held the lead each time and opened 8-0 before finishing at 12-4. For what it's worth New England's streak ended in Baltimore in Week 9 in a 37-20 loss.
I also wanted to defend a John Harbaugh's decision in his team's latest win, a 27-22 victory in Tampa last Thursday night. The Ravens trailed 10-3 and faced a fourth-and-2 at the Bucs 9 at the two-minute warning of the first half. Harbaugh, who has frequently been guilty of being overaggressive, decided to go for it. Lamar Jackson's pass fell incomplete, and the opportunity to put points in the board fell by the wayside.
Harbaugh took some heat for the decision, but I can understand the reasoning. Facing Tom Brady on the road with two minutes left in the half and the Bucs slated to receive the second half kickoff, Harbaugh likely felt like he not only needed points but he also needed to melt the clock. A conversion likely would have allowed the Ravens to do both, preventing Brady from getting a chance to pull off the double-score he's done countless times in his career.
None of it mattered because Baltimore's defense rose to the occasion and forced Bucs punts each time, and the Ravens offense caught fire in the second half and Baltimore ultimately cruised to a victory that wasn't as close as the score indicates.
Ladies and gentlemen your first-place Atlanta Falcons. OK, so the Falcons are just 4-4 and still in need of a quarterback, but first place is first place and someone has to win the NFC South, which once again is shaping up as the worst in football. Something tells me Brady will get things together enough to come out on top when all is said and done, but in terms of anything beyond that it's hard to believe in Tampa at the moment. … Death, taxes and the Niners owning the Rams in the NFC West. Kyle Shanahan has now won seven straight over Sean McVay – in the regular season. In the one game that truly mattered, the Rams took down the Niners in last year's NFC title game, however. … Does Bailey Zappe remind anyone else of Washington backup Taylor Heinecke? Both are undersized gamers who seem to get the most out of their ability.
1.     Buffalo (6-1) – You know you're talented when you basically sleepwalk through the second half of a game against Aaron Rodgers and still win going away.
2.     Philadelphia (7-0) – The Eagles came out of the bye ready to go, and finally put together two solid halves of offense.
3.     Kansas City (5-2) – The Chiefs enjoyed the bye week and few coaches handle the break better than Andy Reid.
4.     Dallas (6-2) – The Cowboys offense looked much sharper in Dak Prescott's second game back while the defense continues to impress.
5.     Minnesota (6-1) – Again, not a huge believer in Minnesota but 6-1 is hard to ignore.