Emily (Bixler) Comeau, raised in Westerly, RI, was a New England Patriots Cheerleader for three seasons in the early 90s.  In the spring of 1991, right before graduation from the University of Massachusetts, Emily made the decision to drive to Boston to audition.  Amidst final exams she attended training camp, and was part of the first squad of cheerleaders to grace the field at Foxboro stadium after their hiatus in the late 80's.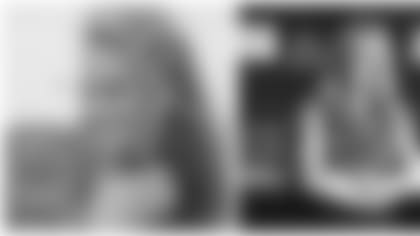 In 1994, during her final year on the squad, Emily began her accounting profession in Providence, RI.  Over the past two decades she has successfully climbed the ladder from Clerk, to Bookkeeper, to Controller.  She is currently the Chief Financial Officer at Bouvier Insurance, one of the largest independent insurance agencies in New England.  Since beginning her career at Bouvier in 2003 and under her guidance, the agency has tripled in size to over $100,000,000 in sales, with 112 employees and 6 locations throughout the State of Connecticut.  Bouvier Insurance is currently expanding into Emily's home state of Rhode Island to open their 7th location.
"As a gymnast and collegiate cheerleader, I had the athletic skills to make the team. The people skills I gained as a result of attending numerous Patriots team promotions gave me the confidence to lead in the boardroom." 
Emily resides in central Connecticut with her husband Drew, and her two lovely daughters, both of whom will be attending college this fall.  Her wedding to Drew in 1992 was attended by the entire first-year squad of cheerleaders, and was surely an event to remember!