With 10 draft picks and four undrafted rookies split between the 53-man roster and the practice squad, the Patriots have had a growing youth movement take hold in 2022. While some were immediately inserted into the starting lineup, others have slowly carved out a role for themselves. The impact of the youngsters has been apparent every week and with eight weeks to go, the 2022 class figures to play an important role down the stretch as the Patriots look to make a playoff push.
"I think our rookie class has been attentive," said head coach Bill Belichick when asked about the group on Tuesday. "They've tried to, I think, really learn, be coachable and take the information and instruction that they've gotten from their coaches and also from their teammates. They have a long way to go. As you said, we're kind of around the halfway point of the regular season. When you take a look and compile the preseason, training camp and all that on to it, we're well past that. These guys have played a lot of football. They have improved. But of course, the biggest games are yet to come. There'll be more challenges, and more difficult challenges going forward than what they've had already."
As the bye week arrives here's a rundown of the rookies and how they've contributed, along with how important a role they might play over the season's final two months.
Strange immediately landed at starting left guard for the Patriots offense and played nearly every snap through the first seven games of the season. The last two weeks he's seen his workload reduced, playing just 85 percent of the snaps against the Jets and then a mere 15 snaps against the Colts as Isaiah Wynn was swapped into his spot. Strange's athleticism and hard-nosed energetic play style continue to intrigue, but his recent inconsistencies over the final two games that have landed him on the sideline are cause for immediate concern. The long-term potential is still very much there, but the difficulty in making the jump to the NFL is on display and many pundits predicted it would be a process for the rookie to deal with the size and power of NFL defensive linemen. That's been apparent in recent weeks. Strange should settle back into an every-down role at guard, aided by an eventual return by David Andrews, but with a bevy of tough defensive lines on tap, including an immediate rematch with the Jets, getting Strange back on track is a priority for an offensive line that holds the keys to the offense's hopes for progress.
"I think Cole's a good player," said Belichick earlier this week. "He's going to be a better player as he gains experience and learns how to play in the league. He'll play."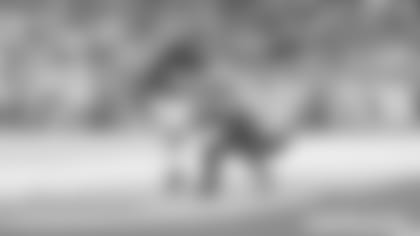 Thornton landed on IR early in the year causing him to miss the first four weeks of the season with a reported collarbone injury. Since his return he's played in all five games, chipping in nine catches on 19 targets for 81 yards. The win over Cleveland was his best highlight, with Thornton grabbing his first touchdown catch and also rushing for another touchdown, but since that four-catch, three-rush performance he's totaled just three catches. Thornton's speed has yet to shine like it often did during summer practices but with consistent snaps every week he is quickly stacking experience that should eventually translate to more success. The team might struggle to take full advantage of his skillset until the pass protection can keep Mac Jones clean enough to deliver some accurate downfield shots.
It was a quiet start for Jones, who was recovering from shoulder surgery this offseason, but in recent weeks he's showing up more and more with big plays both on defense and on special teams. Now, with 13 punt returns under his belt, Jones is fourth in the NFL with a 13.4 yards per return average. His four 20-yard-plus returns are second-most in the league. Just last week against the Colts, Jones' key punt return helped set up the second field goal of the game as the field position he's helping to provide is translating to the scoreboard. In kickoff returns, Jones is seventh in average return yardage (24.3) while tying for fourth in the NFL in total kickoff returns (14). Meanwhile, his contributions on defense have generally remained under 10 snaps per game, usually in the slot, though he did turn in 34 snaps against the Browns while also registering an impressive pass defense in that contest. Jones' growing contributions have been among the most exciting from the rookie class as he's making a plus impact in multiple phases.
"Marcus's improvement has come all year," said Belichick of Jones following the win over the Colts. "A little limited in the spring, wasn't able to do everything in the spring, still coming off of the injury from college. Actually, two of them. And then he's just gained more and more confidence and more and more experience as we've gone through training camp and through the regular season. His ball handling, his ball security, decision-making, setting up blocks. He's been doing that well in practice, been doing it well in other games, whether it's kick returns, punt returns, the decision-making, fair catch, not fair catch. Knowing how well we have the gunners blocked or don't have them blocked at times in game situations. So he's just really gotten better every week."
Jack Jones has immediately stepped into a role at outside cornerback for the Patriots, already logging 344 snaps on defense while leading the team with two interceptions, one returned for touchdown. Jones also forced and recovered a fumble as his anticipation and ball skills have translated from college to the pros. His feisty coverage has been a big part of replacing departed cornerback J.C. Jackson, while his tackling has made strides despite his lack of size. He is currently Pro Football Focus' highest-graded player on the Patriots with an 86.9 overall defensive grade. Along with Jalen Mills and Jonathan Jones, Jack has been a reliable third rotational option along the outside and his knack for playmaking is one of the most intriguing additions on that side of the ball.
Strong appears headed for mostly a redshirt year as he's played a special teams role in seven games and has received just one carry despite injury issues at the position that have held Damien Harris out of multiple games. His two kick returns for a combined 48 yards offer some return potential as well. With Rhamondre Stevenson doing it all right now it's hard to see Strong becoming a big part of the running back rotation this season, but his breakaway speed will continue to be an element the Patriots hope to add to the attack at some point.
Some were scratching their heads when the team took a quarterback again in this year's draft after taking Mac Jones last year, but the selection of Zappe proved to be prescient. With injuries striking both Mac and Brian Hoyer, Zappe started two games and made appearances in four. The Pats won both of his starts, coming against the Lions and Browns, in which he completed 74.6 percent of his passes with three touchdowns to a single interception. Despite making a big jump in competition and being thrust into the fire before anyone would've expected, Zappe held his own and kept the team afloat during a critical period. Having another good young quarterback in the building is a great thing despite some of the conversations that his play sparked. He'll be much better off than anyone could've expected for the experience he's already acquired this season.
Like Strong, Harris has been on a redshirt plan this season after starting out on the practice squad and getting elevated to the active roster in mid-October. The win over Cleveland was his only game active and he received just three carries. A thick, powerful back, Harris could still get his chance this season if more injuries strike, but it would appear that he and Strong are more on track to push for bigger roles in 2023.
A reserve defensive lineman, Roberts made the 53-man roster out of camp but has been buried at the bottom of one of the better position groups on the roster. He played 17 snaps against the Lions and 22 against the Browns, but has been inactive the last two weeks after playing just one snap against the Bears. Roberts is a big, powerful player but one who is also making a big jump in competition.
A reserve interior offensive lineman, Hines started the summer off on the NFI list. He saw no game action before landing on IR prior to the win over the Jets.
Stueber has yet to suit up for the Patriots in any capacity after suffering a reported hamstring tear sometime prior to his arrival in New England. The big right tackle is unlikely to emerge in 2022 but could provide some interesting depth and competition at what could be a position of major need next offseason.
The undrafted Schooler has been a special teams stud immediately for the Patriots, playing over 70 percent of the special teams snaps while also recovering two fumbles already in his young career. He's the kind of third-phase gem the Patriots often seem to uncover and he's the latest to carry the torch behind long-time standouts like Matthew Slater, Nate Ebner and Larry Izzo to name a few. He has eight tackles, tied for fifth in the NFL.
Schooler wasn't the only special teams find in this undrafted class, as Mitchell has also jumped right into things playing 68 percent of the special teams snaps. Having two undrafted rookies play big roles on special teams is a great boost for the future.
Ray landed on the practice squad IR last week, but was a highly regarded recruit at Alabama before injuries derailed his career with the Crimson Tide. Like Roberts, he provides some necessary young depth along the defensive line. He'll be one to watch in his second season as he had some shining moments in training camp last summer.
The fourth and final undrafted rookie to stick around in New England, Russey has been promoted to the active roster the last two weeks due to injury to David Andrews. While he wasn't pressed into emergency action, the gritty center should continue to develop behind the scenes.