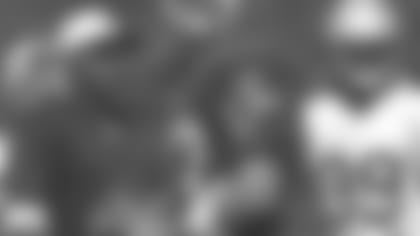 ]()After three weeks and 27 practices, the Patriots 2006 training camp came to an end on Thursday. The team will now get back to closed practices, as it prepares for its final three preseason games and the season opener against Buffalo.
Unfortunately for the Patriots, the big news on Thursday involved Tom Brady and a story that was reported by the Associated Press. According to the AP, Greg Anderson – Barry Bond's personal trainer – had spoken with Brady over the phone regarding a workout. The Patriots quarterback addressed that topic with the media today.
"I think any time for an athlete when you're even mentioned in something like this, it's disappointing," Brady said. "It was a long time ago. I was back in the Bay Area and I wanted to work out for a day. I knew he had a gym. I called and he wasn't around. That was about it. That was the first of it and the last of it. You know, five years later, I guess it's a big deal. That's kind of the entire extent.
"I heard about it this morning when I saw it. I kind of laughed it off as I kind of do those things, but that's why we've got to start playing some football games so stuff like this doesn't mean anything. It's just one of those things and I don't make anything of it. Something like that – that's nothing I stand for. I represent a lot of things. Certainly fair play and me trying to be a role model for children, that's what I'm all about. That's what I stand for."
Back to football-related topics, while the team is far from set at this point, Bill Belichick believes there are roughly 13 open spots on the active roster that players will be fighting for as the final cutdown day approaches.
"I think we probably have about 40 guys we're pretty sure of," Belichick said regarding the current state of the Patriots roster. "Not only who they are but what they're role is with the team. I think overall we're better than we were 26 practices ago. In fact, I know we are. We found a punt returner yesterday" (Joking about defensive tackle Vince Wilfork catching a punt with one arm at Wednesday's practice).
He also pointed out that not every player who becomes a contributor for the Patriots in the future will be on the active roster once the season starts.
"I would say that some of our very best players were either on the practice squad or inactive on gameday early in their career and not because of injury."
At practice, Willie Andrews continued wearing a white offensive jersey and returned kickoffs along with Ellis Hobbs, Eddie Berlin, Kelvin Kight, Bam Childress, Laurence Maroney and Kevin Faulk. Rookie Stephen Gostkowski did all the kicking off, getting nice distance on a majority of his kicks.
The team then worked on red zone offense where Brady threw a beautiful pass that hit Kight right between the numbers. The Patriots quarterback then hit tight end Ben Watson on a pass where Watson had to fully extend to make the reception. Brady continued his hot streak by firing a ball between defenders, finding Reche Caldwell coming across the back of the end zone. Overall, it was a very impressive drill from the first-team offense.
Matt Cassel led the second-team offense and looked crisp. He threw a number of strikes to Childress and hit Andrews coming across the middle where the new receiver made a nice catch. Andrews was busy on Thursday, practicing at receiver, defensive back and kick returner.
Brady took over and ran the two-minute drill by hitting Troy Brown down the seam for a big gain. Patrick Cobbs made a nice catch across the middle before Brady missed Brown when the two appeared to be on a different page. Cassel came back on the field to end the drill, throwing a Hail Mary that was almost caught by Caldwell but he was entangled with another receiver that caused him to lose control of the ball.
Practice ended with Gostkowski attempting five short field goals, connecting on all of them. Martin Gramatica didn't attempt any kicks.
Belichick said the team will now focus its attention on the Arizona Cardinals with their explosive offense and aggressive defense.
"We're going through our last days of preparation for Arizona," he said. "It's a good opportunity for us to play a team that plays differently than us. They've got an explosive offense and they like to blitz. They pressure on defense all the time. Pretty much every play is a blitz. There's no question they're coming. That's what they do, so we'll definitely get tested in that area."
Who's Hot: Tully Banta-Cain – After a slow start to camp, Banta-Cain has caught fire of late. He's not only making more plays on the practice field but the fourth-year linebacker has drawn praise from Belichick twice in the past week. "A guy like Banta-Cain who has been here four years is pushing for playing time," Belichick said Thursday. "A lot of playing time." The Patriots are desperate for a young linebacker to step up and contribute this season. If Banta-Cain continues playing well this preseason, he could be that guy. He needed a strong training camp to make an impression and overall, Banta-Cain has accomplished his goal.
Who's Not: Chad Jackson – Jackson was expected to come in and contribute as a rookie but he missed all but three days of training camp and won't play in at least two of the Patriots preseason games. That's not good news for a team looking for help at the receiver position. Jackson doesn't need to come in and set the world on fire but 45-50 catches and some big plays down the field would really help this offense. With every day Jackson misses, the probability that he can help the team in 2006 decreases. In what looks to be a tremendous rookie class, Jackson – albeit because of injury – has been the one disappointment in training camp.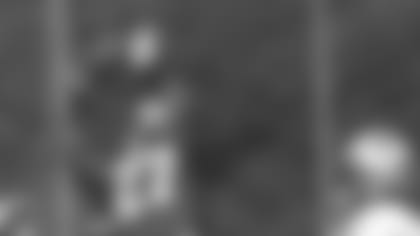 ]()Play of the Practice– Cassel lofted a bomb toKeron Henrydown the sideline butEllis Hobbs** had great position, shielded Henry from the ball and made a nice interception. It was the kind of blanket coverage the team is hoping Hobbs can bring to the corner position on a regular basis this season.
Camp NotesFor those attending Saturday night's game, there's a change in parking at Gillette Stadium. Lot P9 will be closed but there's now additional parking in lot P10. The Patriots ask if you are accustomed to parking in lot P9, please be prepared to make the transition over to P10 so there is as little confusion as possible on gameday. The parking lot will open at 4:00 pm, with gates opening up two hours later at 6:00 pm…Corey Dillon took the field wearing wideout Rich Musinski's jersey today. He was wearing his usual No. 28 before the team stretched, however. … Laurence Maroney caught a booming kickoff eight yards into the end zone from kicker Steven Gostkowski. Excited to have the ball in his hands, Maroney took off running and got a foot out of the end zone before realizing he should have downed it for the automatic 20-yard gain. … Ryan O'Callaghan was seen taking reps with the first-team offense again. … In scout team drills, Patrick Cobbs played the role of Cardinals running back Edgerrin James. Strong safety Adrian Wilson's number was worn by both Guss Scott and James Sanders, while linebacker Mike Vrabel played scout team safety. … Billy Yates continues to work as the backup center.
-Kyle Psaty