FOXBOROUGH, Mass. – How you start is often not as important as how you finish. Just ask the two teams who squared off at Gillette Sunday evening.
"Obviously, we could have played better. Wasn't our best football," RB James White acknowledged later, "but everybody fought, competed, did what we could to have an opportunity to get back in the football game. Just didn't make enough plays."
The visiting Chiefs didn't get off to the greatest of starts. Just a few hours before kickoff, ESPN reported that much of K.C.'s game equipment – helmets, shoulder pads, and footballs – was mistakenly shipped to Newark, N.J. rather than New England and had to be rushed up to Foxborough Sunday afternoon to avoid a forfeiture of the game.
Kansas City then quickly fell behind on the scoreboard. Upon winning the coin toss, the Chiefs deferred, giving New England the ball to start the game. Aided by a few defensive penalties, the Patriots marched down to the K.C. 37-yard line.
From there, offensive coordinator Josh McDaniels turned to a trick play from his arsenal. QB Tom Brady handed off to White, who then flipped the ball back to Brady for a flea-flicker. Brady sidestepped an oncoming Chief before floating a pass to WR Julian Edelman, who had to slow up at the end of his route to collect the pass while backpedaling. A Chiefs defender tackled Edelman, who fell backwards over the goal line for the game's first score.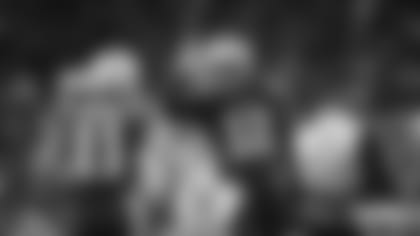 Kicker Nick Folk, recently re-signed just 10 days after an emergency appendectomy, tacked on the extra point for a 7-0 Patriots lead.
It got worse for the Chiefs once they got the ball. Facing a 3rd-and-9 from his own 31, QB Patrick Mahomes badly underthrew his intended receiver. CB J.C. Jackson undercut the pass an picked it off at the Chiefs' 40. New England's offense, though, could go nowhere with the ball and had to punt it away.
Mahomes moved his offense a bit more effectively on the second K.C. possession, which ended with a 48-yard Harrison Butker field goal midway through the first quarter.
Then, as Folk was attempting to get those three points back with a 41-yard effort, Chiefs defender Tanoh Kpassagnon broke through the New England line and easily blocked the kick. Mahomes and K.C. took over at their own 42.
"Yeah, it's disappointing," Folk admitted, "but we've got to go back and look at it, fix it for the rest of the season. Those are hard to see, from still shots on the sideline, exactly what went wrong with it. I felt like I hit it pretty clean."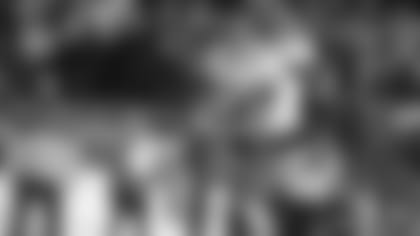 On the ensuing drive, a Deatrich Wise 12-yard sack brought Mahomes down at the Chiefs' 46, yet the K.C. QB was still able to connect with WR Tyreek Hill to convert the resulting 3rd-and-19. A few plays later, Mahomes again went long, this time to WR Mecole Hardman, who then shook off a pair of Patriots and raced to the end zone. Butker drilled the PAT to take a 10-7 lead in the early second quarter. New England hadn't trailed at home since the Chiefs came to Foxborough last season.
Brady promptly threw a pick – intended for TE Matt LaCosse – to KC on the first play of the next drive. The Chiefs had the ball well within Patriots territory., and a big catch-and-run by TE Travis Kelce brought K.C. down to the Patriots' 4. The Chiefs then broke out the trick play material with a four-man backfield. Kelce actually took the snap as a Wildcat-style QB, with Mahomes behind him and two players next to him in the backfield. Kelce kept the ball on the fake handoff and rumbled into the end zone for Kansas City's second TD.
The Patriots tried to trim the 17-7 disadvantage on the next possession, but on a 4th-and-7 from the Chiefs' 27, Brady overthrew an open Edelman near the Patriots' sideline. K.C. took over on downs with about seven minutes to play in the first half. Both teams traded punts on the next two series, though.
Mahomes and the O put it together just before intermission, aided by several New England defensive penalties, and put Butker in position for a 31-yard field goal, which he made. The Chiefs took a 20-7 lead into halftime.
"Came out in the second half, did things a little bit better," added White. "The defense had some turnovers, some good stops. We tried to ride that momentum. Special teams had a huge blocked punt. Everybody fought hard."
K.C. went on a sustained drive to begin the third quarter and got three points out of it, from a 41-yard Butker field goal. The Chiefs, who seemed to blitz Brady about one out of every three plays to that point, continued applying the pressure on him and forced a quick three-and-out.
New England's D made the Chiefs punt on the next series, and special teams came through with a big play. Nate Ebner broke through the middle of the K.C. line and blocked the kick, giving the Patriots possession at the Chiefs' 19-yard line.
"We take pride in every aspect of special teams," declared Ebner. "Whenever we get an opportunity to execute something we worked on all week, we try to take advantage of it."
Two plays later, RB Brandon Bolden took a Brady jet-sweep handoff 10 yards, beating Chiefs safety Tyrann Mathieu to the pylon. Though their two-point conversion was unsuccessful, the Patriots suddenly seemed to come to life following that touchdown, which made it 23-13 with four minutes to go in the third.
The Patriots then caused a turnover on defense, stripping Kelce of the ball around midfield. CB Stephon Gilmore recovered and looked to be headed for the end zone, but Jerome Boger's officiating crew blew the play dead. Upon review, it was ruled a turnover and New England took possession as the third quarter came to a close.
"Thought it was a fumble, I picked it up. They should have let it keep playing, but that's the way it was called," a dejected Gilmore remarked. "It was frustrating, but you've got to keep fighting. You can't let one play affect the next play."
They did their best not to. A Chiefs pass interference penalty set the Patriots up nicely at the 15. Rookie WR N'Keal Harry appeared to dive at the pylon for a score on the next play, but the refs ruled him out at the 3.
"I thought it was a touchdown. Pretty sure everyone else thought it was a touchdown. We all knew it was a touchdown. Everybody clearly saw it was a touchdown… but, that's out of our control," Harry told reporters afterward. "It's definitely frustrating, but I was always taught to control what I can control. I did that. I felt like my effort was good, and that's all I can give."
Kansas City stiffened on D, so, New England had to settle for a chip-shot field goal by Folk. With just under 12 minutes left in the game, the Patriots trailed by only a touchdown, 23-16.
New England harassed Mahomes on the next series and nearly blocked another punt, but wound up taking over at their own 20. They got no further than midfield, however, before punting back to Kansas City.
With five minutes to play, Brady and the offense took over via punt at their own 32.
A James White-to-rookie Jakobi Meyers trick-play pass picked up 35 yards and brought the Gillette Stadium crowd to its feet, as did a Brady run for a first down on 4th-and-6. At the two-minute warning, New England had the ball at the Chiefs' 14-yard line, needing a TD and an extra point to knot the score. Or a two-point conversion to take the lead.
On 4th-and-3 from the K.C. 5, Brady tried to connect with Edelman in the end zone, but CB Bashaud Breeland made a tremendous over-the-shoulder play to swat the ball down. 
Kansas City didn't start the way it hoped, but New England couldn't complete the finish it needed, either. In the post-game Patriots locker room, there was much to lament.
"Two good teams competing against each other. It came down to the wire," Gilmore observed. "We can just play, we can't control other things that happen. We still could have made more plays tonight. They made more plays than we did…"
"The refs, they have a hard job. I'm not going to say their job is easy," safety Duron Harmon asserted. "But we all have a job, and we all get paid money to do the job, and do it well.
"I just feel empty," he added, "because obviously, we played a good team and we had a chance to win, and we didn't win. I'm not going to sit here and blame the refs. The Chiefs probably feel there are some calls that could've gone their way, but when you have two touchdowns taken away from you, it's a tough pill to swallow."
But swallow it they must, because now, for the second straight December, the Patriots need to find a way to recover from consecutive defeats that are jeopardizing their potential playoff seeding.
"Can't dwell on loses," White emphasized. "Got to move forward. Another opportunity next week in Cincinnati. So, we've got to be ready to go… We know we're capable of doing it. Just got to go out there and do it."