WEEK 2 · Sun 09/17 · 8:20 PM EDT
AT
Patriots
New England Patriots
The New England Patriots will play their first AFC East Division game this week when they host the Miami Dolphins on national television in a Sunday Night Football game. The Patriots begin the 2023 season with two home games for the first time since the 1995 season. New England is one of four teams to begin the year with back-to-back home games, joining Atlanta, Denver and Pittsburgh.
PATRIOTS IN THROWBACKS AT HOME
The Patriots will wear throwback uniforms this week and again on Dec.3 against the L.A. Chargers. The uniforms are based on the ones worn from 1984-1992 and then sporadically from 1994-2012 as an alternate uniform. The Patriots will wear red jerseys with white pants and a white helmet featuring the "Pat Patriot" logo with white facemasks. The Patriots are 7-1 when wearing throwback uniforms at home. New England has worn uniforms featuring the old "Pat Patriot" logo at home eight times since switching to the current logo in 1993. Last season, the Patriots wore their throwback uniforms vs. Detroit and vs. Buffalo.
The New England Patriots and Miami Dolphins will square off for the first of two meetings in 2023 when they play in a nationally-televised game at Gillette Stadium this Sunday night. The second game of the annual series will be played at Miami on Oct. 29. The two teams split the series in 2022, with the Patriots losing on opening day at Miami, 20-7, on Sept. 11 and then getting revenge with a 23-21 win at Gillette Stadium on Jan. 1.
The Patriots have had the upper hand at home against Miami, holding a 37-19 record in games played in New England in the regular season, including a 17-4 record at Gillette Stadium. Miami beat New England at Gillette Stadium for the first time in the final game of the 2005 season.
The Dolphins and Patriots met for the first time in 1966 and began playing twice a year during the 1967 regular season, except in 1982 during a players' strike.
The two have played three times in the postseason, with New England holding a 2-1 advantage.
SERIES TRENDS
MIAMI 60, NEW ENGLAND 55
(Including New England 2, Miami 1 in Playoffs)
Record in New England: 38-19 (Incl. 1-0 in playoffs)
Record in Foxborough: 36-17 (1-0)
Record in Boston: 2-2
Record in Miami: 17-41 (Incl. 1-1 in playoffs)
Record at Dolphins / Hard Rock: 13-23
Record at Orange Bowl: 3-18: (1-1)
Season Sweeps: Patriots 10, Dolphins 14
Season Splits: 31 (Most recent 2022)
Bill Belichick vs. Miami: 27-21 (27-19 with New England)
*A Miami home game was played in Tampa in 1969.
SUNDAY NIGHT MEETINGS
This week's game will be the fourth meeting between the teams on Sunday night and the first Sunday night game played in New England. Overall, the Patriots and Dolphins have played in 18 prime time games, with 12 on Monday Night Football, three on Thursday Night Football and three on Sunday Night Football. Miami holds a 10-8 advantage. The Monday night series is tied at 6-6, but Miami leads 2-1 in both Thursday and Sunday night contests.
QUICK HITS
Since Bill Belichick became Patriots head coach in 2000, New England is 27-19 (.587) against Miami.
Since 2000, the Patriots are 102-40 (.718) against AFC East opponents. New England is 27-19 against the Dolphins over that span, 36- 10 against the New York Jets and 36-10 against the Buffalo Bills. The Patriots were 3-1 against Indianapolis from 2000 through 2001 when they were in the AFC East.
When the Patriots run - Edge: Patriots
The Patriots did not run the ball effectively in the opener, managing just 76 yards on 22 carries for a lowly 3-5-yard average. But there are a couple of factors in New England's favor that could lead to some improvement in Week 2. First, the Patriots should be healthier along the offensive line as Cole Strange (knee) and Mike Onwenu (ankle) sat out the opener in favor of rookies Atonio Mafi and Sidy Sow. Assuming at least one of the pair can go, that should lead to more openings for Rhamondre Stevenson and Ezekiel Elliott in the running game. The second factor is Miami's run defense, which was shredded in Los Angeles as the Chargers piled up 234 yards on the ground behind Austin Ekeler (117 yards) and Joshua Kelly (91). New defensive coordinator Vic Fangio had to be quite disappointed with that outcome and will need more from his front seven, particularly linebackers Jerome Baker and David Long. Raekwon Davis mans the middle in Fangio's 3-4 set, flanked by Christian Wilkins and Zach Sieler. A healthy, or at least healthier, Patriots offensive line should be able to carve out some space for Stevenson to enjoy a much more productive evening.
When the Patriots pass - Edge: Patriots
Miami's secondary was much better than the run defense against the Chargers, limiting Justin Herbert to 228 yards through the air while sacking him three times. The final pressure came with the game on the line as Jaelan Phillips broke free and tied up Herbert on fourth down to close the game out. Xavien Howard, Eli Apple and Kader Kohou man the corner spots with Jalen Ramsey opening the season on injured reserve. Safeties Jevon Holland and Brandon Jones are solid, giving the Dolphins a heady and versatile pair on the back end. That group will try to contend with the Patriots various options, led by Kendrick Bourne, who led the team with 11 targets in the opener. Bourne was Mac Jones' go-to target and finished with six catches for 64 yards and a pair of touchdowns. Hunter Henry and Mike Gesicki also were prevalent in the passing attack, as was rookie Demario Douglas, who impressed with four catches for 40 yards in his NFL debut. The wide array of targets should allow Jones the opportunity to find his preferred matchups, provided that he has the time to do so. Phillips is developing into a solid pass rusher and he and Bradley Chubb will need to be dealt with off the edge. But if Jones can find some consistency the Patriots should have success.
When the Dolphins run - Edge: Patriots
Miami coach Mike McDaniel has constantly been in search of speed in the running game and in Raheem Mostert he has one of the fastest backs in the league. But that speed hasn't translated into much production during his short tenure in Miami, and Mostert was held in check by the Chargers in the opener. He finished with 37 yards in just 10 carries against a Chargers defense that has traditionally struggled to stop the run. The Patriots front was stout in the opener against Philly, limiting the Eagles to 97 yards on 25 carries for a 3.9-yard average. That included Jalen Hurts' 37 yards on the ground as the Patriots did a much better job dealing with the dual-threat quarterback than they have in the recent past. New England used a variety of personnel groups with safeties Kyle Dugger, Jabrill Peppers and Adrian Phillips with linebackers Ja'Whaun Bentley and Jahlani Tavai. Rookies Keion White and Marte Mapu also factored in the mix, giving Jerod Mayo and Steve Belichick a lot of options from a scheme perspective. Look for the Patriots strong, physical play up front to continue against a Miami offense that is more about the passing game at this point.
When the Dolphins pass - Edge: Dolphins
Tua Tagovailoa enjoyed one of the most prolific passing performances on opening day in league history, riddling the Chargers for 466 yards and three touchdowns. More impressively, he led a late 75-yard drive that he capped with a perfect 4-yard touchdown pass to Tyreek Hill to lead the Dolphins to a 36-34 come-from-behind win. Hill was a beast in the game, catching 11 passes for 215 yards and a pair of touchdowns while fellow speedster Jaylen Waddle added four catches for 78 yards. Miami also protected Tagovailoa well as the quarterback wasn't sacked on 45 dropbacks despite playing without starting left tackle Terron Armstead. The Patriots will need to get some heat on the quarterback Sunday with Matthew Judon, Jush Uche and perhaps White, who impressed with a handful of pressures in his debut, the top candidates to do so. Rookie Christian Gonzalez enjoyed a strong debut as well, and he will be tested once again. Jonathan Jones has typically locked up with Hill, so that could leave Gonzalez on Waddle, although both should get plenty of support from the safeties. Tagovailoa is 4-0 in his career against the Patriots and has been quite efficient in those games. The Patriots will need to disrupt his timing if that trend is to change.
Special Teams - Edge: Dolphins 
The Patriots debuted a pair of rookie specialists and both performed well in the opener. Bryce Baringer was busy and for the most part handled it well, knocking three of his kicks inside the 20 against just one touchback. Marcus Jones turned in an excellent 21-yard punt return while Ty Montgomery ripped off a 43-yard kick return. Jones' decision-making on punts was not ideal after the initial solid return, however. The coverage wasn't quite as strong, though, as Britain Covey turned in a 25-yard punt return and a Chad Ryland squib kickoff wound up getting returned to the 27. Overall it was an acceptable start on special teams after a disastrous campaign in 2022. Miami had a strong start as well with Jason Sanders making all three field goals and went 7-for-7 on touchbacks against the Chargers, although he did miss his final PAT. Former Patriot Jake Bailey is the Dolphins new punter but only was called upon once as Miami's offense was clicking throughout. Braxton Berrios handles the returns for Miami but didn't get any opportunities in the opener.
Table inside Article

| 2023 REGULAR SEASON | NEW ENGLAND | MIAMI |
| --- | --- | --- |
| Record | 0-1 | 1-0 |
| Divisional Standings | 2nd (T) | 1st (T) |
| Total Yards Gained | 382 | 536 |
| Total Offense (Rank) | 382.0 (5) | 536.0 (1) |
| Rush Offense | 76.0 (23) | 70.0 (27) |
| Pass Offense | 306.0 (4) | 466.0 (1) |
| Points Per Game | 20.0 (15t) | 36.0 (3) |
| Total Touchdowns Scored | 3 | 4 |
| Total Yards Allowed | 251 | 433 |
| Total Defense (Rank) | 251.0 (9) | 433.0 (31) |
| Rush Defense | 97.0 (18t) | 234.0 (32) |
| Pass Defense | 154.0 (10) | 199.0 (19) |
| Points Allowed/Game | 25.0 (24t) | 34.0 (29) |
| Possession Avg. | 29:12 | 27:19 |
| Sacks Allowed/Yards Lost | 2/10 | 0/0 |
| Sacks Made/Yards | 3/16 | 3/29 |
| Penalties Against/Yards | 7/50 | 6/38 |
| Punts/Avg. | 5/45.2 | 1/38.0 |
| Takeaway/Giveaway Ratio | -1 (19t) | -2 (26t) |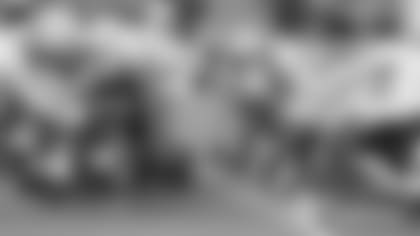 P Jake Bailey (2019-22)
CB Justin Bethel (2019-21)
DB Keion Crossen (2018)
GM Chris Grier (1994-99) 
Off. Asst. Mike Judge (2005-06)
WR Coach Wes Walker (2007-12)
WR Raleigh Webb (2022)
DE Chase Winovich (2019-21) 
T Isaiah Wynn (2019-22)
TE Mike Gesicki (2018-22)
DL Davon Godchaux (2017-20)
LB Calvin Munson (2019-21, 2022)
WR Devante Parker (2015-22)
LB Raekwon McMillan (2017-20)
WHAT TO LOOK FOR THIS WEEK
QB Mac Jones registered 316 yards passing in the season-opener vs. Philadelphia. If he passes for 300-yards passing this week, he will have his first career back-to-back 300-yard passing games.
Jones will look to extend his streak to five straight games with at least two touchdown passes. He closed out the 2022 season with at least two touchdowns in the final three games and extended that streak to four with his three-touchdown performance in the 2023 season-opener vs. Philadelphia.
Jones has thrown for three touchdowns in his last two regular season games, closing out the 2022 season with three touchdowns at Buffalo on Jan. 8, followed by three touchdowns in the 2023 season-opener vs. Philadelphia. He will look to become the first Patriots player since Tom Brady in 2018 to throw for three touchdowns in back-to-back games in the same season. Brady had three touchdowns on Sept. 30, 2018 vs Miami and three touchdowns vs. Indianapolis Oct. 4, 2018. The last player with a streak of three consecutive games with three touchdown passes overall was Brady in 2017.
Jones completed a career-high 35 passes in the 2023 opener against Philadelphia. He will look to have back-to-back games with at least 30 pass completions for the second time in his career. He had backto-back games with 30 completions as a rookie in 2021 when he had 30 completed passes vs. New Orleans on Sept. 26 followed by 31 completed passes vs. Tampa Bay on Oct. 3.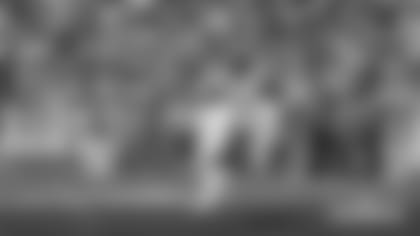 WR Kendrick Bourne tied a career-high with two touchdown receptions in the season-opener against Philadelphia. He will look to become the first Patriots player with back-to-back two-touchdown receiving games since the 2012 season when TE Rob Gronkowski had two touchdowns vs. the New York Jets on Oct. 21. followed by two touchdown receptions at St. Louis Rams on Oct. 28.
In his NFL debut rookie DB Christian Gonzalez was credited with an 8-yard sack in his first NFL game in the fourth quarter vs. Philadelphia. Gonzalez is looking to become the first New England defensive back to have a game with back-to-back sacks since 2013 when DB Kyle Arrington registered sacks at Miami on Dec. 15. and at Baltimore on Dec. 22. The last Patriots rookie defensive back with a sack in backto-back games was Patrick Chung in 2009 with sacks at Tampa Bay on Oct. 25 and vs. Miami on Nov. 8.
S Derwin James of the Los Angeles Chargers was the last rookie defensive back to begin his career with a sack in each of his first two NFL games in 2018
LB Matthew Judon recorded his first sack of the season against the Eagles with a 8-yard sack of Jalen Hurts. He will look to continue a streak of recording at least one sack in the first five games of the year. Judon's six sacks through the first five games in 2022 are second to his team-record 6.5 sacks in the first five games of the 2021 season.
Last season, Judon became the first Patriots player to record at least one sack in the first five games. He surpassed Patriots and Pro Football Hall of Famer Andre Tippett, who began the 1986 season with one sack in each of the first four games.
2023 TEAM CAPTAINS WERE ELECTED BY TEAMMATES
Offense: C David Andrews, TE Hunter Henry and QB Mac Jones
Defense: LB Ja'Whaun Bentley and DL Deatrich Wise Jr.
Special Teams: WR Matthew Slater
ROOKIE KICKER AND ROOKIE PUNTER
The Patriots have a rookie kicker and a rookie punter in 2023 after drafting K Chad Ryland in the fourth round and P Bryce Baringer in the sixth round. Since 2000, eight NFL teams have had a rookie kicker and a rookie punter on the active roster for the season opening game: Cleveland Browns (2019), Miami Dolphins (2015), St. Louis Rams (2012), Philadelphia Eagles (2011), New York Jets (2005), Baltimore Ravens (2002), Dallas Cowboys (2000) and Oakland Raiders (2000). The Patriots are the first team since the 2000 Oakland Raiders to begin the year with a rookie kicker and punter that were selected in the same draft.
TELEVISION: This week's game will be broadcast by NBC and can be seen in the Boston area on NBC 10 Boston. Mike Tirco will handle play-by-play duties with Cris Collinsworth and as the color analyst. Melissa Stark will work from the sidelines. The game will be produced by Robert Hyland and directed by Drew Esocoff.
NATIONAL RADIO: Sunday's game will be broadcast to a national audience on Westwood One. Ryan Radtke will call the game with Ross Tucker providing analysis.
LOCAL RADIO: 98.5 The Sports Hub is the flagship station for the Patriots Radio Network. A complete listing of the network's 33 stations can be found here. Play-by-play broadcaster Bob Socci will call the action along with former Patriots quarterback Scott Zolak, who will provide color analysis. The games are produced by Marc Cappello.
DISCLAIMER: The views and thoughts expressed in this article are those of the writer and don't necessarily reflect those of the organization. Read Full Disclaimer