On Saturday, March 17th, the New England Patriots hosted round 1 of 2007 Patriots Cheerleaders Auditions. Despite difficult driving conditions with a blizzard that hit New England the previous night, 300 dedicated hopefuls made their way to Gillette Stadium. They were greeted by the current cheerleaders and local media covering the event. A video crew filmed auditioners throughout the day for the Poms to Palms II feature, which will air later this year. The video depicts the process of becoming a Patriots Cheerleader. It covers the making of the 2008 swimsuit calendar, which will be shot in Punta Cana, and will continue following the squad right up to the first Pats home game.
Upon arrival, the auditioners completed registration forms, submitted performance resumes and headshots and received their audition numbers. Routine #1 was soon taught and performed in front of the judging panel. After a difficult deliberation process, the judges made the first cut, which narrowed the number of candidates down from 300 to 110. The remaining candidates then performed routine #2 for the judges, along with high kicks, splits and an optional tumbling pass. After another difficult deliberation, the judges made a second cut, narrowing the number of candidates down to 55 laides. Those 55 candidates received an invitation to the final audition, which will be held on March 31st.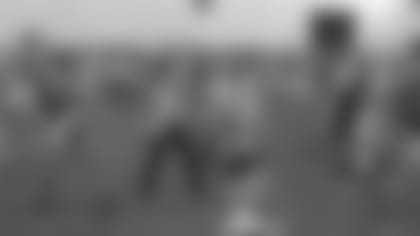 Before the final audition, each of the invitees must attend a personal interview at Gillette Stadium with Tracy Sormanti, the Cheerleader Director. An optional practice will also be held. This will allow the finalists a chance to brush up on the choreography learned at preliminary auditions and become better prepared for the final round. At the final audition, each candidate will be asked to perform both routines from the preliminary round, high kicks, splits, freestyle dance and participate in a swimsuit modeling category and and question/answer segment with the judging panel.
By mid-April, the 24-member squad will be announced!
If you're interested in auditioning for the 2008 Patriots Cheerleading Squad, please send your email address to tracys@patriots.com. Our emailing list will be updated for next year's auditions.