The Patriots entire organization is full steam ahead on the offseason with a very hands-on approach to the upcoming NFL Draft.
After spending the week in Las Vegas at the Shrine Bowl, members of the Patriots front office were also present in Mobile for the Senior Bowl, while the coaching staff remained in Vegas for the Shrine Game. New England will be armed with 11 selections in April's draft and a projected six draft choices in the first four rounds.
We'll have months to debate how the Patriots should allocate their resources for roster building, which also includes nearly $34 million in estimated cap space to play with in free agency, according to cap guru Miguel Benzan (aka @PatsCap).
Along with roster building, the Patriots coaching staff is starting to take shape. New England is reportedly adding former Oregon offensive line coach Adrian Klemm to serve under offensive coordinator Bill O'Brien, while longtime O'Brien staffer Will Lawing is the likely replacement as tight ends coach for former assistant coach Nick Caley, who is reportedly making a lateral move to join the Rams staff with Sean McVay.
Armed with draft capital and cap space, the Patriots are now rounding out their coaching staff to set themselves up for a much better 2023 season than their 8-9 campaign last year.
Without further ado, let's empty the Patriots Unfiltered mailbag as the offseason continues:
Q: What are your thoughts about Adrian Klemm as an O-Line coach? - John G
After looking at some Oregon film and speaking to Ducks country, my initial thoughts on Klemm are positive. He should bring a fresh perspective from an up-and-coming offensive system in Eugene, while Oregon's offensive line improved significantly last season compared to 2021. They played on a string with solid fundamentals and rarely made mental mistakes. The one question mark is player development because Klemm lacks recent experience in that department. He inherited the offensive line he worked with last season at Oregon, and his three-year stint with the Steelers saw the talent in Pittsburgh dry up. Klemm's football mind and in-season production are impressive. We'll see how he is at developing young talent.
Q: When are we going to get clarity on Patricia and Judge? Are they leaving or staying? - Bobby
Based on the Vegas contingent, it's safe to assume that Judge will be on the coaching staff in some capacity. He was overseeing more than anything in Vegas while gravitating toward offense during drills. If Patricia doesn't return, which seems more likely by the day, Judge could take his spot in that football advisor role where he won't be on the sideline during games and will work more in the shadows. Although nothing is set in stone, Patricia taking the year off to reset is currently the most likely scenario for him.
Q: Who is your number one target in free agency? - The Other Guys
After reviewing the talent in the draft at offensive tackle, I'm less excited about Orlando Brown or Mike McGlinchey. You can get similar production from cheaper players via the draft. If Devin McCourty retires, I'd make a run at Bengals safety Jessie Bates to replace DMac. Along those lines, Bills linebacker Tremaine Edmunds is at the top of my wish list. Finally addressing the rangy middle linebacker need. My hope is that Belichick learns from the 2021 spending spree and goes after the best player on the market rather than overpaying to fill needs (Jonnu, Agholor). Safety or linebacker might not be as big of a need as tackle or wide receiver, but go where the top talent takes you. Bates or Edmunds makes you better on defense. 2023 Patriots Mock Draft Tracker
Find out what the top 'experts' are predicting the Patriots will do in the first round of the 2023 NFL Draft.
Q: Would you rather wait until day two for an OT with all the depth and use our first-round pick on a WR/best available player? Or take an elite OT in the first round? - Nate
This will be the debate until the draft: best player available at no. 14 or best OT available. There are two schools of thought. If they miss on the top-three OTs (Johnson, Broderick, Skoronski), the Pats could trade down into the sweet spot for the next tier (Harrison, Dawand, Wright). Two, take the best player available with the 14th pick and "Barmore" it on day two, meaning trade up from the 46th pick into the 30s for a tier two OT. Ultimately, the 14th overall pick must be a foundational player for this Belichick reboot. I'd like them to land an offensive tackle, but the most important thing is that they come away with a blue chipper. They're picking high enough for this first-rounder to be an All-Pro caliber talent, and the team desperately needs that level of player somewhere, really, anywhere.
Q: Who do you see the Pats chasing in a trade for a wide receiver between D-Hop, Mike Evans, Tee Higgins, and Jerry Jeudy? - Ana Lia
To me, this comes down to either Higgins or Jeudy. Evans and Hopkins are great. However, they'll both be on the wrong side of 30 by the time the 2023 season begins. If the Pats swing big on a wide receiver trade, I'd rather see them do it for a player entering their prime. With that in mind, Jeudy is my most-likely target because he's the most likely player to become available. The Bengals will do whatever it takes to keep Higgins, meaning they'll have him play out the year and potentially franchise tag him in 2024. On the other hand, the Broncos could use the draft capital after trading first-rounders for Russell Wilson and head coach Sean Payton. Denver doesn't currently have a first or second-round pick and only has five picks total. Although Jeudy is a good receiver, he's nearing the end of his rookie contract and could net a top-50 pick for Denver to recoup some draft capital. For the Patriots, you get a top-20 talent entering his prime who fits like a glove with Mac and the system. I'd start the conversation with the 46th overall selection and go from there.
Q: Is there someone like Julian Edelman or Troy Brown type in the draft? We could use one of those. - Carl James
Carl James and many others who asked similar questions are speaking my language. As much as a number one outside threat could add a dimension to the offense, finding Mac a jitterbug in the slot so that the Pats can get back to dominating the middle of the field is a must. Luckily, there are a plethora of options in this year's draft that we can break down into a few tiers:
- Tier One (Top-50): Jaxson Smith-Njigba (OSU), Jordan Addison (USC), Zay Flowers (BC)
- Tier Two (Day Two): Tank Dell (Houston), Josh Downs (UNC)
- Tier Three (Day Three): Charlie Jones (Purdue), Demario Douglas (Liberty)
This is one of the deeper draft classes in terms of quick-twitch slot receivers who get open quickly within ten yards and create after the catch. The Pats have had difficulty evaluating wide receivers in the draft, but this might be one skill set they can figure out.
Q: The Pats need a place kicker and a punter, right? Where do they find them? - Joe S
The Patriots could use some in-house competition for punter Jake Bailey and an heir to Nick Folk at kicker. Interestingly enough, the Pats worked with two intriguing specialists at the Shrine Bowl who will be hot commodities in the draft. Michigan kicker Jake Moody was the game's MVP with four made field goals, including two 51-yarders, and he can also kick-off. Oklahoma punter Michael Turk was extremely impressive in practice during our week in Vegas, while the consensus is that three punters could be drafted, with Senior Bowlers Adam Korsak (Rutgers) and Michigan State's Bryce Baringer joining Turk. The Patriots have needs and options to address the future on special teams, and with eight picks on day three, it would be a surprise if they don't come away with at least one new specialist.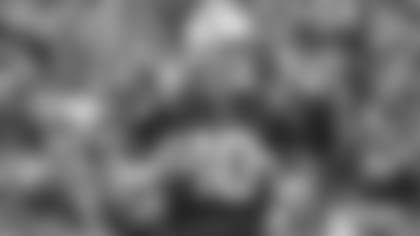 Q: With all the commentary surrounding Mac Jones and picking up his fifth-year option, could taking a flier on a quarterback in the draft make sense? - Robert W
Although the Patriots won't likely use a draft choice in the first three rounds on a quarterback, they could be looking at day three options to add another QB to the room. Mac's future from a contractual standpoint is one reason why, but they could look to add a quarterback prospect with some physical upside to Jones and Bailey Zappe, who are more cerebral and accurate passers rather than toolsy throwers. The obvious choice is UCLA quarterback Dorian Thompson-Robinson since the team worked with DTR in Vegas. Another day-three option is Louisville's Malik Cunningham. Robert here suggested Tennessee's Hendon Hooker, who will likely be a top-100 pick if his surgically repaired ACL clears medical rechecks. My guess is that'll be too high for a quarterback, but a day-three pick with some mobility and out-of-structure playmaking is a possibility.
Q: Can you see the Patriots investing in another tight end via free agency or the draft? - Robert B
Yes, definitely. For starters, the Pats are married to the Hunter Henry-Jonnu Smith combo for one more season. Henry is a free agent after the 2023 season, while they'll have an out in Smith's contract next offseason as well. Furthermore, it's an elite tight end class where they could dip in for some depth (TE3) or even look for a long-term answer. My instinct is that the sweet spot is the fourth round, where someone like Alabama's Cameron Latu would be of interest. But they wait for a traditional in-line blocking tight end such as Michigan's Luke Schoonmaker. I'm not in love with using a high-end asset on a tight end. However, if they feel that's their best option to acquire a number one weapon, fine, take the Gronk, Kelce, Andrews route. Mayer, Washington, Kincaid, and Musgrave have that type of talent.
Q: Hey Evan, first time caller long time listener, just one question. Why didn't you get animal style fries at In-N-Out in Las Vegas? - Bradley A
Hello. Mr. Amus, one of our outstanding members of the Patriots.com video team. Although you know the answer, I made the life decision to remove dairy from my diet. Therefore, animal style fries aren't an option for me. Now we all know. Thank you for allowing me to bring this to everyone's attention.